Carlos Ruiz Commands Phillies Pitching Crew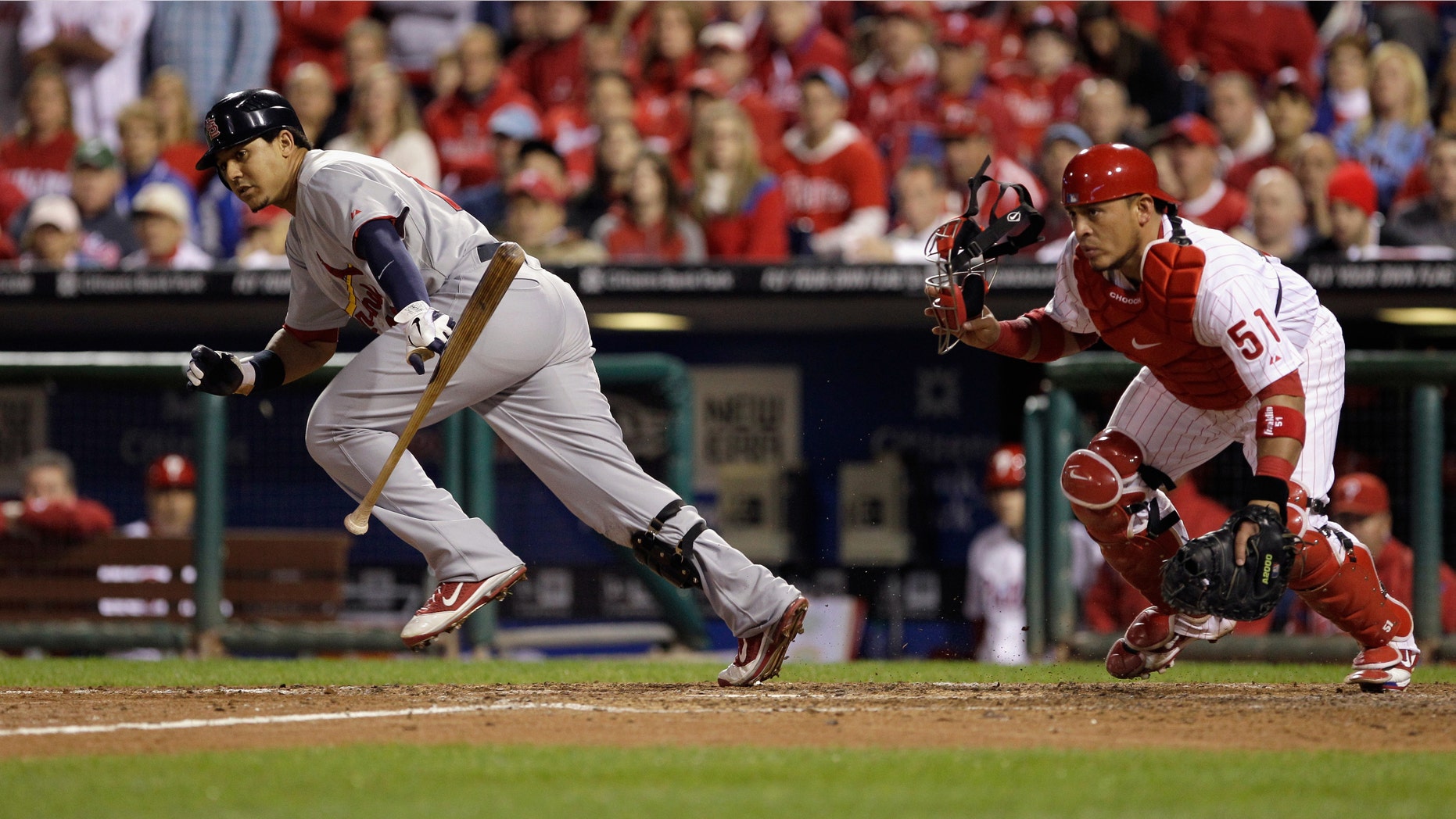 CLEARWATER, Fla. – Panamanian Carlos Ruiz squatted behind the plate for the first time in his late teens, after originally signing with the Philadelphia Phillies as a second baseman in 1998.
It didn't take him long to master the art.
Affectionately nicknamed "Chooch" by teammates, Ruiz draws high praise from a star-studded pitching staff that features Roy Halladay, Cliff Lee and Cole Hamels.
"He's very baseball smart, aware of what's going on in the game and he wants to be in charge, he wants to call the game and he wants to be responsible," Halladay said. "A lot of catchers aren't that way. They prefer when you lead them in the direction you want to go. Carlos is very good at taking control and being in charge."
Halladay, a two-time Cy Young Award winner, has good reason to love throwing to Ruiz. In his first season with the Phillies in 2010, Halladay tossed a perfect game and followed that up with a no-hitter in his first career postseason start. Ruiz was behind the plate both times.
"He calls a great game, blocks, throws guys out, does everything you want a catcher to do," Halladay said. "And then he hits when we need it. There's no reason he shouldn't be in consideration for a Gold Glove every year."
One indication of the chemistry between a pitcher and catcher is the number of times they differ on which pitch to throw.
It doesn't happen much with Ruiz.
"The really good ones, it doesn't happen very often and when the pitchers do shake, they'll put the same sign down and that's what Chooch does," Halladay said. "You may see a guy shake three times in a row and that's because Chooch gave him the same sign three times. I quit shaking him."
Ruiz recalled catching Halladay for the first time two springs ago. He was uncertain how to approach working with the perennial All-Star.
"It took a couple games in spring training to get used to him," Ruiz said. "I figured out right away that because he has great stuff, you can do a lot of different things, mix it up a lot because he has control. It makes it a little easy, but you have to think where is he at, because it's not whatever I put down, he wants to use it."
Lee and Hamels also have an excellent rapport with Ruiz.
"He's as good as I've ever seen," Lee said. "He definitely has a good instinct of the game, a good feel for what to call, when to call and a good reason why. He has a good arm, keeps the running game in check. He does a lot of things right."
Ruiz takes great pride in his craft. He spends countless hours studying hitters and preparing a game plan. Having three All-Stars in the rotation helps, too.
"When you have guys like that, you feel a little relaxed, but at the same time you have to work hard," Ruiz said. "I feel happy when those guys do a good job. I have to credit my staff because they're superstars. I enjoy catching those guys because of the way they work."
Ruiz has certainly come a long way since the Phillies gave a meager $8,000 to sign, and then handed him a catcher's mitt for the first time in his life. Ruiz learned to play catcher in the Dominican League. His biggest problem at first was figuring how to catch those darn pop-ups.
"When I tried to learn, I didn't do very good and everybody was laughing," Ruiz said. "At the same time, I felt like I was having fun and I liked it. It was completely different, but it the end, I did the right thing."
NY Yankees Jorge Posada Retires
Defense isn't the only part of Ruiz's game. He's developed into a decent hitter, and he's delivered in the clutch in the postseason. Ruiz has a .353 average in two World Series, and had the game-winning hit in Game 3 of the '08 Series against Tampa Bay.
He earned the nickname "Senor October" for his big hits in the playoffs, and has a career .309 average in the NLCS and World Series. Ruiz led the Phillies with a .302 average in 2010 and hit .283 last year.
"I had no idea when I played second base I would be here," he said, looking around a clubhouse surrounded by All-Stars. "I was looking at that time just for the opportunity to be a professional player. It's unbelievable to look back at '97 and '98, my first years in the Dominican, there's no way I can imagine this. I wanted to make it to the big leagues, but I didn't know where or when.
"Every day I come to the ballpark, I feel happy because it's so special and to be in this organization and have the teammates I have."
Based on reporting by The Associated Press.
Follow us on twitter.com/foxnewslatino
Like us at facebook.com/foxnewslatino