Cardinals' Lynn: 'I decided to keep pitching' through elbow injury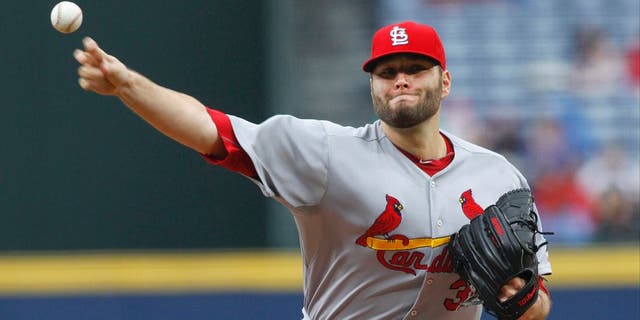 Oct 4, 2015; Atlanta, GA, USA; St. Louis Cardinals starting pitcher Lance Lynn (31) throws a pitch against the Atlanta Braves in the first inning at Turner Field. Mandatory Credit: Brett Davis-USA TODAY Sports Brett Davis USA TODAY Sports Images
St. Louis Cardinals starting pitcher Lance Lynn had reconstructive surgery on his right, throwing elbow to repair a torn ligament Tuesday. He will miss the entirety of the 2016 season as he rehabs his way back from the injury.
Lynn went on the 15-day disabled list in June with a forearm strain, however, the pitcher revealed the injury was greater than he let on initially, pitching through pain for most of the second-half of the season, as he explained to the St. Louis Post-Dispatch.
"I refused," Lynn said when asked why he put off having the elbow surgery. "Having surgery was never a question that I asked. I wasn't going to do it. I decided to keep pitching. I would have had a 17-month rehab. I wasn't going to change that. I felt like I could still compete. And look at our team at that point. Jaime Garcia was going on the DL. Adam (Wainwright) was down for the year. Carlos (Martinez) and Michael Wacha were going to have to do something because they were running out of innings. I knew I had to pitch, not think about anything else."
Despite being able to go 12-11 with a 3.03 ERA and 167 strikeouts, Lynn started to recognize he problem wouldn't not heal itself as pain emerged in everyday tasks.
"Like shaking someone's hand," Lynn said. "Opening a door with the doorknob. Or picking up my daughter."
Lynn showed signs on the field of his condition deteriorating. He lacked control of his pitches — especially on off-speed pitches, only completing the seventh inning one time in his final dozen starts. Relying heavily on the fastball, he dodged questions about the apparent issues, saying he had a love for the fastball.
"I threw the one pitch that didn't hurt," Lynn said about the increase in the amount of fastballs he threw.
Even though Lynn will be out of commission for a full season, he is planning to use the time to comeback stronger than he was prior to the injury.
"It's going to be the first time in my life that I've had a year to only concentrate on myself and my strengths and do the work that is going to make the most successful for the rest of my career," Lynn said. "That means this is full-fledged focus from here. Get right. Get healthy. Get strong. And then go into the rest of my career better for it... That's how you make the best of the worst situation."
MORE MLB: Want stories delivered to you? Sign up for our MLB newsletters.