Cardinals' Floyd singes Legion of Boom before hamstring trips him up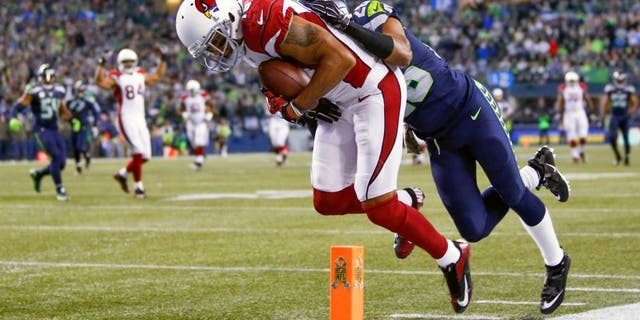 Michael Floyd scored a pair of first-half touchdowns in Arizona's 39-32 victory. Joe Nicholson USA TODAY Sports
A hamstring injury forced Arizona Cardinals wide receiver Michael Floyd to the sideline in Sunday's 39-32 victory at the Seattle Seahawks.
Floyd made quite an impact on the game before he was hurt, continuing a trend from the past four games, to help the Cardinals build a three-game lead over Seattle atop the NFC West.
Floyd appeared on his way to a career night, catching a pair of touchdown passes in a span of just over 2 1/2 minutes in the second quarter as Arizona stunned the Seahawks by racing to a 19-0 lead.
Despite the injury, Floyd set season highs with seven catches for 113 yards. It was the second straight 100-yard game for Floyd, who has scored five times during a four-game touchdown streak.
Floyd beat Seahawks star cornerback Richard Sherman on a 27-yard strike before burning Cary Williams on a 35-yard touchdown, providing the Cardinals with a big cushion that they would need to fend off Seattle's furious comeback.
"We knew it would be a battle for four quarters," Floyd said. "It didn't go as planned, but we stuck together."
Those words could describe Floyd's season. He had to undergo surgery in August to repair three dislocated fingers and was a minimal contributor over the first five weeks, failing to notch more than one reception in four games.