Canucks' third-liners are proving their worth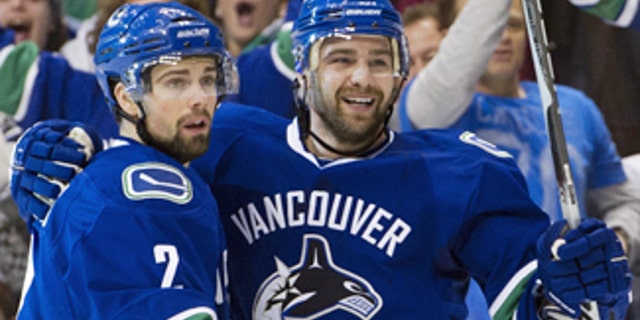 VANCOUVER, B.C. -- Maxim Lapierre and Chris Higgins are no strangers to one another; they're both Canadiens draft picks and played together for three seasons in Montreal.
The duo now makes up two-thirds of the Vancouver Canucks' third line along with Jannik Hansen – threesome that combined for two shots, five hits and Game 1's lone goal in a 1-0 win against the Nashville Predators.
"It's just three guys that play with high energy, compete physically every night and relatively smart players," said Higgins, who has two goals in these playoffs – both game-winners in series openers. "You put those three things together, you play with emotion and you're going to get good things come out of it."
Higgins and Lapierre agree the move GM Mike Gillis made to bring the two in at the trade deadline was made easier because the pair had spent time together with the Canadiens.
"It's helped quite a bit, for me to get used to playing here and playing with him in the playoffs," Higgins said. "He performs every time the playoffs come around so playing on his line I know I better be going cause he's going to be."
Lapierre, who was dealt to the Canucks from Anaheim along with MacGregor Sharp for Joel Perrault and a third-round draft pick, is also benefiting by coming to a team coaches by Alain Vigneault – his junior coach in Prince Edward Island.
"It was easier for me, I know the type of coach he was," the 26-year-old said. "I knew what he wanted from me so I came here with a good frame of mind and I just wanted to work hard."
Lapierre's arrival in Vancouver has been a blessing since center Manny Malhotra went down with a severe eye injury late in this season. The former second-round pick of the Habs was a perfect 6-for-6 in the faceoff circle on Thursday night.
"It was a good night, that's over now and we got to focus for tonight," Lapierre said. "We know they're going to be ready and better in every aspect of the game. It changes a lot of things in the game when you start with the puck all the time you're able to do matchups and things like that.
"The other team can't change when they want so it's huge and we take big pride in it here on this team."
Higgins was also acquired via trade at the Feb. 28 deadline in a deal with the Florida Panthers, which saw Canucks prospect Evan Oberg and a third-round draft pick go the other way.
Despite spending time together with the Canadiens, Lapierre and Higgins didn't play together often.
"We played a little bit together, when things weren't going our way the coach would put us together in the third period or things like that," said Lapierre of his time with Higgins. "I think it's pretty simple with Jannik and him – we want to use our speed and put everything at the net and be strong in our zone."
Establishing chemistry with Hansen hasn't been difficult for the pair.
"He works so hard, he's so fast, so intelligent," Lapierre said of the Danish forward. "He brings a lot to this team and he's always giving it 120 per cent so he's huge for our team."
In order for the Canucks to have a deep run this spring they'll need their depth up front, which includes the likes of Higgins, Hansen and Lapierre.