California puts on home run show at Little League World Series, advance to play Connecticut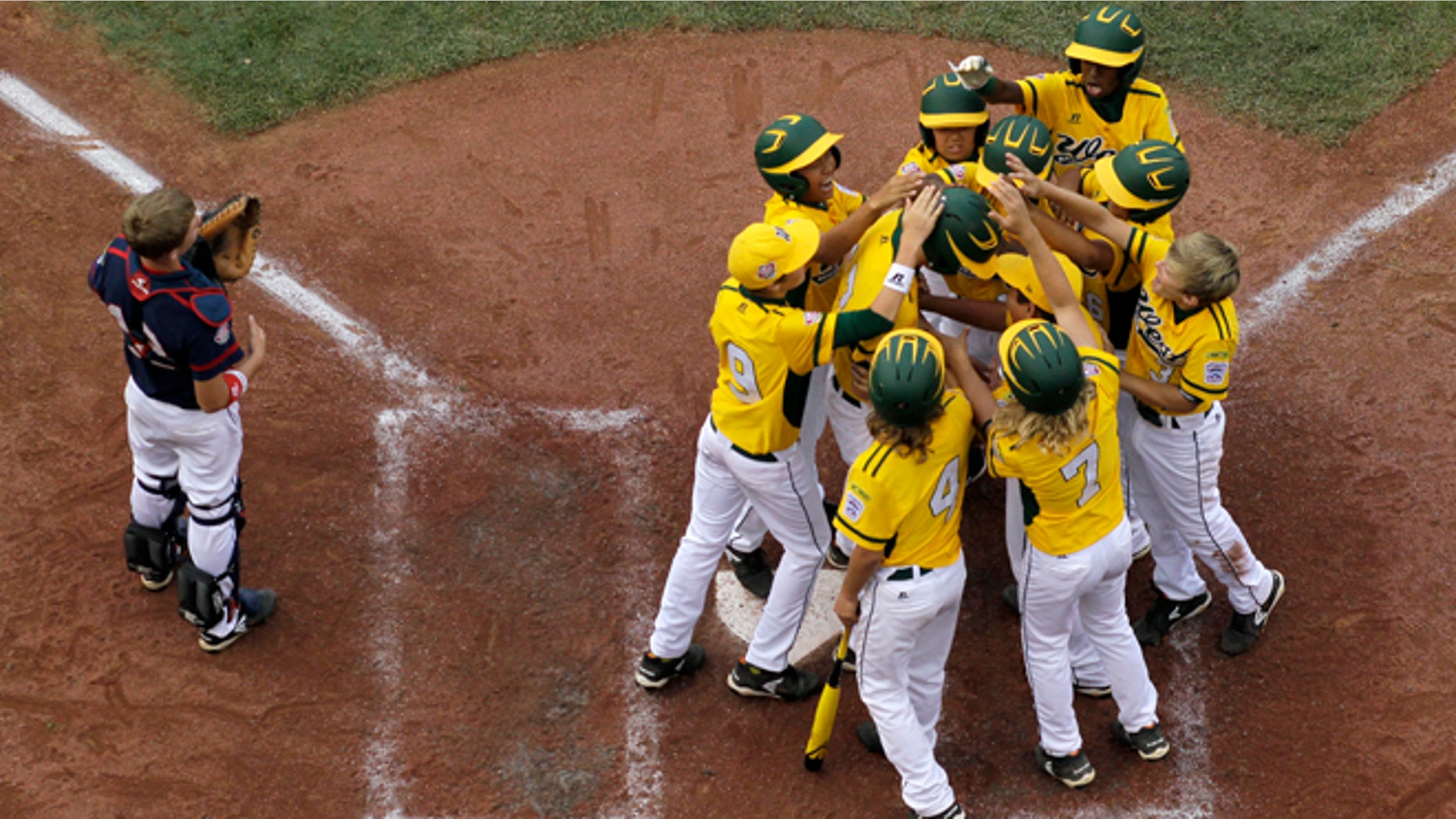 SOUTH WILLIAMSPORT, Pa. – Now that was more like it, manager Rick Tibbett said after watching his Chula Vista, Calif., team put on a home run show at the Little League World Series on Sunday.
Jake Espinoza, Micah Pietila-Wiggs, Michael Gaines and Grant Holman all homered in a mercy rule-shortened 15-3 victory over Newark, Del.
Holman capped an eight-run fourth inning, by hitting the first pitch he faced over the fence in center for a game-ending grand slam.
It was a significant reversal after the Californians needed an extra inning to pull out a 3-0 victory over Grosse Pointe, Mich., in their series opener.
"That's what we do best," Tibbett said, of a team that averaged 11 runs in six games to clinch the West championship.
And he certainly wasn't concerned after his team trailed Newark 2-0 after the top of the first inning.
"Yeah, two runs is not going to keep us down. It just doesn't," Tibbett said. "Normally, we score 8-10 runs a game. It didn't bother us one bit."
Chula Vista (2-0) advanced to play Westport, Conn. (2-0), on Wednesday. And they weren't the only ones that made quick work of their opponents. Mexico improved to 2-0 with a 13-0 four-inning win over Aguadulce, Panama, (1-1).
"They hit everything we threw at them — fastballs, curveballs and change-ups," Panama manager Luis Gonzalez said through an interpreter. "They are a very good team."
The outcome was much tighter for the two other teams who remained undefeated.
Westport built a 9-2 lead through four innings, and hung on for a 9-7 win over Sammamish, Wash.
Tokyo, Japan, gave up two unearned runs in the final inning, before securing a 3-2 win over Taoyuan, Taiwan.
That means, Mexico will face Japan on Wednesday.
Sammamish will play Newark, and Panama will meet Taiwan in must-win games Monday.
Newark coach John Ludman was pleased with his team's start against Chula Vista on Jack Hardcastle's two-out, two-run double.
"We really felt good after the top of the first, and even after the first when they scored a couple of runs," Ludman said.
Trouble was, the Californians were just getting started.
After Espinoza hit a two-run homer in the first to tie the game at 2, Pietila-Wiggs hit a three-run shot in the second inning.
Gaines hit a solo home run as part of a two-run third. And then the floodgates opened in the fourth.
Though there were concerns that the mound at Volunteer Stadium was too slick, Ludman wouldn't blame that on the game's outcome.
"I don't want to make excuses," Ludman said. "They smoked us and that's the bottom line."
That doesn't mean there wasn't a problem with the mound. And Tibbett also complained of it being slick, and forcing starter Nick Mora to adjust his motion.
Ludman was forced to pull his starter, Hardcastle.
He said he was advised by a trainer that by slipping on his plant foot, Hardcastle was putting pressure on his Achilles tendon.
In the earlier game, Westport, Conn., nearly squandered a 7-0 lead before Alex Reiner shined in relief to preserve the 9-7 win over Sammamish, Wash.
After the Northwest champions scored twice in the fourth inning and four more times in the fifth, Reiner stopped a sixth-inning threat by striking out Jack Rud to end the game and stranding two base runners.
"Just a big sigh of relief knowing we got the game and are going to the U.S. semifinal," Reiner said.
Westport appeared in full control, building a 9-2 lead in the fourth inning. That's when manager Tim Rogers elected to rest starter Harry Azadian.
"If you want to make a run at the tournament, you have to manage your pitching," Rogers said. "We knew we weren't going to shut them out. We didn't pitch with the accuracy we normally do."
The move nearly back-fired.
"The last three innings felt like it took four hours," Rogers said. "It was painful."
Sammamish had pitching troubles early in having to overcome the loss of ace Jacob Dahlstrom. He sustained a deep bruise and did not return after a line drive struck him in the right knee in the second inning.
Charlie Roof, Max Popken, Chad Knight and Azadian each delivered run-scoring hits.
JAPAN 3, TAIWAN 2
Takuma Gomi was pleased to provide some insurance, padding Tokyo's lead to 3-0 with a two-run shot in the top of the sixth.
"I was only thinking about what I could do for the team, and hope it would lead to the team winning," Gomi said.
They certainly came in handy.
Taiwan scored twice in its final at-bats, both on errant throws.
After giving up a run on a wild pitch, reliever Kyousuke Kobayashi got Chen-Hsun Lee to fly to center for the final out with a runner on first.
Japan opened the scoring in the second inning, when Dai Okada hit an RBI double.
"It was a tough game," Tokyo manager Masumi Omae said. "The kids seemed nervous, and you could feel some of the parents being nervous in the crowd."
It certainly appeared that way. While Taiwan supporters were chanting and cheering their support in the bottom of the sixth, the usually exuberant Japanese supporters were mostly quiet behind the third-base dugout.
MEXICO 13, PANAMA 0
Ramon Mendoza hit two of Tijuana's five home runs against Aguadulce.
Brandon Montes homered on the fifth pitch of the game, and Mexico broke open the game with a five-run second inning — keyed by Mendoza's grand slam.
Martin Gonzalez and Saul Favela homered in the third inning as Mexico extended its lead to 10-0.
Mendoza's second homer of the game, this time a two-run blast, capped the scoring in the fourth. Mendoza finished the game with six RBIs.
Luis Manzo tossed a one-hitter for the victory. He struck out three, walked one and hit three batters.
Jean Mar Sanchez had the lone hit for Panama, a single to open the first inning.