By the numbers: 8 stats you need to know about Martinsville Speedway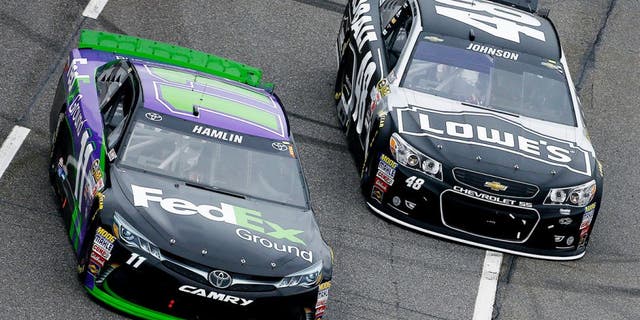 It's back to the short tracks for the NASCAR Sprint Cup Series, which kicks off a string of three short-tracks races in four weeks with the running of Sunday's STP 500 at Martinsville Speedway.
5 -- Denny Hamlin is the defending winner this race, and through the years has been really good here. Last year, Hamlin won his fifth Martinsville clock with an impressive victory at the 0.526-mile track.
7 -- The late Dale Earnhardt finished second at Martinsville seven times; that's a series record. Earnhardt won six races here during his NASCAR Hall of Fame career.
8 -- One active driver is an eight-time winner at Martinsville Speedway: Hendrick Motorsports' Jimmie Johnson.
13 -- The number of times Johnson and Hamlin have won at Martinsville. The other drivers in the field for Sunday's STP 500 have a combined five victories here.
34 -- The number of drivers entered in Sunday's STP 500 who have never won at Martinsville.
48 -- Throughout its long history, some 48 different drivers have won NASCAR Premier Series races at Martinsville. The all-time winner here is Richard Petty, who won 15 of his career 200 race victories at this track.
661 -- Since the first NASCAR Premier Series race at Martinsville in 1949, 661 different drivers have raced here. A total of 413 drivers have competed in at least two races at the track, 170 have been in at least 10 races and just two have more than 50 starts: Richard Petty has 67 and Darrell Waltrip 52.
1946 -- That's the year Martinsville was built, making it the oldest track in NASCAR.