Bucks forward Parker named to USA Men's Select Team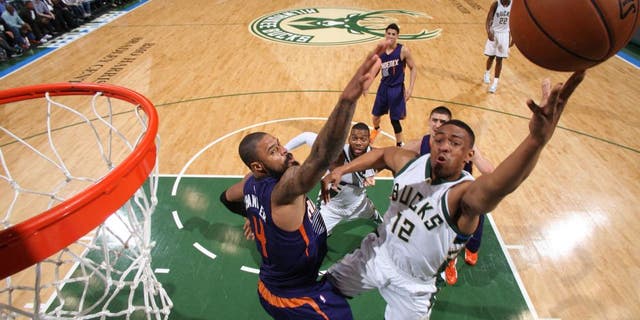 NEWYou can now listen to Fox News articles!
Milwaukee Bucks forward Jabari Parker will train with the U.S. men's national team during it's training camp in Las Vegas in July.
Parker was one of 25 players named to 2016 USA Men's Select Team on Tuesday, joining up-and-coming NBA players like Jahlil Okafor of the Philadelphia 76ers and Zach LaVine of the Minnesota Timberwolves, as well as college stars like Denzel Valentine and Brandon Ingram.
The select team will train with Team USA in Las Vegas from July 18-21.
San Antonio Spurs head coach Gregg Popovic will coach the team alongside Spurs assistant Ime Ukoka and Villanova head coach Jay Wright.
Parker has plenty of experience in international play, and helped USA Basketball to a gold medal at the 2012 U17 World Championship and the 2011 U16 World Championship.
Parker recently completed his second season with the Bucks, averaging 14.1 points, 5.2 rebounds and 1.7 assists through 31.7 minutes per game.
The full roster:
Malcolm Brogdon (University of Virginia), Devin Booker (Phoenix Suns), Kentavious Caldwell-Pope (Detroit Pistons), Willie Cauley-Stein (Sacramento Kings), Kris Dunn (Providence College), Aaron Gordon (Orlando Magic), Jerami Grant (Philadelphia 76ers), Gary Harris (Denver Nuggets), Rodney Hood (Utah Jazz), Brandon Ingram (Duke University), Brice Johnson (University of North Carolina), Stanley Johnson (Detroit Pistons), Zach LaVine (Minnesota Timberwolves), CJ McCollum (Portland Trail Blazers), Doug McDermott (Chicago Bulls), Emmanuel Mudiay (Denver Nuggets), Jahlil Okafor (Philadelphia 76ers), Julius Randle (Los Angeles Lakers), D'Angelo Russell (Los Angeles Lakers), Marcus Smart (Boston Celtics), Myles Turner (Indiana Pacers), Denzel Valentine (Michigan State University), Justise Winslow (Miami Heat), Cody Zeller (Charlotte Hornets)