Bruins want to improve on late Game 2 effort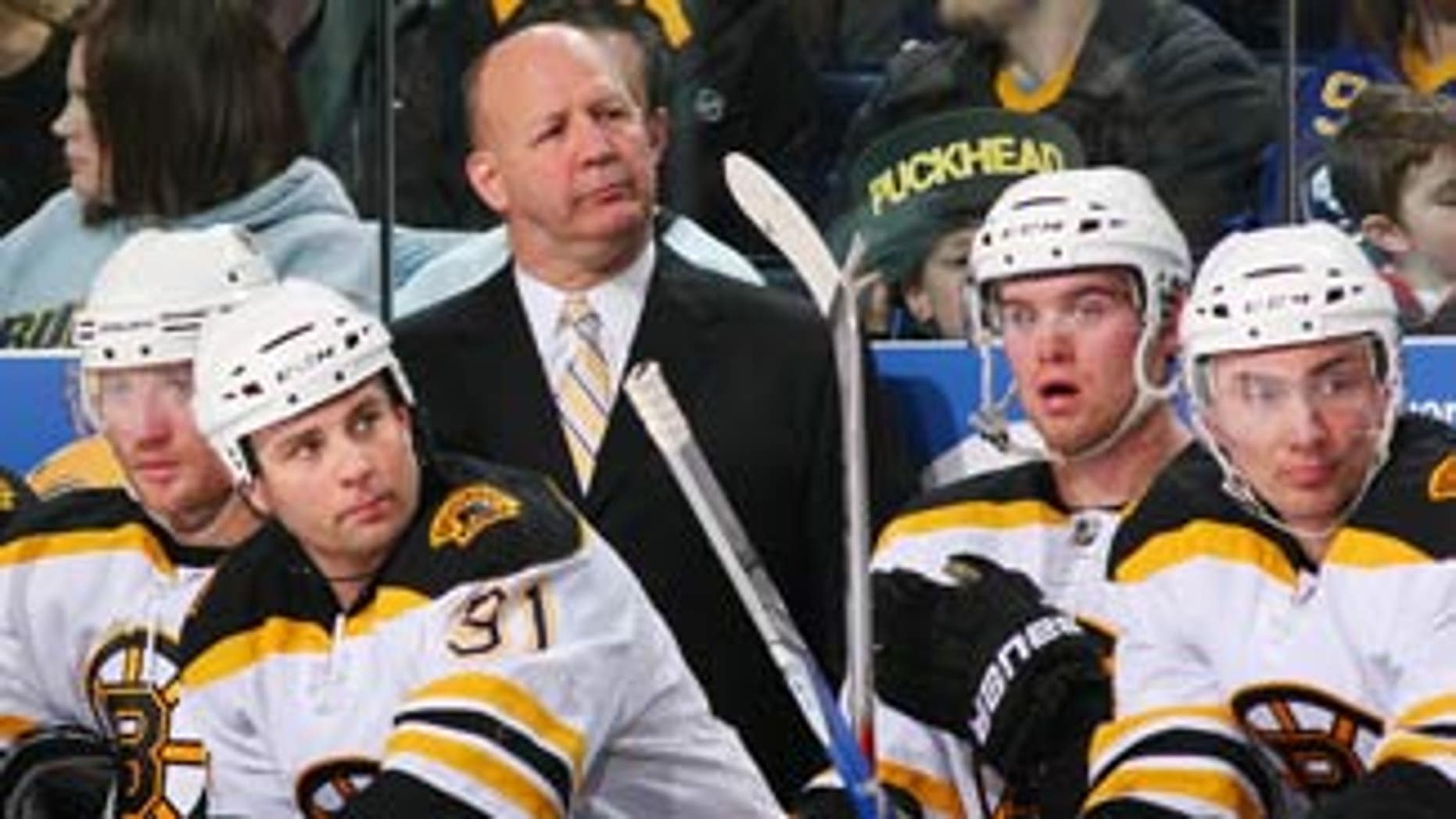 Are the Bruins feeling good about being up 2-0 in their Eastern Conference Semifinal series with the Philadelphia Flyers? Certainly. But don't think for a second they're resting on that lead heading into Game 3 on Wednesday (7 p.m. ET, VERSUS, CBC).
"We know how tough the competition is," coach Claude Julien told reporters Tuesday in Boston. "We just need to come in here (Wednesday) and be ready to play as good as we can."
To reach that level, Julien believes his team needs to play far better than it did in the latter stages of Game 2. The Flyers outshot the Bruins 22-7 in the third period and 10-5 in overtime. Were it not for the strong play of Tim Thomas, who stopped all 32 shots he faced in the final 34 minutes -- including three on a power play the Flyers received with 2:39 left in the third -- the outcome would have been entirely different.
"There's obviously some areas of our game that were certainly not up to par (in Game 2)," Julien said. "That was maybe later in the game. And we have to correct those, and we're going to make those corrections and hopefully those adjustments before (Game 3). I'm not looking so much at where we are in there series more than what's at stake in (Wednesday's) game -- how well we have to play, and the rest will take care of itself.
The Bruins players are confident in one thing -- they're going to see Philadelphia's best game on Wednesday.
"I thought they played better than us (in Game 2)," Bruins center Patrice Bergeron told the team's website. "We found a way, but still, we have to make sure we're a little better (in Game 3).
"They are a great team. They are not going to quit and we know that, so we just have to regroup and make sure we get back to our game."
One problem the Bruins don't have is overconfidence. First, they saw what happened in the first round when Montreal won two games in Boston, and the Bruins were able to win the next two in Montreal.
And there's always the specter of last year's conference semifinal against the Flyers, when the Bruins took a 3-0 series lead only to become just the third team in NHL history to allow a team to come back and win that series.
"I don't think we need to look too far back to know that guys aren't getting too comfortable," defenseman Andrew Ference told the team's website. "We need to know that playoffs are hard-fought and we have to earn every victory, so I think it would be silly to think that guys in this locker room are comfortable."
The hope is that understanding their immediate past only can help their future, starting with Game 3.
"If we play well, we'll be up by another game," Julien said. "I don't think there's anyone in that dressing room, including coaching staff and players, that are certainly sitting comfortable. This is going to be a tough task. They're a good team, and we're ready to face that challenge."
Rolling in the blue -- One reason the Bruins have had success is their ability to roll three pairs of quality defensemen. They couldn't do that for most of Game 2, but were able to survive.
They lost Adam McQuaid late in the first period when he crashed head-first into the boards in the Boston end. He was helped off the ice and taken to Thomas Jefferson University Hospital in Philadelphia for observation, but was allowed to travel home with the team. Julien said McQuaid is day-to-day with a sprained neck.
In McQuaid's absence, Dennis Seidenberg played a game-high 36:26, and team captain Zdeno Chara was on the ice for 31:35. Andrew Ference and Johnny Boychuk also played more than 27 minutes each. The most likely option to replace McQuaid seems to be Shane Hnidy, who's only playoff appearance was Game 2 of the first round, when Chara was out due to dehydration.
"We'll see," Julien said. "We've got some options, and those decisions will be made (Wednesday).
Julien said he was particularly impressed by Seidenberg, who has 5 points, a plus-5 rating and a team-best average ice time of 28:33 per game.
"I would say he's a horse," Julien said. "He's strong, and you look at the minutes he's been logging as well, (and) he doesn't get tired -- he can take it. He's a big, strong individual, he competes well. When we acquired him the one thing we knew about him was he was really a big-game player and he's proven that and even more so.
"When you look at the way he's performed, you can see how much we missed him last year in the playoffs and how better we would have been as a team with him in it. He's been good, he competes well, and the bigger the game, the better he gets. And we hope that he keeps playing that way because he's been an unsung hero to many. But certainly he hasn't eluded our view of him."
Just as good a day later -- Julien spent Tuesday reviewing the tape of Game 2, and as good as Thomas looked live, it was even better the next day.
"He was outstanding," Julien said. "He was in control. He just followed the puck so well. His confidence was great and the confidence he gave to our hockey club was even more so. In playoff hockey, as you've seen in the past, teams that succeed always have a great goaltender. And right now, we're getting that kind of contribution from Tim."
Brad Marchand was one of the players who said Thomas' play is what allowed them to hold off the Flyers in the third period and overtime of Game 2 before David Krejci scored the winning goal.
"It easily could have been 8-1, 8-2 at one point," Marchand said after the game. "It was great we had Timmy there backing us up. It's good we can have a team push like that against us and we were able to push back and come through at a clutch time."
Julien wasn't about to disagree Tuesday.
"I think it was one of those games where I thought in the third period, they really took it to us and we didn't seem to have the same kind of jump that we needed," he said. "But Timmy allowed us to stay with it and we found a way to win. There's no doubt that Tim had a big role to play in that, as far as giving the team the confidence to go out there and win that game. He just kept making those saves and giving us those opportunities. Eventually we found a way to score that goal. He allowed us to do that because of the way he played."
Contact Adam Kimelman at akimelman@nhl.com. Follow him on Twitter: @NHLAdamK