Bruins get back to work, tinker with power play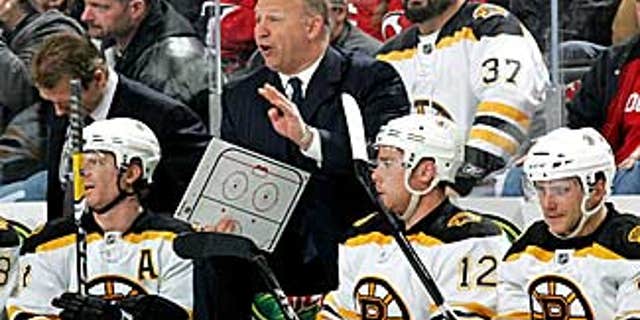 LAKE PLACID, N.Y. -- This sleepy mountain resort might be one of the vacation capitals of the United States, but on Wednesday it was no such thing for the Boston Bruins.
Boston coach Claude Julien put his team -- minus the injured Chris Kelly -- through a brisk 75-minute practice at the United States Olympic Center to prepare for Thursday's Game 4 of their Eastern Conference quarterfinal-round series against Montreal. The Canadiens lead the best-of-7 series, 2-1.
The Bruins arrived here shortly after Monday's 4-2 victory at the Bell Centre, a win that put Boston back in this series after two straight losses at home to open the proceedings. They spent Tuesday having a short meeting before the players were left to enjoy the site of the 1932 and 1980 Winter Olympics.
Wednesday, though, was strictly a work day.
"Yeah, we are just kind of touching up our game; little aspects -- forecheck and breaking out, all that stuff," Julien said. Power-play work. Just hoping that we can keep getting a little better every game."
The players, while grateful for a day off during the grind of the playoffs, were happy to get back to the grind.
"It was nice for us to just get out and relax," veteran forward Mark Recchi said after his first pilgrimage to Lake Placid. "We got some stuff done yesterday, but it was more relaxation than anything in a beautiful place here, and it was work today. We're getting our focus back on what we have to do tomorrow."
One of the biggest things Boston has to do to get ready for Game 4 -- judging by both the stats and the points of emphasis from Wednesday's practice -- is figure out its power play.
The Bruins are 0-for-11 with the man-advantage in this series and have failed to even generate many scoring chances on several of the power plays.
As a result, it was not surprising to see Julien tinker a bit with his power-play units during Wednesday's session, which opened with special-teams drills.
Center Patrice Bergeron, normally the point on the second unit, was a forward on the first unit, joining David Krejci and Milan Lucic. Nathan Horton, the usual first-line forward, was not involved in the drills. The first unit defensemen were Zdeno Chara and Tomas Kaberle. The second power-play unit saw Michael Ryder split time with Brad Marchand on one wing, joined by Recchi and Rich Peverley. Andrew Ference, a new addition, and Dennis Seidenberg manned the points on the No. 2 unit.
"It hasn't scored, again we need to get this thing going a little better," Julien said. "But also understand that in the playoffs, (penalty kills) seem to be trumping the power plays. And that's in most of the playoff games that we've seen as well. And we've done a pretty good job against Montreal as well. So when you play a team over and over again, you find out their tendencies, so it's a little better than just playing one game and moving on to the next team in the regular season."
As an example, Boston has clearly come to the conclusion that Montreal is wholly committed to taking away the shots from the point that are so integral to Boston's man-advantage strategy. So much of the Bruins' attack on the power play begins with Chara and Bergeron banging away from the points and then watching as Boston's big forwards bull to the net for deflections and rebounds.
Montreal has neutralized that plan by playing its forwards high and blocking a number of shots.
"It's the same old thing, you just got to get ugly," Recchi said. "We see the video and we see what they are doing and now we have to execute. We have to do the right things -- shoot at the right time and pass at the right time. We have to have support all over the ice. It just takes an ugly goal to get things going and if we can find that then, hopefully, things can turn for us."
One of the keys most power-play participants believe will help is making Montreal pay for its eagerness to block shots and pressure the points. By deploying defenders high in the penalty-killing box, Montreal should leave itself vulnerable down low if Boston commits to maintaining numerical superiority.
"If they pressure up top, we have to have good puck movement and get the puck down low and outnumber them in front of the net," Seidenberg said. "That has been the plan the whole time, but we just haven't executed like we would like. Hopefully, we'll do it the next game."