Browns coach Hue Jackson explains why he stopped calling plays with five minutes left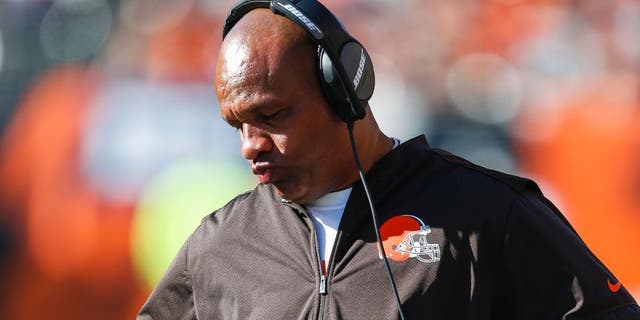 There is no longer an unbeaten team in the NFL after the Philadelphia Eagles ended the Minnesota Vikings' perfect start, but there is still one team without a victory this season.
The Cleveland Browns, sitting at 0-7, have yet to win a single game in 2016. They've dealt with numerous injuries at quarterback, a troubled wide receiver in Josh Gordon, and a secondary that's been depleted and retooled of late. Their disastrous (yet, somewhat expected) start to the season has led to some understandable frustration, particularly on the part of head coach Hue Jackson.
Sunday's loss to the Bengals was a perfect representation of his dissatisfaction through seven weeks. With about five minutes left in the game, Jackson ditched his headset and handed play-calling duties to assistant coach Pep Hamilton. He later called out his team, too.
"Yeah, I took them off,'' he said, via Cleveland.com. "I called the team out. Yeah, I was disappointed because I don't want anybody running the ball like that on us. We've got to get some things squared away, but I take responsibility for it all."
Jackson had given up on the Browns after they were gashed for 559 yards, which is the most by Cleveland since 2008. He was tired of seeing his defense get run over by the Bengals, and seeing the offense sputter with their fifth quarterback under center.
He attempted to explain his reasoning for essentially quitting on the team early, though he denied that's what he did.
"I don't like losing, and I can get just like anybody else,'' he said. "I can get disappointed and upset just like anybody else. Because I took them off, I knew exactly everything that was going on. I can hear. It wasn't like I wasn't involved in the game, but I did.''
Essentially, Jackson was fed up with his team's performance and figured the game was out of reach. While he declares he wasn't out of the game completely, surrendering play-calling in the fourth quarter is a sign of giving up.