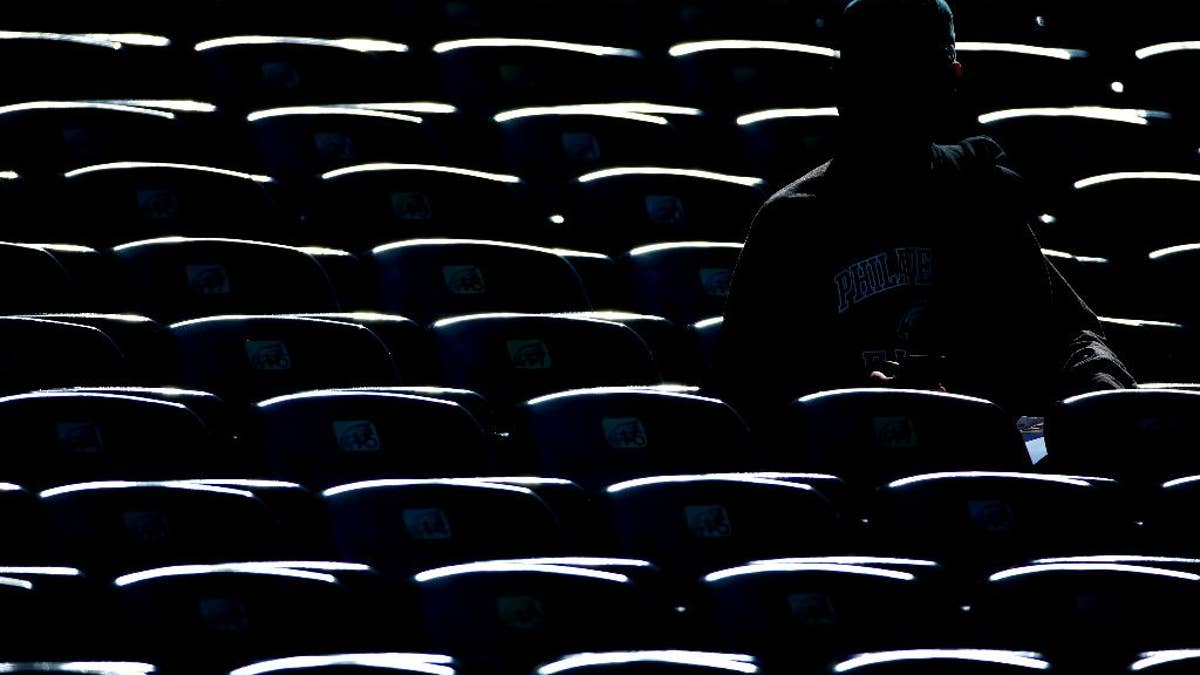 Antrel Rolle says Philadelphia won a weak division last year.
The Eagles say that's more of a knock on the Giants and other teams in the NFC East.
The trash-talking will be settled on the field Sunday night when the Eagles (4-1) host the rival Giants (3-2) at Lincoln Financial Field.
"Obviously they were the best team in our division last year," Rolle said. "They finished 10-6. That's an awesome record for any team in the NFL. I said what I said. Division was weak, in my opinion. That doesn't discredit Philly under any means. If they want to take it that way, then so be it."
LeSean McCoy, who used to engage in verbal jousting with former Giants defensive end Osi Umenyiora, didn't want to this week.
The All-Pro running back is too busy trying to figure out how he went from NFL rushing champion to averaging 2.9 yards per carry.
"I didn't hear too much about what they've been saying," McCoy said. "Antrel has talked a lot over the years, but he's a good player. I'm confident with my group. We're 4-1. We're doing something right. We'll see Sunday night."
Playing this game in the prime-time spotlight only magnifies the rivalry between the teams.
"Definitely no love lost," Giants defensive end Mathias Kiwanuka. "It is what you live to play for when you are a little kid. These are the games that you want to be involved in because you know they are going to be remembered. Not just for a year or two, but remember them for years to come."
Here are other things to watch for Sunday:
GOING DEEP: Nick Foles has struggled to complete passes of more than 20 yards, going 6 for 31 for 195 yards, four TDs and four interceptions.
Last year, Foles was 19 for 43 for 692 yards, 10 TDs and only one pick on similar throws. Foles has been working behind a makeshift offensive line that's missing two starters after one returned last week. But the biggest difference is the absence of three-time Pro Bowl wide receiver DeSean Jackson, who was released in the offseason.
"I'm going to continue to give our guys an opportunity," Foles said. "We can't be afraid to throw the deep ball. I'm not afraid of throwing the deep ball. I've always liked throwing the deep ball. I've always liked letting loose. You can't let the start of a season not being good at it, scare you away from it."
BIG BLUE DEFENSE: While Eli Manning and the offense are clicking, New York's defense has been solid during its three-game winning streak. The Giants have forced 10 turnovers in the past three games and allowed an average of 17 points. They held the league's top-ranked offense to just 15 percent conversions on third down last week in a 30-20 win over Atlanta.
"We're playing more together, we're playing fast, guys are hustling to the ball a lot more," Rolle said. "Even when there are mistakes, guys are going 100 percent, so it's not as noticeable."
CORNER SWITCH: Eagles defensive coordinator Billy Davis insists starting cornerbacks Cary Williams and Bradley Fletcher aren't to blame for the team having the 29th ranked pass defense a year after allowing the fifth-most yards passing in league history. Davis has no plans to move nickel cornerback Brandon Boykin outside or bench either starter for Nolan Carroll.
"I can break down every play that they had and tell you multiple other people that had a breakdown on that play," Davis said. "So over and over again, you look at a series of events on a play that hurt us that led to it, but not one individual player. I have complete confidence in our corners, I really do. And I watch every play of every snap of practice, obviously, and I know everybody wants to pin it on them, but I'm telling you, that's not where the issue is all the time."
RUNNING BACK SHUFFLE: Rookie fourth-round draft choice Andre Williams replaces the injured Rashad Jennings for the Giants. Jennings was fourth in the NFL with 396 yards rushing before hurting his knee. Williams ran for 65 yards against the Falcons, including a 3-yard TD that sparked a comeback.
"I'm very excited," Williams said. "It's going to be my first start. I don't think I have to do anything differently. I think it's going to be a good chance to get lathered up early in the game, rather than later."
ROOKIE RECEIVERS: Odell Beckham Jr., the Giants' first-round pick, returned from a hamstring injury to make his NFL debut last week and caught the go-ahead TD vs. the Falcons. Jordan Matthews, a second-round pick, has fit nicely into Philadelphia's offense as the starting slot receiver. He has 19 catches for 176 yards and two touchdowns.
___
AP NFL websites: www.pro32.ap.org and www.twitter.com/AP_NFL
___
Follow Rob Maaddi on Twitter: https://twitter.com/AP_RobMaaddi