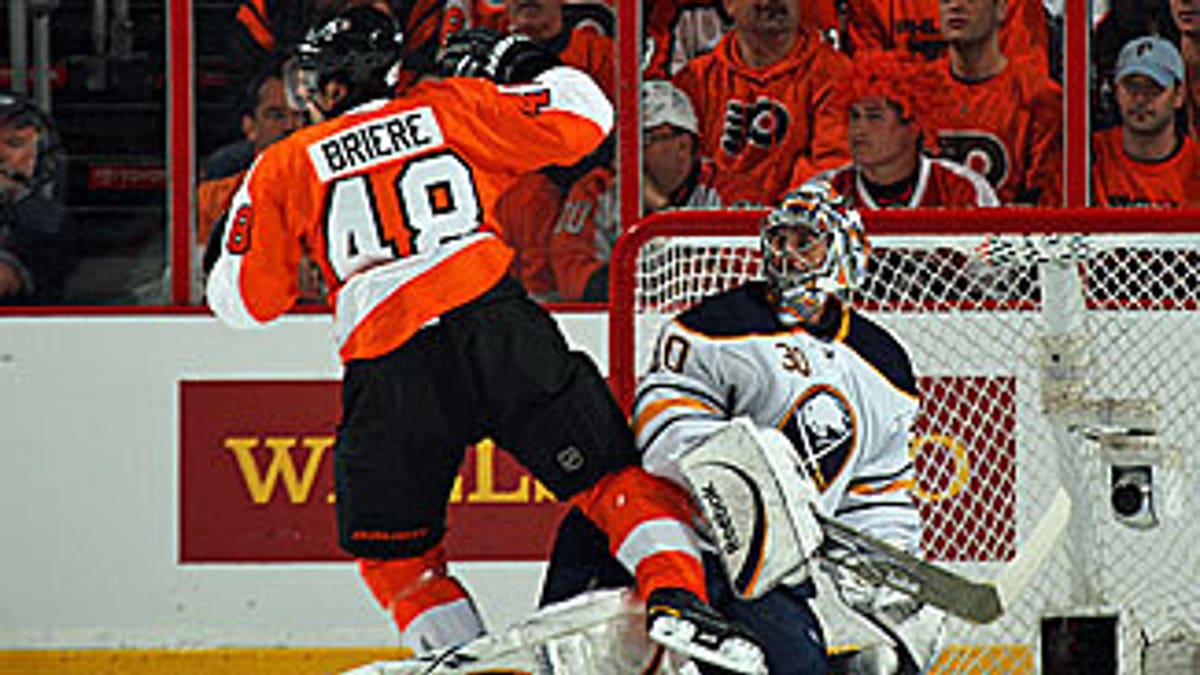 VOORHEES, N.J. -- No one ever is going to confuse Philadelphia Flyers forward Danny Briere with Knute Rockne, but what Briere said during the second intermission played a major role in the Flyers rallying to win Game 6 and force a Game 7 in their Eastern Conference quarterfinal-round series against the Buffalo Sabres.
"There was about four, five minutes before we were headed on the ice, he stood up, everybody was standing up preparing themselves to go on the ice, and he let it rip a little bit," coach Peter Laviolette said. "I thought it was great under the circumstances. He wasn't ready. He wasn't done, it wasn't time. We needed to dig in."
Laviolette said he was so inspired by what Briere said he even thought about digging out his skates to help support the effort.
"He was fired up, got the guys going," teammate Claude Giroux said. "He got me going, so that's good."
Briere is one of the last players people might expect to start yelling and screaming in the locker room, and he even admitted Monday that it was a pretty out-of-character thing for him to do.
"It was all about what I was feeling at the time," Briere told NHL.com. "I was convinced we were going to come back. Told the guys Boosh (Brian Boucher) wasn't going to let in any more goals. I had that confidence in him. … It was the heat of the moment, the emotion."
Briere has made a habit of raising his level of play to match the emotion on the ice. He had a pair of goals in Game 6 and is tied for second in the League with 5 goals in the playoffs. His goal in the third period of Game 5 capped the Flyers' rally from a 3-0 hole to force overtime, and his second goal of Game 6 tied the game 3-3 midway through the second after the Flyers were down 3-1.
"I think he wants to be the difference-maker and he knows what to do in those moments," said linemate Ville Leino, who scored the overtime goal in Game 6. "When guys get tired or a little bit nervous out there, he just gets better. I think obviously he knows where the puck's going and where it's going to bounce and know where to put it after he gets it."
It isn't a new thing for Briere, either. He led all scorers in last year's postseason with 30 points and was second with 12 goals. His 12 points in six games against the Chicago Blackhawks in the Stanley Cup Final was one point shy of Wayne Gretzky's NHL record for points in a Final series.
He's also played in four of the last five Eastern Conference Finals (2006-07 with Buffalo, 2008 and 2010 with Flyers).
And going back to the 2006 postseason, Briere's 89 points lead all playoff scorers, and his 38 goals are second only to Henrik Zetterberg's 43.
"I think overall you always look at the body of work when it comes to the playoffs," Laviolette said, "and his career body of work is impressive."
Briere said the thing that's changed most for him in his development as a top-level playoff performer is a desire to be a difference maker, and a willingness to do the work to make that possible. He said he learned a lot of that from Chris Drury when they were teammates in Buffalo.
"I think everybody wants to be that guy," Briere said. "Not everyone is willing to put themselves, or knows how to put themselves, in that situation. That's where I learned a lot from watching Chris prepare, watching his demeanor. Just his focus when the game's on the line and you need a big goal."
Briere said it's a fearlessness that a player has to have to succeed in high-pressure situations.
"If you hope that you're going to win, you're putting yourself behind the 8-ball right way," Briere said. "If you think you're going to win or if you know you're going to win, it might not seem like much, but if I go on the ice and I hope that things are going to turn out good … but if I go and say things are going to be good and I'm going to make it happen, there's a big difference there."
That courage carries over off the ice, as well.
"It's not the movies, where you watch a movie and everybody stands up and says something, and it's like, why don't they do that all the time," Boucher said. "That's not really how it goes. Most of the time guys are more comfortable letting their play do the talking and they prepare in their own certain way and they bring it in their own certain way. It's difficult to stand up and say something if you can't back it up, then the words mean absolutely nothing. That's where guys are hesitant to say something. They don't want to be that guy that says something and it doesn't come through. That's why it takes a lot of guts to do it."
"It wasn't something that was planned, wasn't something that I expected to even talk about," Briere said. "It was the heat of the moment. I don't know if it helped at all, but it didn't hurt. I was certainly fired up."
Briere certainly has the courage to talk. He just doesn't find the need to do it. Which could make his words carry that much more weight.
"Danny's one of those guys, he's doesn't say things if he doesn't have to say it," Boucher said. "He doesn't stand up very often and say stuff. You know what? Sometimes it takes a guy to stand up to really put things on the line and put it on the table for everybody to see. It was a good move. He's been very inspired this series, he's been great for us and hopefully that'll continue in Game 7."
Contact Adam Kimelman at akimelman@nhl.com. Follow him on Twitter: @NHLAdamK