Brewers' Garza hopes to extend mastery of Padres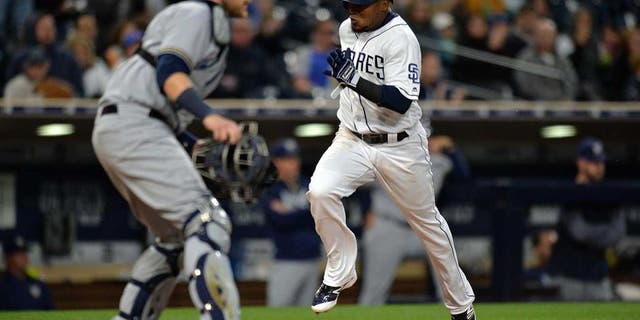 SAN DIEGO -- Milwaukee Brewers right-hander Matt Garza hopes to continue to be lights out Wednesday night at Petco Park. Of all the teams Garza has pitched against, he is undefeated against just one: the San Diego Padres.
The clubs square off for the third game of a four-game set after splitting the opening two outings. The Brewers are looking for a second straight win after beating the Padres 6-2 on Tuesday.
Jhoulys Chacin (4-3, 5.12 ERA) will start for San Diego on Wednesday.
Garza has started four games against the Padres and is 3-0 with a 1.93 ERA.
He is pitching well of late. Garza (2-0, 2.66 ERA) won two of his past three starts, and it is not stretch to say he should be aiming for his fourth straight victory when he faces San Diego.
In the game he didn't claim, Garza hurled eight innings of one-run ball against the Pittsburgh Pirates. He was touched for four hits and didn't issue a walk while striking out four. In his most recent outing, he beat the New York Mets on Friday, working six innings and giving up two runs.
"He's given us length in his games, he's been really efficient with his pitches and he has done a nice job," Brewers manager Craig Counsell said.
The difference? It's when a Brewers catcher doesn't just put down one finger for the sign.
"His off-speed is a real factor now," Counsell said. "The curveball is a factor, the slider is improved, and the changeup is useable. He's become well-rounded, and he's coupling that with just his experience and knowing what he wants to do and how to attack hitters."
Garza's latest performance gave him a string of three consecutive quality starts for the first time since August 2015. Garza collected a career-high 14 losses that year, something he and the Brewers don't want to see repeated.
The Padres would appreciate another performance like the one Chacin delivered in his previous outing.
Chacin, who has won of his three of his past four decisions, defeated the Chicago White Sox on Friday. The right-hander had to wiggle from some jams while allowing three runs over 6 1/3 innings, but he survived. He walked one and struck out five.
"I really wanted to go deep in the game," Chacin told the San Diego Union-Tribune. "With the bullpen we have, if you go six innings, you're going to have a good chance to win the game."
Padres manager Andy Green gave Chacin two thumbs up for his showing in the Windy City.
"I thought he was outstanding," Green said. "It wasn't crisp at the beginning, but he battled, executed pitches."
Chacin, who was signed as a free agent in the offseason, notched his fourth win, not too shabby for someone who won a total of six games, pitching for the Los Angeles Angels and Atlanta Braves last year.
Against the Brewers, Chacin is 0-1 with a 5.23 ERA in five career outings, though he hasn't faced them since 2014.