Brewers all-star Josh Hader avoids suspension, to attend sensitivity training over old tweets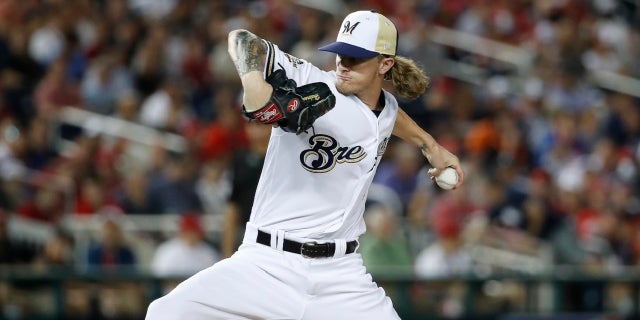 Major League Baseball announced Wednesday afternoon that Milwaukee Brewers pitcher Josh Hader must undergo sensitivity training, but won't be suspended for the homophobic and racist tweets the ace reliever sent several years ago, but which only surfaced during Tuesday night's MLB All-Star Game.
"During last night's game we became aware of Mr. Hader's unacceptable social media comments in years past and have since been in communication with the Brewers regarding our shared concerns," the league said in a statement Wednesday. "After the game, Mr. Hader took the necessary step of expressing remorse for his highly offensive and hurtful language, which fails to represent the values of our game and our expectations for all those who are a part of it."
Hader's first All-Star Game appearance Tuesday was marred by a poor performance on the mound and by the controversy that developed off of it. Tweets sent by a teenaged Hader in 2011 and 2012 suddenly became public, including at least one tweet in which he used the N-word and another saying, "I hate gay people," according to SB Nation. A third tweet referenced a vulgar line from the movie "Semi-Pro," which starred Will Ferrell.
Some family members reportedly swapped their replica Hader All-Star jerseys with generic ones that did not have his name on the back.
His Twitter account has since been made private and the tweets in question were deleted.
Hader, 24, apologized after the game while he spoke to the media.
"As a child I was immature. I said some things that are inexcusable," Hader said, while noting that the tweets do not reflect his current beliefs. "There's no excuse for what was said."
Brewers general manager David Stearns said the team was aware of Hader's comments and have been in contact with him since they surfaced.
"We have been in contact with Josh and he is fully aware of the severity of the situation related to his social media comments, regardless of the timeline of his posts," Stearns said. "His comments are inexcusable, and he is taking full responsibility for the consequences of his actions. In no way do these sentiments reflect the views of the Brewers' organization or our community."
Officials and teammates believe the posts don't reflect Hader's beliefs, Stearns added.