Braves GM would trade his right arm before Freddie Freeman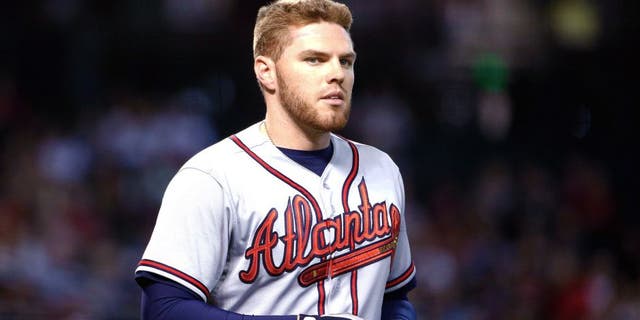 Freddie Freeman will wearing a Braves uniform in 2016. Christian Petersen Getty Images
Forgive the Atlanta Braves fans for being a bit worried.
Over the past year or so, they've seen the departures of mainstays in Andrelton Simmons, Justin Upton, Jason Heyward, Alex Wood and Craig Kimbrel -- it's easy to see why the team would be willing to trade Freddie Freeman.
Fear not, though, Braves fans: GM John Coppolella has shot down every trade rumor surrounding the All-Star first baseman that has been swirling for the past few weeks.
"I cannot make it any more clear: We are not trading Freddie Freeman," Coppolella told USA Today. "We are not. I'd give my right arm before we trade Freddie Freeman. It is not happening."
It's rare to ever see an executive make such a declaration on the record, so it would be shocking if the team were to actually move Freeman, who is signed through 2021 and has $118.5 million left on his contract.
Before making such a big statement, it had been reported that the Braves would move Freeman if they got a huge return -- much like the Simmons trade.
That trade came under heavy scrutiny, but Coppolella defended it, saying Erick Aybar could help them win more games than Simmons.
"I get it, Simmons is real good with the glove," Coppolella said. "Real good. But there's more to it. We like our trade. That's why we made it. We feel we got more talent back than we traded away. You can make an argument that we are actually a team that can win more games with Aybar."
Even with the Freeman rumors buried, don't be surprised if the Braves remain active on the trade market. Ken Rosenthal has reported the team was in talks with the Arizona Diamondbacks regarding Shelby Miller.
Miller was a first-time All-Star in 2015, his first season with the Braves after parts of three seasons with the St. Louis Cardinals. He was acquired by Atlanta last offseason, along with minor leaguer Tyrell Jenkins, in exchange for Jason Heyward and Jordan Walden.
MORE MLB: Want stories delivered to you? Sign up for our MLB newsletters.