Brad Keselowski: New and improved Kentucky Speedway 'a joy to drive'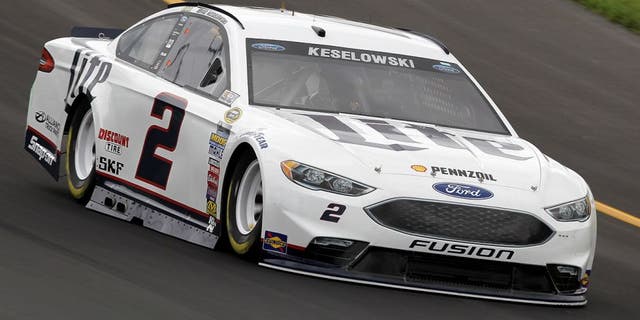 NEWYou can now listen to Fox News articles!
A newly repaved and reconfigured Kentucky Speedway has been a handful for NASCAR Sprint Cup Series drivers throughout the weekend.
But that's exactly how Brad Keselowski likes it.
"I've been on track with the Cup cars and with the new aero package and all those things, and it's been a bit of a joy to drive," said Keselowski in between practice sessions on Friday. "The cars are challenging to drive like we thought they would be and like we hoped they would be."
"The mid-corner speed is way down. The straightaway speed is way up, so that's a bit of a handful, but the good kind of handful that I think really challenges drivers to push it to the limits," he added.
Keselowski is one of only three drivers to have won the five Sprint Cup races that have been held at Kentucky since the the inaugural race in 2011, joining Joe Gibbs Racing teammates Kyle Busch and Matt Kenseth. He wheeled the No. 2 Team Penske Dodge to victory there in 2012 en route to winning the Sprint Cup championship, and won there again 2014 after Penske had switched manufacturers to Ford.
After qualifying was canceled for rain on Friday, the field was set by owners' points, putting Keselowski on the outside of the front row for Saturday night's Quaker State 400.
"I'm happy, of course, to be starting up front," said Keselowski, fresh off his third win of the season in the Coke Zero 400 at Daytona. "You always want to earn it on the track during that weekend, but there is some sense of having earned it over the course of the season with points and so forth, and the success you've had on track, so either way it feels good to be starting up front."
An excellent view of the green flag will definitely help his cause to grab a third Kentucky victory, given the plethora of unknowns awaiting drivers and teams. So many unknowns in fact, data from previous years is virtually useless.
"I would say the approach is to take all of the Kentucky notes and run them through the shredder and start from scratch," said Keselowski. "...Because what's worked here in the past isn't even close to what's gonna work here this weekend."