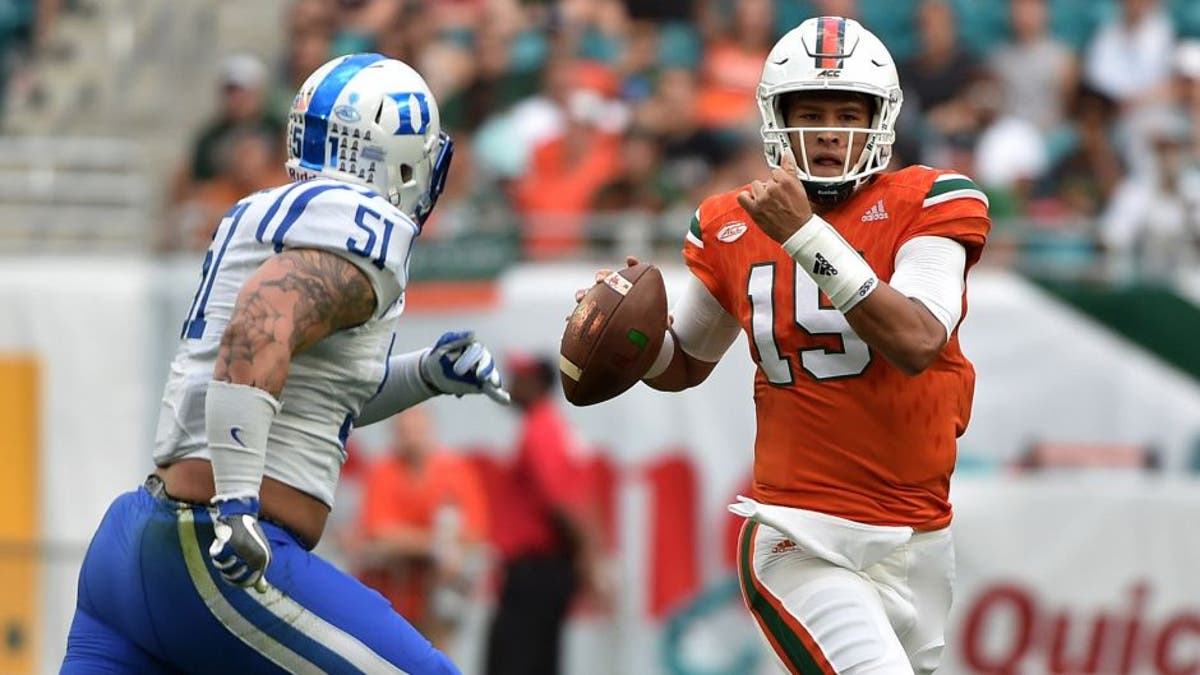 MIAMI GARDENS, Fla. (AP) -- Brad Kaaya became Miami's all-time career passing leader, throwing for 396 yards and a career-high-tying four touchdowns as the Hurricanes beat Duke 40-21 on Saturday.
Kaaya completed 22 of 35 passes and now has 9,686 yards in three seasons -- 121 more than Ken Dorsey, who piled up 9,565 from 1999 through 2002. Kaaya broke the mark with a 42-yard pass to Stacy Coley in the third quarter.
David Njoku had touchdown catches of 76 and 58 yards, and Coley made nine catches for 118 yards and a touchdown for Miami (8-4, 5-3 Atlantic Coast Conference).
Mark Walton also caught a TD pass for the Hurricanes, who have won four straight.
Daniel Jones completed 34 of 50 passes for 316 yards for Duke (4-8, 1-7), which will miss a bowl game for the first time in five seasons.
The teams combined for five scores in the game's first five possessions, and Miami's lead was only 16-14 at the half. But Kaaya struck twice in the third quarter, hitting Njoku for the long score and then connecting with Coley to make it 33-14 not long after the record-breaking completion.
And now the question becomes if this was Kaaya's home finale.
Going pro will be a serious option, and with good reason. This was the 11th 300-yard game of Kaaya's college career, the fourth four-TD game he's had as a Hurricane and he's now the only quarterback in Miami history with three seasons of at least 3,000 yards.
He's also now within seven completions of matching Jacory Harris' school record of 703.
THE TAKEAWAY
Duke: Jones completed his first 10 passes, getting 119 yards and two touchdowns out of them. But the Blue Devils, after getting 14 points out their first two possessions, then sputtered to a halt. ... T.J. Rahming caught 10 passes for 117 yards and a touchdown for Duke.
Miami: This was the first time this season Miami had two 100-yard receivers. ... Miami hadn't finished a regular season with four or more consecutive wins since 2002, when it was 12-0 going into the Fiesta Bowl. The Hurricanes will try to win a bowl game for the first time since 2006.
SENIOR DAY
Miami honored its 14 departing seniors in a pregame ceremony, as well as four underclassmen -- one being reserve offensive lineman Hunter Knighton, who recovered from heatstroke and returned to the field last season. Knighton will try to play elsewhere in 2017.
KAAYA WATCH
If he comes out, Kaaya could be the first Miami quarterback to get taken in the first round in 30 years. Miami has had only two QBs go that early in a draft -- Jim Kelly (No. 14 overall) in 1983, and Vinny Testaverde (No. 1 overall) in 1987. Kelly was a college teammate of Hurricanes coach Mark Richt, and Testaverde's son Vincent is a current Miami backup.
UP NEXT
Duke: Season complete.
Miami: Awaiting bowl invitation on Dec. 4, possibly to the TaxSlayer or Pinstripe.