Boykin's Heisman hopes hinge on LSU's Fournette remaining magical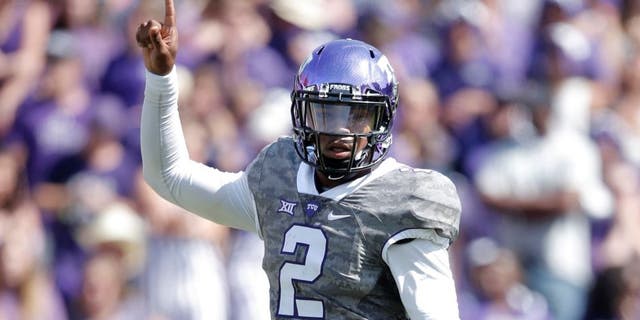 NEWYou can now listen to Fox News articles!
TCU quarterback Trevone Boykin is having a terrific season, but he still might not win the Heisman Trophy. Erich Schlegel USA TODAY Sports
TCU quarterback Trevone Boykin hasn't disappointed since the Heisman hype came hard and heavy during the offseason. He's been brilliant, ranking in the top four of the major statistical quarterback categories, he's engineered crunch-time comebacks and has No. 3 TCU at 7-0.
There's just one problem as far as the Heisman in concerned: LSU tailback Leonard Fournette is having a magical season for the undefeated Tigers.
The sophomore in Baton Rouge is averaging 200.3 rushing yards a game, and that's playing alongside a passing attack that hasn't come close to matching preseason expectations of a new-era Tigers offense that was supposed to be able to spread it out and throw it around. It just hasn't happened. Still, Fournette, with defenses scheming to stop him, has trampled every single one.
That's no slight on Boykin. The senior has improved from last season's breakout running TCU's new Air Raid offense. He ranks third nationally in passing efficiency and second in total offense at 425.6 yards a game. He's fourth in the nation in total passing yards with 2,539 and boasts a ridiculous 25-5 touchdown-to-interception ratio.
His ability to engineer late drives helped TCU win two critical road games at Texas Tech and Kansas State to keep the Horned Frogs on a collision course with No. 2 Baylor. The rivals meet on Friday night after Thanksgiving in Fort Worth.
Fournette's brilliant season could probably total another 200 yards than he's already got because the season-opener against McNeese State was cancelled because of lightning. LSU's toughest remaining games are against Alabama (Nov. 7), Ole Miss (Nov. 21) and Texas A&M (Nov. 28). Meanwhile, TCU still has Oklahoma State (Nov. 7), Oklahoma (Nov. 21) and Baylor (Nov. 27).
(h/t Dallas Morning News)
MORE NEWS: Want stories delivered to you? Sign up for our College Football newsletters.