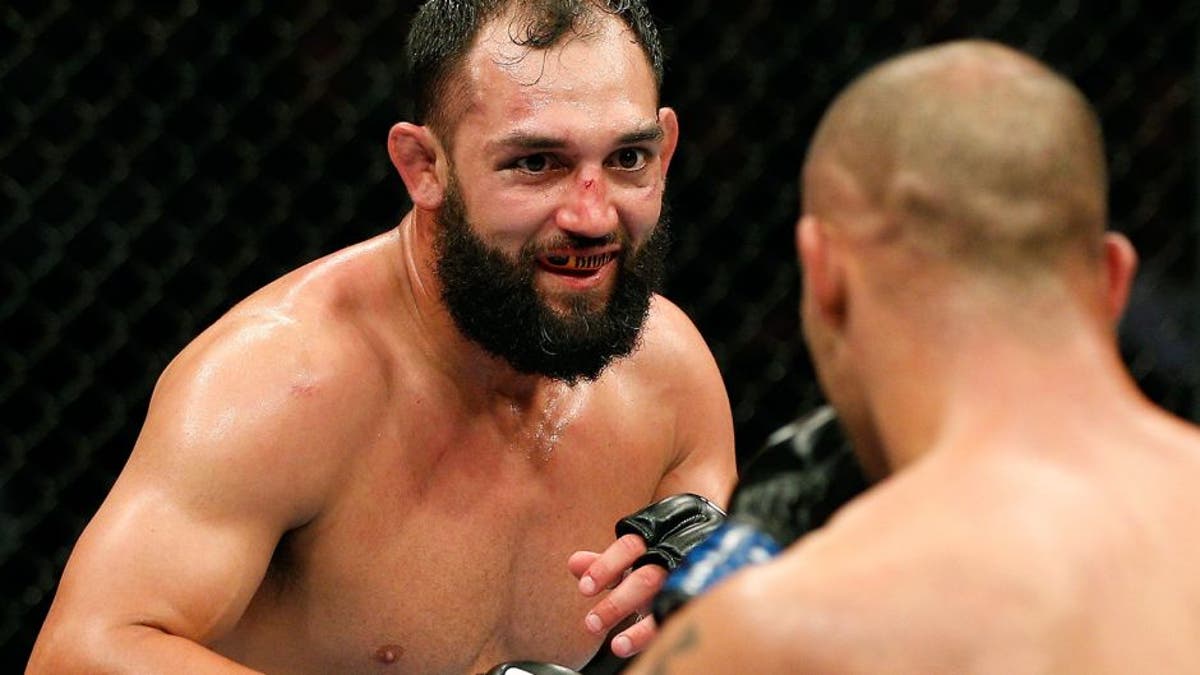 Johny Hendricks has undergone some big changes in his training and diet, over recent months. According to his boxing coach Tony Cabello, one of the biggest differences he's seen in his fighter is his motivation.
In all matters, Cabello says Hendricks is taking more responsibility for himself, and moving out of his comfort zone. For example, when Hendricks walks into Cabello's boxing gym in Texas to prepare for his Saturday bout against Stephen Thompson, he isn't a famous former world-champion MMA fighter - he's just a piece of fresh meat.
"When he walks into my gym, these guys just see a big 170 pounder whose head they want to take his head off," Cabello told FOX Sports, recently.
"MMA champs are nothing in their world. He's just a regular guy who is looking to proving himself. He's hungry. It's the same when he goes to jiu-jitsu. He has a bunch of black belts attacking him. They don't care that he's the 'Bigg Rigg.' They want to smash him and show him what it's about. Johny has grown a lot more. He's taken a lot more responsibility over what he puts into his body."
Cabello likes his fighter stepping up after losing his belt, and struggles to make the welterweight limit recently. He also appreciates how Hendricks' circle has gotten smaller since the former champ left his old management and team, Team Takedown.
These days, Hendricks essentially manages himself, and Cabello and other coaches stay in communication to make sure the fighter is getting what he needs.
Hendricks got rounds in with fighters Cabello wrangled, spent lots of time wrestling with his college coach John Smith at Oklahoma State University, got his nutrition on point with Lou Giordano, and stayed with the Genesis Brazilian jiu-jitsu gym and coach Albert Hughes that he'd already spent lots of time rolling at in previous years, according to Cabello.
"Johny did a great job this camp," he said.
"The was a big difference when the circle is not so big. It wasn't about showcasing him for the public, anymore. Where, he's at the gym and people are invited to watch him spar, and he has to take a picture with this kid, or that person while training. This smaller circle means less attention given to us, and we're all right with that."
Cabello was the lone coach from Hendricks' old Team Takedown crew that the fighter made a point to keep with him, and that has meant a lot to the boxing coach who helped him become champion in 2014. "It is always a good feeling to be appreciated," he continued.
"Once you get a title with somebody, you build that one. Sometimes loyalty is lost in the fight game. Money makes people turn different ways."
Right now, Cabello is confident that the only direction Hendricks is turning is upwards, after a much different camp that he insists still hit all the right notes to prepare his guy. He's gotten to work with Hendricks two to four times a week and says that he paired him with national champion boxers, karate stylists and some "DL" sparring partners that they've always worked with and kept secret.
That, in addition to his time spent with coach Smith in Oklahoma where he wrestled twice a day and got his jogging in, and a new strength and conditioning coach and new nutrition plan, has Hendricks lean and on-point for Saturday, according to his coach. "Johny is leaning out and even stronger than before," he promised.
"We've taken new turns but everything has been progress. Nothing has been lost in transition."