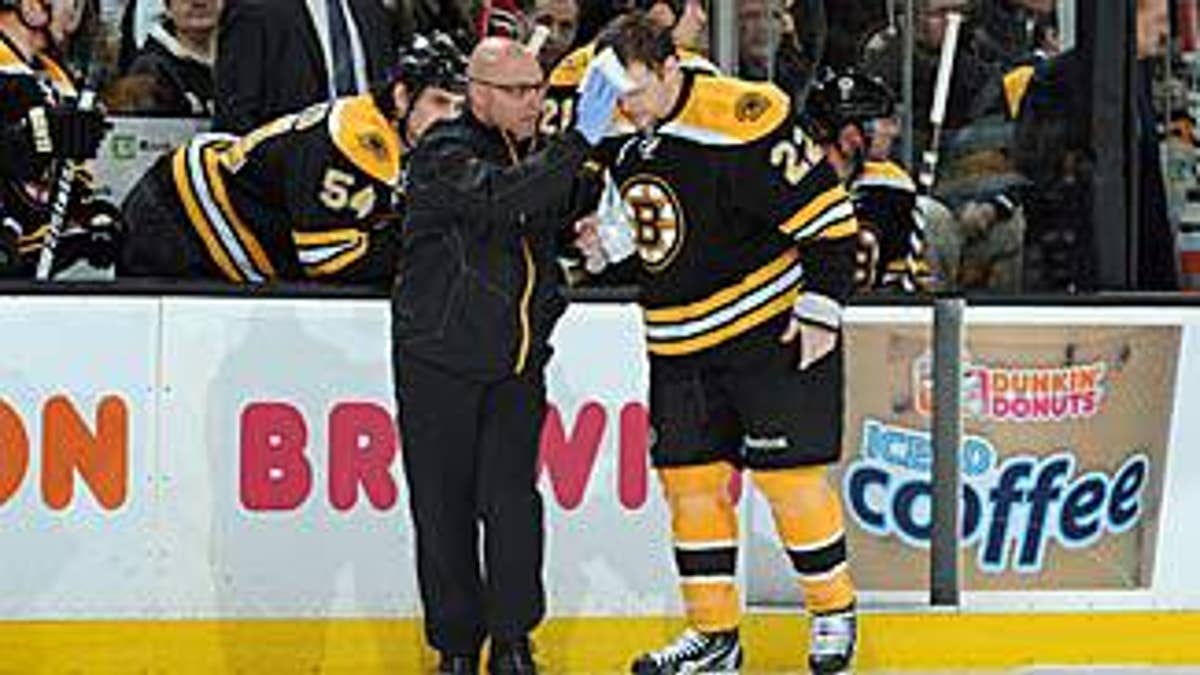 NEW YORK -- The Bruins don't expect to have forward Shawn Thornton back in the lineup Monday when they take on the New York Rangers at Madison Square Garden.
Thornton has missed the last two games due to a three-inch, J-shaped cut above his right eye, an injury he suffered last Tuesday when Chicago forward Fernando Pisani inadvertently sliced Thornton's face with his skate blade.
"Doubtful," Bruins coach Claude Julien said Monday morning when asked if Thornton would play. "He's skating, but he still has a visor and I don't think we're 100 percent comfortable right now medically. As long as (the doctors) are not comfortable we have that luxury of being a little more cautious. So, i would say doubtful."
Thornton said he feels great, but he also understands the reasons behind the Bruins' cautious approach. They have already clinched the Northeast Division crown and a top-three seed in the Eastern Conference playoffs, so there is no need to rush anyone back from injury when it might not be completely safe.
"I don't like sitting out, but the season is a long grind," Thornton said. "I was really hoping to be able to play all 82; but rest isn't a bad thing either."
Thornton expects to have his 40-plus stitches removed either Tuesday or Wednesday, and figures he'll be able to play Wednesday at home against the Islanders.
"I took the visor off this morning and I'm happy to get rid of that," Thornton said. "(Tuesday) is a week, so the stitches will probably come out (Tuesday) or the next day and I won't have to worry about that anymore."
A visor likely would have prevented Pisani's skate from cutting him, but Thornton will not wear one when he returns to action. He cited the unwritten fighter's code, which says if you wear a visor you have to take your helmet off to fight.
"I've been cut four times in my career, but I fight a lot and I think it's a lot more dangerous if I land on my head when I'm wrestling someone a lot bigger than me," said Thorton, who leads the Bruins with 14 fighting majors this season. "If you have a visor on you have to take your own helmet off. This is unfortunate and scary, but the other side of it, with my job, I'd rather have a helmet on."
Thornton doesn't expect to be limited when he returns, meaning if he has to fight he will.
"I'm planning when I come back to be 100 percent," Thornton said.
Follow Dan Rosen on Twitter at: @drosennhl