Trump says Philadelphia Eagles won't attend White House ceremony amid national anthem dispute
President Trump announced Monday the Philadelphia Eagles will not visit the White House this week to celebrate the team's Super Bowl win amid the national anthem dispute.
Trump, in a statement, said the team is "unable" to attend the ceremony because they don't agree with his belief that NFL players should "proudly stand for the National Anthem, hand on heart, in honor of the great men and women of our military and the people of our country."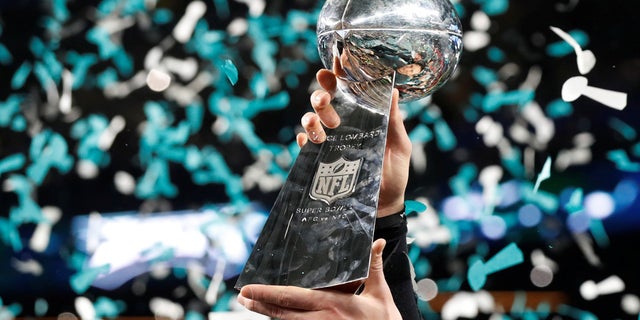 The Eagles, who won Super Bowl LII in February, apparently wanted to send a smaller group of players — as a handful did not plan to attend — but Trump seemingly uninvited the entire team.
Players Brandon Graham, Malcolm Jenkins, Chris Long and Torrey Smith previously said they would not attend the event.
Philadelphia Mayor Jim Kenney slammed Trump for the disinvitation, claiming it proves the president "is not a true patriot," but rather "a fragile egomaniac obsessed with crowd size and afraid of the embarrassment of throwing a party to which no one wants to attend."
Kenney said he's proud of the Eagles' activism both on and off the football field, and said the team's players "represent the diversity of our nation—a nation in which we are free to express our opinions."
Sen. Bob Casey, D-Penn., shared similar sentiments on Twitter, explaining he's "proud of what the @Eagles accomplished this year" and invited the team to Capitol Hill for a tour instead of visiting the White House.
Torrey Smith, a wide receiver who played for the Eagles during the 2017 season before being traded to the Carolina Panthers, said Trump's statement released Monday consisted of lies, and said the president "continues to spread the false narrative that players are anti military."
The NFL player added that Eagles players have different views and that anyone who wanted to attend the ceremony "should've been able to go. It's a cowardly act to cancel the celebration because the majority of the people don't want to see you. To make it about the anthem is foolish."
A group of 1,000 fans, however, are still invited to attend a "different type" of event, one which Trump said "will honor our great country, pay tribute to the heroes who fight to protect it, and loudly and proudly play the National Anthem."
Trump in September 2017 rescinded the Golden State Warriors' invitation to visit the White House after they won the NBA championship because Stephen Curry was "hesitating," while several players from the New England Patriots, who won Super Bowl LI, skipped the traditional visit.
The ceremony to "celebrate America" is scheduled to take place at the White House Tuesday at 3 p.m.
Fox News' Kaitlyn Schallhorn contributed to this report.