Boston hotel union blasts Dodgers for staying in hotel where employees are on strike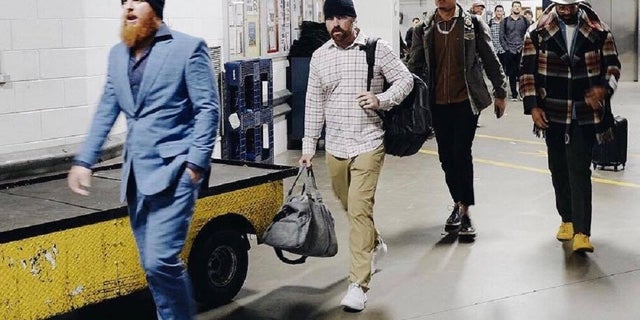 The head of a Boston hotel workers' union on Monday blasted the Los Angeles Dodgers -- not for the matchup against the Red Sox in the World Series -- but because the players crossed a picket the line and stayed in a hotel where workers are on strike.
"Jackie Robinson is rolling over in his grave right now that members of his team are crossing the picket line," said Brian Lang, president of Unite Here Local 26, invoking the name of the first black baseball player, who's a former Dodger. "The Dodgers ought to take his number down ... He stood up for justice."
Union members employed at seven Marriott properties in Boston have been on strike for three weeks to demand better pay, benefits and more job security, the Boston Herald reported.
"Marriott is finally starting to listen to us," Lang said after weeks of picketers chanting and waving signs.
Similar worker strikes by bellmen, cooks, housekeepers and other Marriott hotel employees have recently broken out in other cities, such as San Francisco, Oakland and Chicago.
The Dodgers arrived at the Marriott-owned Ritz-Carlton and entered through the back door to avoid publicity, Lang said. He said he contacted Major League Baseball to try and set up accommodations at a non-striking hotel.
"It was turned down because there were not enough suites," Lang said. "For millionaires to hold their desire for luxury over people struggling paycheck to paycheck — I think it's shameful."
The Dodgers and the Major League Baseball Players Association, the union that represents most ballplayers in the league, did not return requests for comment.
In a statement, Marriott said "while we respect our associates' rights to voice their opinions and participate in demonstrations and this work stoppage, we are disappointed that Unite Here has chosen to resort to a strike. We continue to believe that the best place to resolve these issues is at the bargaining table."
The Dodgers are in town to take on the Red Sox on Tuesday and Wednesday before heading back to Los Angeles. Both teams will return to Boston if the best-of-seven series isn't decided in five games.
The New York Yankees, who were bested by the Red Sox in this year's playoffs also angered union officials when the team crossed picket lines. The Houston Astros, who lost to Boston in the American League Championship series, stayed in a non-striking hotel.