Boston Celtics reveal the full extent of Isaiah Thomas' teeth injuries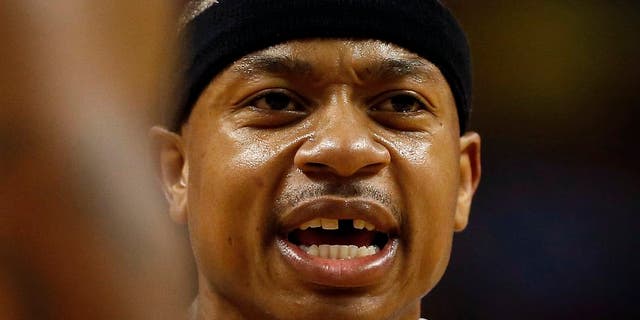 The second-round NBA playoff series between the Boston Celtics and Washington Wizards has been physical, to say the least.
The violence started in Game 1, when Celtics point guard Isaiah Thomas had a tooth knocked out in the first quarter:
Thomas has been dealing with swelling and discomfort ever since, and he started the second half of Boston's 116-89 Game 3 loss to the Wizards in the locker room as trainers adjusted his temporary replacement tooth.
On Friday, the Celtics issued a statement clarifying the full extent of Thomas' injury and denying that the two-time All-Star suffered a broken jaw:
As a result of a collision that occurred in Game 1 of the Boston Celtics' Eastern Conference Semifinals series against the Washington Wizards, Isaiah Thomas sustained multiple front teeth injuries including a complete fractured tooth and two other subluxed/shifted teeth that required extensive oral surgery to stabilize. He did not suffer a fractured or broken jaw.
Thomas is currently wearing a four-piece temporary bridge that cracked after being re-injured. This necessitated a replacement at halftime during Game 3 of the series. The spanning bridge is necessary to protect and stabilize the injuries. Members of the Celtics medical staff anticipated the need to replace the temporary bridges, and are prepared at any time to do so. Thomas will receive a permanent bridge at a future date.
Thomas is averaging 26.3 points, 3.8 rebounds and 5.7 assists for the postseason. He posted the highest single-game scoring total of the 2017 NBA playoffs in Game 2 against the Wizards, pouring in 53 points to help the Celtics to a win in overtime.
Game 4 is Sunday at 6:30 p.m.ET in Washington.