Booth's return to health, prominence Masterton-worthy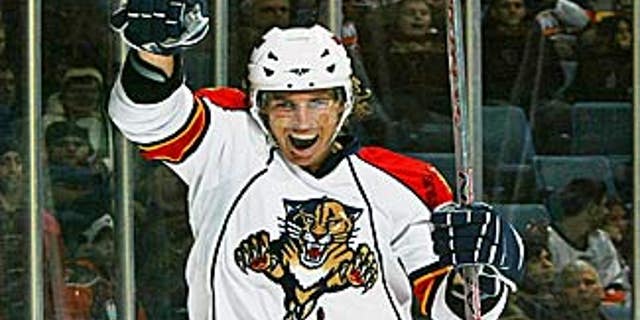 Perseverance and dedication were commonplace during the Stanley Cup Playoffs last spring when Philadelphia Flyers forward Ian Laperriere returned to the lineup 32 days after getting hit in the face with a slap shot and Chicago Blackhawks defenseman Duncan Keith resumed activity in the same game he lost numerous teeth after taking a puck to the mouth.
Both were inspiring storylines throughout last season's entire postseason run for fans and players in Philadelphia and Chicago -- the two teams that would ultimately meet in the Cup Final. Laperriere and Keith each overcame adversity and inspired teammates and fans in the city they represented.
The Bill Masterton Memorial Trophy doesn't go to the player who scored the most goals, recorded the most points or was judged to be the most indispensable to his team. It instead honors the player who has overcome adversity -- whether on or off the ice -- and displayed the type of uncommon valor so synonymous with the sport of ice hockey.
Last season, Washington goalie Joe Theodore, now with the Minnesota Wild, won the award after dealing with such obstacles off the playing surface. The goalie's son, Chace, died during the summer because of complications stemming from his premature birth. Despite dealing with grief, Theodore had one of the best seasons of his career, going 20-0-3 in his final 23 appearances. He also set up a charity, "Saves for Kids," which benefits the NICU unit of the hospital where Chace spent his entire brief life.
Now that the 2010-11 regular season has come to a close, here's our view of how the Masterton race should shape up:
Winner:
David Booth, Florida Panthers -- The 26-year-old left wing couldn't catch a break last season after watching his point totals increase during his first three years in the League. Booth was on the receiving end of crushing open-ice hit by Philadelphia's Mike Richards in October and was carted off the ice on a stretcher with a concussion that would cost him 45 games and any hope of earning a roster spot on the U.S. Olympic Team heading to Vancouver. He'd return to the lineup and suffer a second concussion in March, falling victim to another open-ice hit from Canadiens' defenseman Jaroslav Spacek that officially ended his season.
He sure made up for lost time in 2010-11, connecting for 23 goals and 40 points while averaging just under 19 minutes a game in a career-high 82 contests. He led the team with a whopping 280 shots this season -- 12th highest in the NHL.
Runners-up:
Brent Burns, Minnesota Wild -- Three seasons ago, the Minnesota defenseman was on his way to becoming a breakout star in the League, as he put together career highs of 15 goals and 43 points as a participant in all 82 games. A concussion and a shoulder injury requiring surgery cost Burns large chunks of the ensuing two seasons and looked like they might derail his career. Not quite. Burns finished first among Minnesota defensemen with 17 goals, including 8 on the power-play and 3 game-winners, and his 43 points ranked third overall on the team. The 2011 NHL All-Star participant also ranked among the top 15 in the League among blueliners in ice time per game (25:02).
Tim Thomas, Boston Bruins -- Despite the fact he'll turn 37 on April 15, would it surprise anyone if the Flint, Mich., native is nominated for three awards this spring -- Hart, Vezina and Masterton? Think about it, one season removed from garnering the Vezina as the League's top goalie in 2009, Thomas rode the bench last spring as Tuukka Rask led the Bruins to within one win of the Eastern Conference Finals. He'd undergo hip surgery last May to repair a torn labrum, which ultimately forced him to adopt a one-legged butterfly style. This year, not only did he return with a vengeance behind a scintillating 35-11-9 record, 2.00 goals-against average, .938 save percentage and 9 shutouts in 57 games for the Bruins, but he competed in the Bridgestone NHL Fastest Skater competition during All-Star Weekend in Raleigh, N.C.