Bonds, Sosa & Clemens Won't Enter Hall of Fame, Denied by Baseball Writers Association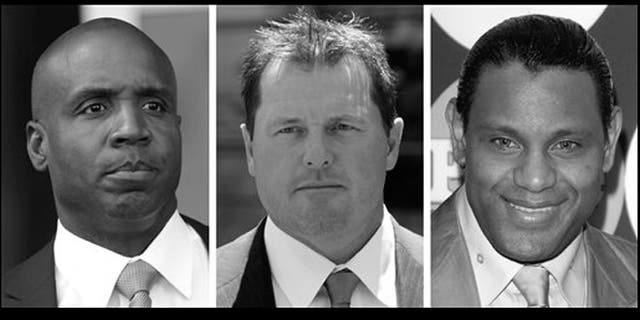 Steroid-tainted stars Barry Bonds, Roger Clemens and Sammy Sosa have been denied entry to baseball's Hall of Fame with voters failing to elect any candidates for only the second time in four decades.
Bonds received just 36.2 percent of the vote, Clemens 37.6 and Sosa 12.5 in totals announced Wednesday by the Hall and the Baseball Writers' Association of America. They were appearing on the ballot for the first time and have up to 14 more years to make it to Cooperstown.
Bonds has denied knowingly using performance-enhancing drugs and was convicted of one count of obstruction of justice for giving an evasive answer in 2003 to a grand jury investigating PEDs. Clemens was acquitted of perjury charges stemming from congressional testimony during which he denied using PEDs.
Sosa, who finished with 609 home runs, was among those who tested positive in MLB's 2003 anonymous survey, The New York Times reported in 2009. He told a congressional committee in 2005 that he never took illegal performance-enhancing drugs.
The BBWAA election rules say "voting shall be based upon the player's record, playing ability, integrity, sportsmanship, character, and contributions to the team(s) on which the player played."
Craig Biggio, 20th on the career list with 3,060 hits, topped the 37 candidates with 68.2 percent of the 569 ballots, 39 shy of the 75 percent needed. Among other first-year eligibles, Mike Piazza received 57.8 percent and Curt Schilling 38.8
Jack Morris led holdovers with 67.7 percent. He will make his final ballot appearance next year, when Greg Maddux and Tom Glavine are eligible for the first time.
When The Associated Press surveyed 112 eligible voters in late November, Bonds received 45 percent support among voters who expressed an opinion, Clemens 43 percent and Sosa 18 percent. The Baseball Think Factory website compiled votes by writers who made their opinions public and with 159 ballots had everyone falling short. Biggio was at 69 percent, followed by Morris (63), Bagwell (61), Raines (61), Piazza (60), Bonds (43) and Clemens (43).
This is the first time since 1996 that no one has made the cut for the Hall of Fame.
Based on reporting by The Associated Press.
Follow us on twitter.com/foxnewslatino
Like us at facebook.com/foxnewslatino