Bo Pelini, assistants are looking for answers after Nebraska collapses on national stage again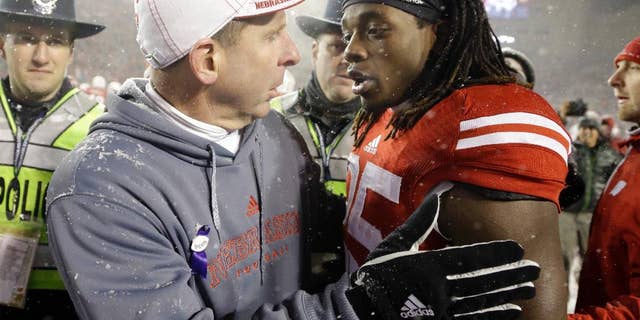 Shortly after watching Wisconsin's Melvin Gordon run through his charges in record-setting fashion, Nebraska defensive coordinator John Papuchis issued the challenge for this week.
"A lot of who we are as a program, coaches and players, is going to be revealed when we play against Minnesota," Papuchis said in Madison, Wisconsin.
It's going to be a rough few days for those players and coaches before kickoff against the Gophers.
The magnitude of the 59-24 loss to Wisconsin and Gordon's FBS-record 408 yards rushing against what was supposedly a stout defense quickly changed the tenor around one of the nation's most ardent fan bases.
Supporters of coach Bo Pelini and his staff, the so-called "Bo-lievers," were satisfied through the first nine games. Nebraska (8-2, 4-2 Big Ten) beat the eight opponents it was supposed to and lost to the one, Michigan State, it wasn't.
The naysayers were out in force after Nebraska collapsed on the national stage again, this time in a game that gave the winner the inside track to the Big Ten West title. The loss dropped Nebraska 10 spots to No. 21 in the Top 25.
The Huskers have lost five of their last six on the road against Top 25 teams and are 3-9 in those games since Pelini took over in 2008. That stretch doesn't include the 2012 Big Ten championship game, when an unranked Wisconsin pummeled the then-No. 14 Huskers 70-31.
Asked why his team struggles in the biggest games, Pelini said, "I have no idea."
He added, "I don't get into the big picture thing. It's one football game. This program has won a lot of football games."
Nebraska capitalized on Wisconsin turnovers and the short field they provided to lead 17-3 early in the second quarter. The Badgers then scored 56 straight points.
"We played with a lot of confidence and a lot of swagger in the first quarter," Papuchis said. "For some reason as they started to make plays, we started to fall apart. I can't tell you why that happened."
Pelini said the Huskers tried to make adjustments to slow Gordon "and didn't follow through with them." Gordon broke six runs of 39 yards or longer.
"The thing that was very disappointing was when it got to the second level, plays that in my opinion should have been an 8- or 20-yard gain ended up being 40 or 50," Pelini said.
The defense's issues with Gordon overshadowed a dismal offensive performance. The Huskers committed five turnovers and finished with a season-low 180 yards. Ameer Abdullah, wearing a brace on his sprained left knee, was limited to 69 yards on 18 carries. Tommy Armstrong Jr. was 6 of 18 for 62 yards with an interception.
Now comes Minnesota (7-3, 4-2), which is coming off a 34-21 loss to Ohio State. The Gophers are led by David Cobb, who ran for 145 yards against the Buckeyes and is averaging 135. Last year Cobb ran for 138 in the Gophers' 34-23 win over the Huskers in Minneapolis.
"There's a lot to play for," offensive coordinator Tim Beck said. "There's still Senior Day coming up against Minnesota, a good football team. You've still got Iowa, the rival, to finish off the year. You've got a chance to be 10-2. That's not something to spit at."