Blue Jackets continue improvement under Tortorella, beat Penguins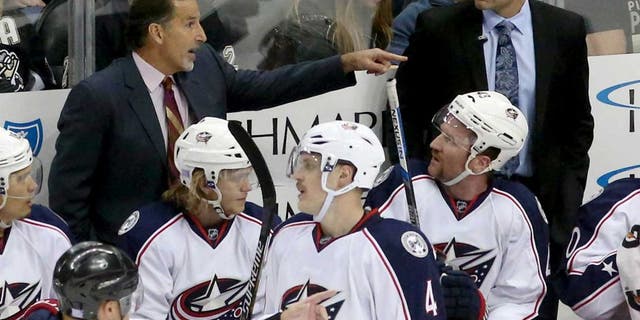 PITTSBURGH -- The puck settled at Patric Hornqvist's feet and the Pittsburgh Penguins forward knew his stick would be no help, so he turned his skate and let physics do the rest.
The referees weren't fooled, waving off Hornqvist's attempt at a game-tying goal the second it crossed the line on Friday night against the Columbus Blue Jackets.
"I just tried to get the momentum going and I stepped on the puck and it looks like I kicked it in," Hornqvist said. "Right call by the ref."
Considering how much the Penguins struggled to get anything by Sergei Bobrovsky and the improving Blue Jackets, it was worth a try. Bobrovsky stopped 28 shots and narrowly missed his 12th career shutout as Columbus held on for a 2-1 win.
Scott Hartnell scored his team-leading eighth goal for Columbus, which improved to 5-5 under John Tortorella. Brandon Saad picked up his sixth with a power-play goal in the second period that gave the Blue Jackets a commanding two-goal lead.
"I thought we had good sticks, I thought we won a lot of battles, checked well," Tortorella said. "It was just one of those games, not a lot of goal scoring, but we found a way."
Marc-Andre Fleury made 26 saves for the Penguins, but Pittsburgh went 0 for 6 on the power play. The Penguins are now 7 for 54 (13 percent) with the man advantage on the season, near the bottom of the NHL. Not exactly what Pittsburgh had in mind when it acquired Phil Kessel to pair with stars Sidney Crosby and Evgeni Malkin.
"We've shown at different times we're capable of doing that, but with the group that we have, it should kind of flow a little bit better than it has," Crosby said.
Hornqvist deflected a shot from the point past Bobrovsky with 52 seconds remaining to spoil the goalie's shutout bid. Hornqvist appeared to tie it with 13 seconds left, but it was waved immediately and the call was upheld on review.
The Blue Jackets have steadied themselves under Tortorella, who has given his club a needed edge and a renewed commitment to defense since taking over for Todd Richards last month. The same team that allowed 34 goals in its first seven games has now allowed only 26 in 10 games with Tortorella on the bench.
Pittsburgh's start to the season wasn't quite as slow, though the Penguins have relied heavily on Fleury to help them put together a 10-2 surge that included a thrilling shootout win over Montreal on Wednesday, the franchise's first victory when trailing after two periods in nearly two years. Crosby picked up two assists and beat Mike Condon in the shootout.
Yet the momentum and the feel-good vibes that the offense was starting to figure it out faded 48 hours later.
The Blue Jackets were better from the outset, keeping Fleury plenty busy before finally jumping in front midway through the second. Fleury scrambled to make a couple of sprawling stops but could do nothing when the puck skittered to Hartnell standing all alone at the right post with nobody in a black jersey nearby. Hartnell slipped it into the wide open net 11:08 into the second period.
Saad doubled Columbus' lead 101 seconds later with Evgeni Malkin off for tripping. Saad, a Pittsburgh native in his first year with the Blue Jackets after helping Chicago to a pair of Stanley Cups, took a feed from Ryan Murray and chipped a filthy backhander over Fleury's glove with 7:11 left in the second.
That was more than enough for Bobrovsky, who handled Pittsburgh's bafflingly punchless power play with ease. For all their perceived firepower, the Penguins remain a disjointed work in progress with the man advantage. They managed all of one shot during their first three power plays and when they did get it going, they couldn't get lucky. Pittsburgh's best sequence came late in the second period when the top unit kept Bobrovsky busy only to have a slap shot from the left circle by Malkin clang off the crossbar with Crosby raising his arms in frustration as the cloud wound down.
"On that play there, we knew we only had so much time so it looked like we had more of a shooting mentality," Penguins said. "We have to have that shooting mentality."
NOTES: Tortorella initially planned to scratch Murray after the 22-year-old struggled in recent weeks but put him back in the lineup when center Brandon Dubinsky was scratched due to an upper-body injury. ... The Penguins scratched D Adam Clendening and F Sergei Plotnikov. ... Columbus hosts Arizona on Saturday. ... The Penguins play at New Jersey on Saturday.