Blind pole vaulter one of best in Texas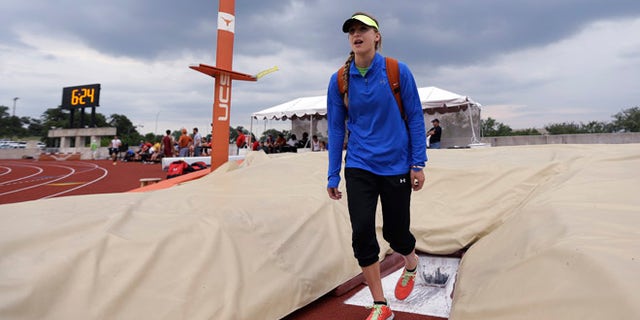 AUSTIN, Texas – To see the world as 15-year-old Charlotte Brown does, imagine looking through a tiny straw. Strip away all color and depth perception from the pinhole view and use a right eye that can't distinguish shape from shadow.
Now run about 80 feet, counting seven steps with your left foot before planting a nearly 13-foot pole in the ground to launch your body a dozen feet into the air.
That's right. Brown is a pole vaulter. And despite being legally blind, she's one of the best in Texas and a favorite to medal Saturday in Class 3A at the high school state championship meet at the University of Texas.
"I've always wanted to do stuff with adrenaline," Brown said Friday. "Most people think it's crazy to pole vault. I've always just thought it would be lot of fun. I run full speed at a stationary object that I can't see."
Brown is one of at least two legally blind pole vaulters competing for state titles this weekend. Aria Ottmueller, 17, of Chandler, Ariz., is competing in that state.
Brown, who lives in Emory, a town of 1,200 about 65 miles east of Dallas, was born with normal vision but developed cataracts when she was just 16 weeks old. That led to the first of several surgeries on her eyes, including insertion of artificial lenses. Her vision stabilized until she was about 11 when it started getting worse and doctors still have not been able to determine why. She reads Braille.
Despite the disability, she attacked athletics from an early age to keep up with two older brothers. There was even a time she was determined to play football.
"She wanted to play wide receiver," her father Ian Brown said. "So we went in the front yard and tossed the ball around. That's when we decided that not being able to see the ball was a bit of a challenge."
Nothing else has stopped her. Brown runs cross country, where her teammates wear bells on their shoes to help lead her through the course. As a sprinter, she qualified for the state regional finals in the 100 and 200 meters. She runs inside, where it's easiest to distinguish the light and dark contrast between the track and grassy infield to help her stay in her lane.
And until last season, she also played basketball, where she typically guarded the opposing point guard and had a tendency to deliver some hard fouls.
But pole vault requires special timing, balance, strength -- and courage -- to excel and it is difficult enough for someone with perfect vision to master. Ian Brown admits he was nervous the first time his daughter practiced the vault in 7th grade. He was sizing up the landing pit when he asked her a series of questions:
Can you see the bag? No.
Can you see the bar? No.
Can you see the pit? No.
"I've got some concerns here," Brown told his daughter.
"Great," she replied. "Now get out of the way."
"She's utterly fearless," dad said. "To be a pole vaulter, a person needs a bit of daredevil. With her, it's kind of remarkable. The person who should be the most frightened of it isn't frightened at all."
That fearlessness, and a routine honed to perfection, has carried her to the state meet.
To jump, Brown sets a special tape marker 76 feet, 6 inches away from the launching point. Her approach to the bag is measured in 14 steps, but once she starts, she only counts the seven steps with her left foot. That's because it's fewer numbers to think about and she uses her left to plant and launch herself skyward.
From there, it's just a matter of going up and coming down. It's also the one time being blind might be an advantage, Brown said.
"It would be scarier to vault if I could see," she said. "I wouldn't want to look down."
The key for Brown is staying straight on her approach. If she drifts right or left on her approach, she risks smashing into the standards that hold the crossbar she's trying to clear. Mistakes -- and crashes -- have happened, but she's never been seriously hurt. She had one bad flop when she first started training, but shrugged it off by telling herself "now I know what NOT to do."
To keep her running in a straight line, Brown unfurls an 80-foot strip of dark artificial turf next to the lane. That gives her a light/dark contrast that she can follow to know she's running straight.
"I've gotten some strange looks along the way," she said.
Brown qualified for the state meet with a height of 11-6, which tied her for second best in her classification. She's more than a foot under the best qualifying mark of 12-8, but Brown said she's recently jumped 12-5.
"She could win this," said Emory Rains High School track coach Jeff Lester, who has started tutoring Brown on running hurdles. "It's a rhythm race. I don't think she'll have any problem once we get over the first one ... One thing I learned about her is as soon as you tell her she can't do something, she does it."
American Jenn Suhr, the Olympic gold medalist in the women's pole vault, was amazed that Brown has been able to overcome her disability and excel.
"Vaulters count on all their senses. We use depth perception to adjust if your stride is too long somewhere or you misstep. She has to tune into her body and rhythm. It's remarkable," Suhr said. "She's an inspiration."
Brown said many vaulters she competes against don't know she's legally blind. She doesn't wear dark glasses to cover her hazel eyes and doesn't walk with a cane. In an interview Friday, the only trace of her disability came when she poked with her feet to judge the depth of each step on a short staircase.
"I don't normally tell people. I know some of them have found out. A few of them have told me it's really cool what I'm doing," she said. At some meets, Brown said other vaulters have helped to hold down the strip of turf in strong winds.
Brown said she's just starting to realize that her story can be an inspiration to others with disabilities.
"When I started this it was just fun and it was a challenge," Brown said. "Now people tell me it is inspiring ... if it can inspire people to do something new or challenging, that's cool."
Brown has already started a career as a motivational speaker. She was invited last summer to give a 15-minute speech to a group of Dallas business executives about overcoming challenges.
"She spent about three months writing and working on that," Ian Brown said. "She got a standing ovation."
After Brown competes Saturday, she will be presented with a special spirit award from the National Federation of State High School Associations. Later this month, she will go to New Jersey to get a seeing eye dog and she has big plans for it. Brown wants the dog to run cross country with her next season and sit next to the runway when she pole vaults.
"He'll have to be in shape," Brown said.