Bills wide receiver would choose track over NFL if money were equal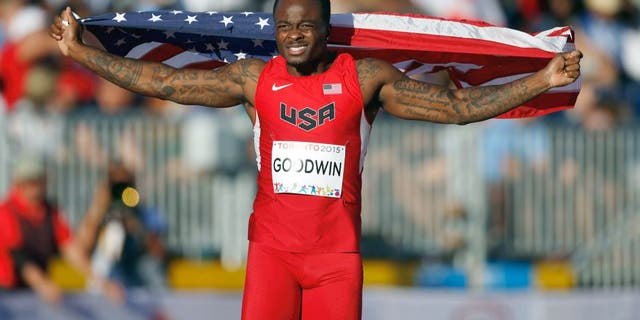 NEWYou can now listen to Fox News articles!
Marquise Goodwin was taken in the third round of the 2013 NFL Draft out of Texas, where he was seen as a track star who could also play football. Given his elite speed and quickness, the Buffalo Bills took a chance on Goodwin with the hope that he would turn into a dynamic Percy Harvin-like weapon on offense and special teams.
Since entering the NFL, though, Goodwin has played only 24 games due to injury and has caught just 20 passes. He has since turned his focus to track and field and is training for the 2016 Olympics as a long jumper. Goodwin isn't doing it for the money, but if the pay were equal in track and football, he knows which sport he'd choose.
"I would definitely do track and field, man," Goodwin revealed in a Facebook chat with the MMQB. "Football was my opportunity to advance my life -- kind of get a head start on life and put my family in a position to where they wouldn't want for as much. I felt like track and field wouldn't grant me that opportunity, being that I had a greater chance at making the amount of money that I do playing football, as opposed to going to track and field, and I would make it a lot sooner. Not saying I wouldn't make it in track and field, but, I would make it pretty much at a guaranteed rate in football."
Upon reaching the NFL, Goodwin signed a four-year contract worth $2.85 million with nearly $600,000 guaranteed. Making that kind of money in track is extremely difficult, if not impossible. It's clear that Goodwin is the more gifted track athlete than he is on the gridiron, which is why he's putting aside his NFL career for the Olympics -- at least temporarily.
The Bills hope Goodwin can make somewhat of an impact this season, as he previously said he'll be back on the field at some point after the Olympics conclude. With question marks at wideout for the Bills, Goodwin's presence could certainly help.