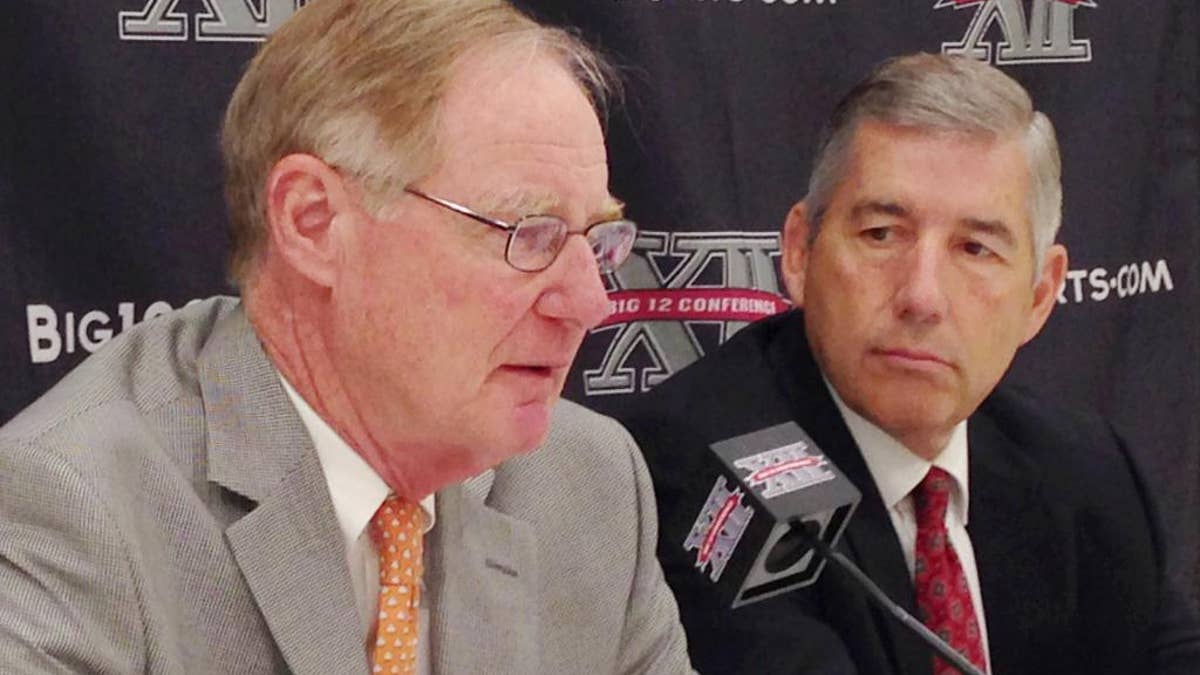 IRVING, Texas – The Big 12 Conference is again sharing a record amount of revenue among its 10 schools and the money is expected to keep growing.
The league that only a few years ago had an uncertain future will share just more than $220 million with its schools for the 2013-14 academic year.
"We remain very compatible and collaborative in our deliberations," said Oklahoma State President Burns Hargis, chairman of the Big 12 board of directors. "The conference has never been stronger. "
Big 12 Commissioner Bob Bowlsby said Friday at the end of the league's spring meetings that Baylor, Iowa State, Kansas, Kansas State, Oklahoma, Oklahoma State, Texas and Texas Tech will get about $23 million each. Second-year league members TCU and West Virginia, who will become fully vested Big 12 members in two years, get about $14 million each.
The amount of distributable revenue, an increase from $198 million last year, was about $7.8 million more than anticipated. That $7.8 million will go into a reserve fund that could be used for legal or unforeseen expenses, but could also be paid out to the schools later.
"Our conference is doing exceptionally well with the model of 10, the revenue distribution for each of the schools, everybody knows what can be expected, and it's more than where we were years ago," Oklahoma athletic director Joe Castiglione said this week before the figures were released.
During the cycle of conference realignment, the Big 12 lost four schools to three other conferences over two summers (2011-2) while adding TCU and West Virginia.
"Having walked through valley of shadow of death in conference realignment, I think we all understand the importance of a collaborative body. But what survived in all of that were the people who wanted to be together," Burns said, adding there is now a certain feeling of vindication. "We were buried several times during that period and we continued to emerge. ... Adversity builds strength. I think that's exactly the case."
Bowlsby expects overall revenue to increase another $31 million or so next year based on the league's joint $2.6 billion television contract with FOX and ESPN, along with money from the new College Football Playoff. He expects per-team revenue to peak at more than $43 million during the TV deal that goes through 2024-25.
Big 12 revenue has more than doubled since $106 million was shared among 12 teams in 2007. With this year's total, the league has now had more than $2 billion in revenue since its first year (1996-97).
But there are also rising expenses, including defending against a growing number of lawsuits against the NCAA such as the antitrust suit by former UCLA basketball player Ed O'Bannon and others. Bowlsby said the Big 12 more almost quadrupled its budget line for legal fees, from $400,000 to $1.5 million.
"That really isn't based on empirical computation. But rather a back of the envelope estimate and input from our legal team," Bowlsby said "I'm glad the whole budget is not going up by similar percentages. That one budget line is problematic. If I had to make a forecast, I'd forecast it to continue to climb rather than go down."