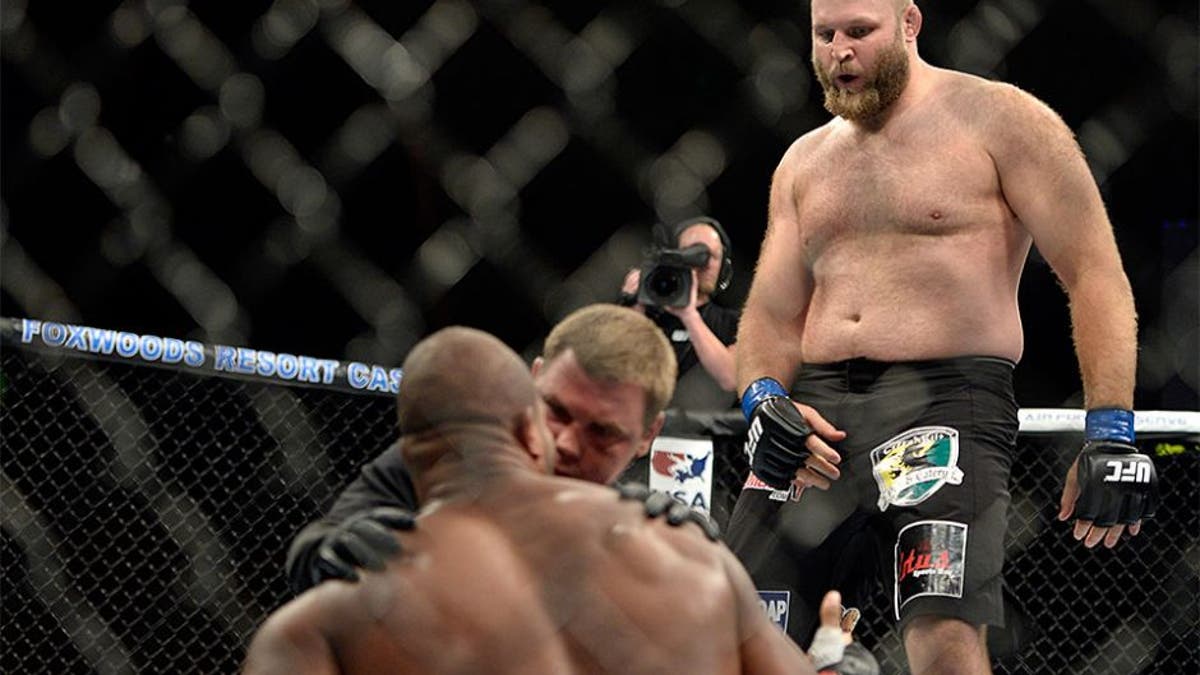 Ben Rothwell had only begun to enjoy the biggest win of his career, a submission over former world champion Josh Barnett, when he got his next job offer from the UFC -- a fight against former champion Junior Dos Santos in just nine weeks.
"I was relaxing. I fought Saturday and got back late Sunday. Went back to the gym, Monday. The gym was pretty overrun so we got caught up and were busy Monday and Tuesday with that," he recounted for FOX Sports.
"I was literally decompressing when they called. I took three hours, called the people I needed to call, and was like, 'yeah.' If you'd asked me Saturday if I'd fight again in just two months, I probably would have said, 'I don't know.' But, by Wednesday I would have fought again on Saturday. I feel that good."
Rothwell has one of the best winning streaks in the heavyweight division, right now, and Dos Santos is coming off of a recent KO loss to Alistair Overeem, a man Rothwell has already beaten. Yet, the veteran knows that Dos Santos is a big man, with an impressive resume, who will force the world to pay attention to him should Rothwell beat him in Croatia.
"It is never a guarantee with someone who is coming off a loss. It isn't what I wanted, but when I looked at the landscape at heavyweight, I would have been sitting around for 10 months, or worse. Right now, that would be worse," he explained.
"Junior is coming off a loss, but he's also a guy who has many wins. I know he has fans who don't even look at his last fight, and who think he's still the man. That's gains, right there. If I beat guys like that in impressive fashion, that helps me."
Rothwell also believes that a quick-turnaround helps him a lot more than it helps Dos Santos. After all, Rothwell won without taking too much damage, whereas Dos Santos will be rushing back into camp and the cage after getting concussed.
"I think that's common sense, not even my opinion," he continued.
"It is what it is in that respect. You kind of look at that fight for him like a relationship. The breakup didn't go the way he wanted, so he's kind of on the rebound. Earlier, you brought the idea up that he might be trying to get right back in there, fast, to erase the feeling of losing. I think you may be onto something with that."
While Rothwell can't be accountable for Dos Santos' decisions, he is progressing nicely with his goal of fighting for others, and goals larger than himself. The gym-owner and team leader says that his loyalists are feeding off his good fortune and giving back great energy on the mats.
"The gym vibe is incredible, right now," he said.
"What I love about it is that we have a group of people who were already on the train, pre-fight. What I love about my career is that I do have some losses. Those losses created and shaped the martial artist that I am today. They also show you who has your back. The people I have around me, now, are the people who were with me before my run. They believed in me, back then. It feels good to prove them right. It feels good to show that, even when you have disappointing performances, you can correct things, and that you can change yourself."