Beltre out of Rangers' Game 2 lineup, but 'there is some improvement'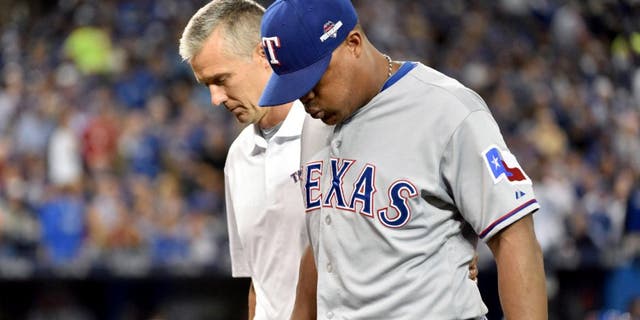 NEWYou can now listen to Fox News articles!
The Texas Rangers had a scare on Thursday afternoon, as third baseman/team leader Adrian Beltre left ALDS Game 1 early with a back injury that was later deemed a strain by team officials.
Beltre was kept out of the club's Game 2 lineup for Friday afternoon, though manager Jeff Banister sounded somewhat hopeful regarding the veteran's status.
"There is some improvement," Banister said on Friday morning, as quoted by Evan Grant of the Dallas Morning News. "I've seen him walking around; to me that's an improvement. Yesterday, he was putting one foot in front of another, if you want to call it walking, you can call it walking."
Grant added that the Rangers don't plan on taking Beltre off the 25-man roster, as doing such a thing would render him ineligible for the ALCS roster should Texas advance.
Instead, they hope Beltre will be able to go for Game 3 on Sunday at Globe Life Park in Arlington after receiving treatment for his back and resting a bit.
When asked about the thought of taking Beltre off the roster, Banister dismissed the notion. "I'm not really even thinking about that," Banister said to Grant. "There's no way you can assume, based on what Adrian has shown he can play through, that he wouldn't be ready. He basically played through a strained oblique this year, swinging and working with one flap down."
In Beltre's place for Game 2, Hanser Alberto will assume third base duties.