Baylor responds to reports President Ken Starr fired amid football scandal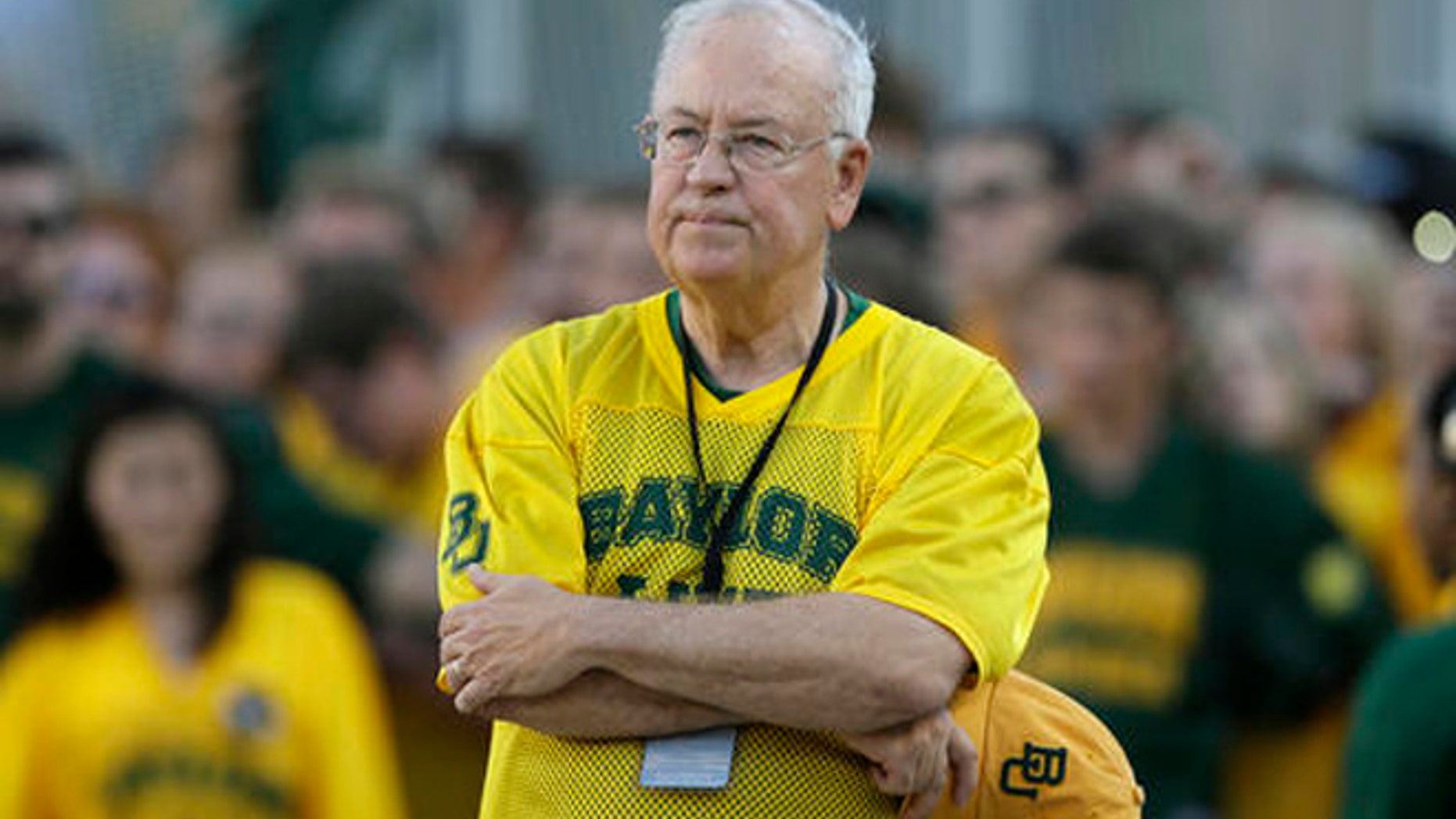 Baylor University responded Tuesday to reports that the school's board of regents voted to fire school President Ken Starr amid mounting pressure over how the school has handled reports of rape and assault by football players, saying no decision has yet been made.
The Texas university said its governing board was still considering the results of an internal investigation into the matter.
When asked about reports that the board of regents had voted to fire Starr, university spokeswoman Lori Fogleman told the Associated Press in an email, "Ken Starr is president and chancellor of Baylor University."
In a separate statement issued by the university obtained by Fox Sports, Baylor said its board has not finished reviewing the report by Philadelphia law firm Pepper Hamilton.
"The Baylor Board of Regents continues its work to review the findings of the Pepper Hamilton investigation and we anticipate further communication will come after the Board completes its deliberations," spokeswoman Tonya Lewis said in a statement obtained by Fox Sports. "We will not respond to rumors, speculation or reports based on unnamed sources, but when official news is available, the University will provide it. We expect an announcement by June 3."
The sports website HornsDigest.com was the first news outlet to report that the board had decided to fire Starr. Sources close to the University also confirmed the report to KCEN-TV.
Starr did not immediately respond to a telephone message left at his office or email requests sent to university media relations by the Associated Press or the Washington Post.
Starr and football coach Art Briles have faced sharp criticism on whether Baylor ignored allegations of assaults by players, two of whom were later convicted of sexual assault. It was unclear whether the regents were considering any action against Briles and the school's statement did not mention the coach.
Starr has been Baylor president since 2010. He was the special prosecutor who investigated President Bill Clinton's sexual relationship with White House intern Monica Lewisnky.
The school hired Pepper Hamilton in 2015 for the internal review. Regents were given a private presentation of some of the firm's findings earlier this month, but those details have not been made public. Baylor is the nation's largest Baptist university.
Speculation that regents will fire any Baylor officials have focused on Starr, not Briles, who has built the football program from one of the Big 12's worst into a conference and national powerhouse in his nine seasons.
The Bears have won two Big 12 championships since 2013, a wave of success that reaped financial rewards as well. In 2014, Baylor opened a new state-of-the-art football stadium on campus.
Starr enjoyed the public attention that came with a successful football program. He often ran onto the field with student fans in pregame ceremonies before home games and had become one of the leading voices in the Big 12 as the league considers whether to expand.
But that changed after the assault scandal exploded in 2015, when former football player Sam Ukwuachu was convicted of sexually assaulting a former Baylor soccer player.
That was followed by media reports that Baylor ignored repeated allegations of assault against former football player Tevon Elliott, who was convicted of sexual assault in 2014. Other reports of assault allegations followed and more than 200 Baylor students, faculty and alumni staged a candlelight vigil outside of Starr's Waco residence in February.
The school is also facing a federal lawsuit from a former student claiming the school was "deliberately indifferent" to rape allegations levied against Elliott before he was ultimately convicted of assaulting her.
Starr has stayed mostly silent on the assault reports outside of a couple of statements issued by the school.
In a February statement issued by university, Starr said, "Our hearts break for those whose lives are impacted by execrable acts of sexual violence." At a prayer breakfast last month, Starr told the Fort Worth Star-Telegram: "I am in favor of transparency. Stand up, take your medicine if you made a mistake."
The Associated Press contributed to this report.