At 17th, red-hot North Carolina still fighting for respect in CFP rankings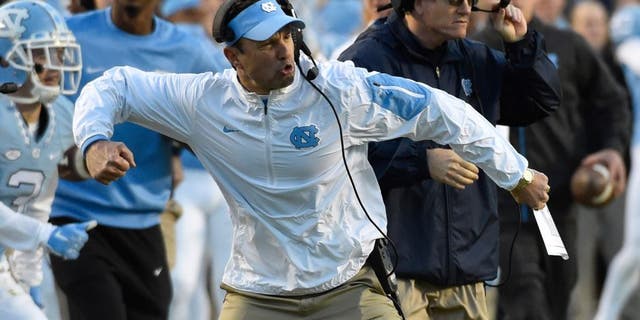 In the eyes of the selection committee, North Carolina is seemingly still paying the price for a schedule that includes two FCS teams.
But the Tar Heels have a potential carrot dangling that no one else in the College Football Playoff rankings can match: a date with the nation's No. 1 team.
North Carolina came in 17th with Tuesday's release of the third set of the committee's rankings -- a climb of six spots from a year ago -- after dumping Miami 59-21 for an eighth straight win.
As for their ACC brethren, the Tar Heels were joined by top-ranked Clemson and No. 14 Florida State.
The powers that be remain largely unimpressed,but since Week 2, few teams have been more dominant than the Tar Heels.
They've scored 407 points in that span, which is the sixth-most of any FBS team and the only Power 5 schools to score more are the Big 12 quartet of Baylor, Oklahoma, TCU and Oklahoma State. During that run, quarterback Marquise Williams has been brilliant with a 171.3 efficiency rating, which is seventh in the nation.
That efficiency goes beyond Williams, though,as Tar Heels has three straight games without a turnover, the program's longest such streak since 1996. They are joined by Air Force as the only teams with an active streak of three such games.
For all that is going right in Chapel Hill, the schedule isn't helping. Ranked 92nd per NCAA.org's formula, it is clearly the biggest thing hurting North Carolina. It's likely why five two loss teams, including the Seminoles, rank above the Tar Heels.
Not only have they played FCS foes North Carolina A&T and Delaware, but they've beaten just three bowl eligible teams, led by a win over No. 23 Pitt and only one other FBS opponent that has more than three wins, 5-5 Illinois.
All that being said, the Tar Heels can clinch the ACC Coastal Division and spot opposite top-ranked Clemson with a win in either of their final two games, this week at Virginia Tech or No. 28 against NC State in Raleigh.
So how high, realistically, can North Carolina climb?
Chaos would be its biggest ally, but should the rest of the current top four: No. 2 Alabama, No. 3 Ohio State and No. 4 Notre Dame, win out, and the Tar Heels upsets Clemson it could come down to a debate between North Carolina, the Fighting Irish and whoever wins the Big 12 for the final two spots.
If that's an unbeaten Oklahoma State (currently sixth), that emerges from the Big 12, there's no debate. The Cowboys are in.
But Notre Dame's lone loss would be a two-point defeat at Clemson, a team North Carolina would have beaten. Is that enough or would it instead open the door for the Pac-12's winner, which will have at least two losses or even an unbeaten Houston out of the American? Or would those two games against FCS opponents and a loss to 3-7 South Carolina keep the Tar Heels out?
Sure, it's convoluted and it's all up for debate, which with two regular-season games to play, is all we've got.
A year ago, the Buckeyes debuted at 16th in the rankings and we all know how that turned out. However, they didn't have a final chance to impress the selection committee against the nation's No. 1.
The Tar Heels are on track for exactly that chance, though given the skewed view of this team after 11 weeks, even that may not be enough.
Follow Cory McCartney on Twitter @coryjmccartney