Astros' Taylor Swift concert tweet comes full circle after Wild Card win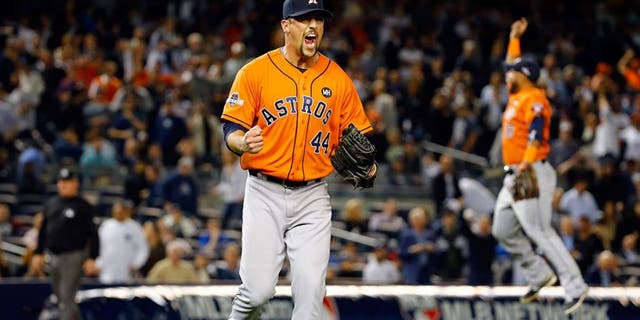 NEWYou can now listen to Fox News articles!
Back in December 2014, the Houston Astros sent out an innocent tweet about their upcoming season's home schedule. It stated, simply, that the date of a Taylor Swift concert scheduled for Minute Maid Park on October 13 was subject to change, should Houston find itself in the postseason.
Naturally, considering the Astros finished 51-111 in 2013 and 70-92 in 2014 and hadn't reached the postseason since 2005, snark came from all directions. The thought of the Astros being in the playoffs seemed like a joke.
And yet, the 2015 club DID make the postseason...as the second Wild Card team.
Their convincing 3-0 blanking of the New York Yankees in Tuesday night's AL Wild Card Game not only catapulted them into an ALDS showdown with the Kansas City Royals, but it made the giggles directed at that T-Swift tweet all the more amusing.
As an aside, here are some images from the Astros' postgame celebration at Yankee Stadium after taking down the Bronx Bombers on Tuesday night (as shared on Twitter by Evan Drellich and Jerome Solomon of the Houston Chronicle and MLB.com's Brian McTaggart):
Considering how far the Astros have come, this tweet situation is more or less a pretty on-point example of the remarkable work first-year manager A.J. Hinch has done with his club.
Now, thanks to the capable arm of ace Dallas Keuchel, the 'Stros have a chance to do even more damage in October...oh, and that Swift gig was rescheduled to September 9. As it turns out, the Astros won't have a home game on October 13, but a potential Game 4 of the ALDS is set for the previous day at Minute Maid Park. If the game happens, maybe the club should play Swift tunes all night as a tribute...