Astros shuffle rotation against Rangers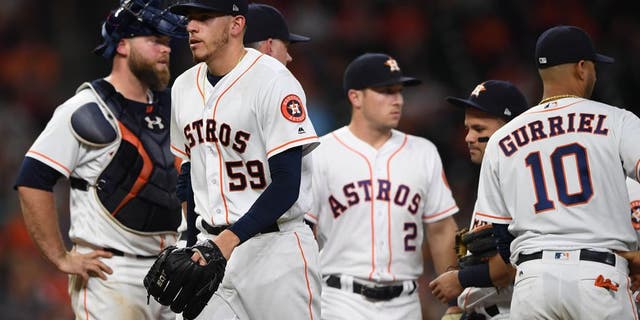 NEWYou can now listen to Fox News articles!
HOUSTON -- When the Houston Astros were greeted on Monday with more bad news regarding their rotation, this time involving right-hander Lance McCullers, manager A.J. Hinch reacted stoically: reshuffle the deck and keep moving forward.
With McCullers, placed on the 10-day disabled list with lower back discomfort, scheduled to start on Tuesday night in the second game of a three-game series with the Texas Rangers, Hinch opted to move right-hander Brad Peacock up one day, meaning Peacock will start on three days' rest.
Right-hander Francis Martes, the Astros' top pitching prospect, will make his first career start on Wednesday.
Peacock lasted just three innings in his last outing, throwing 76 pitches in a 9-4 loss to the Los Angeles Angels on June 9. Martes, meanwhile, made his big league debut last Wednesday in Kansas City, working 3 2/3 innings out of the bullpen.
"I think with Peacock it's a little bit different," Hinch said of concerns having a starter work on short rest. "He's got some experience as a reliever. He also came out of the game after three innings and pitches in the 70s the other day. Of the times to send a guy back out after three days this is probably the best-case scenario.
"The decision we had to make was Peacock, who's done it before as a reliever, and Martes, who's a young kid who has never done it. The decision was easy and we feel like Peacock has the best ability to handle it."
Peacock (3-1, 3.15 ERA) has faced Texas (31-32) twice this season, pitching in relief in a 10-4 loss on May 4 before allowing two runs on four hits and one walk with nine strikeouts over six innings on June 4. He is 2-3 with a 3.35 ERA over eight appearances (six starts) in his career against the Rangers.
Right-hander Nick Martinez (1-3, 4.88 ERA) will start for Texas on Tuesday against the Astros (44-21). Martinez has faced the Astros twice this season, allowing seven runs (six earned) on nine hits and three walks over 5 1/3 innings in a 10-1 loss on May 3 before pitching out of the bullpen on June 4, when he worked 3 1/3 scoreless innings in a 7-2 defeat. He is 3-2 with a 3.28 ERA over nine career appearances (five starts) against the Astros.
After Yu Darvish limited Houston to one hit over seven innings in a 6-1 Texas win on Monday night, Martinez is charged with maintaining the positive momentum generated by Texas starters. In a three-game road sweep over the Washington Nationals, Andrew Cashner, Martin Perez, and Austin Bibens-Dirkx combined to allow four runs on 16 hits and four walks with 11 strikeouts over 19 innings.
What Darvish managed against the Astros was representative of a starting rotation capable of making successful adjustments on the fly.
"All of our starters go into a game with a game plan," Rangers manager Jeff Banister said. "However, when you get into the game, get into the rhythm of the game, any of these guys are experienced enough to use what they feel good with, what they can throw strikes with, what's working for them."