Astros' Carlos Correa is driven to become the best player in the game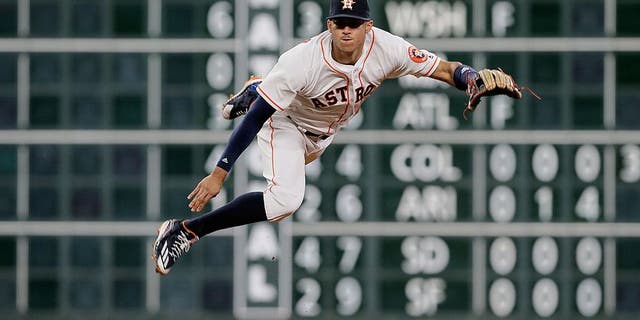 NEWYou can now listen to Fox News articles!
Youre Carlos Correa, and this all started on Draft Day 2012.
You werent the consensus No. 1 pick coming out of the Puerto Rican Baseball Academy. There was no consensus No. 1 that year, no Bryce Harper, no Steven Strasburg.
The Astros, it was thought, would select either Byron Buxton, a high-school outfielder from Georgia, or Mark Appel, a right-handed pitcher from Stanford.
When they chose you, Carlos Correa, made you the first No. 1 overall pick from Puerto Rico at age 17, it was a bit of a shock.
Brilliant, as it turned out the Astros signed you for $4.8 million, $2.4 million under slot, then used their savings to grab a high-school right-hander named Lance McCullers at No. 41. But a bit of a shock.
Even before the draft, you had wanted to become the best player in the game. But first, you had a more pressing goal: Proving you were the best in your draft class.
A lot of people doubted that pick, you say now, five years later.
Not anymore.
You won the 2015 American League Rookie of the Year award at age 20, though you missed nearly half of the previous season in the minors with a fractured right fibula.
You also are the most accomplished player from the Class of 2012 based upon Wins Above Replacement -- ahead of Cubs shortstop Addison Russell (No. 11), Dodgers shortstop Corey Seager (No. 18) and all the others.
So, as baseball prepares for its amateur draft on Monday, you have a new motivation, one that occupies almost your every waking moment.
He is driven to the highest degree to be elite as in the best ever, your manager, A.J. Hinch, says. He wants to be the best and dominate.
You do not back down from such talk; even before the draft, you had dreamed of becoming the best player in the game.
First, though, you must become the best shortstop.
I truly believe I can do it, you say. If I put in the right work, I think I can achieve that.
AP
Youre Carlos Correa, and you considered 2016, your age 21 season, a step backward.
Never mind that you finished with an .811 OPS and 20 homers; your OPS as a rookie was .857 and you hit two more homers in 54 fewer games.
You worked during the off-season on keeping your feet quieter in the box, among other things. Now, after watching video, you have altered your setup slightly. You made the adjustment not in spring training, not during the World Baseball Classic, but in April, after the season started.
Youre holding your bat flatter now, closer to your shoulder. A small thing perhaps. But significant enough to help you become the American League Player of the Month for May.
Im trying to get my bat through the zone for a long time, you explain. If Im late, I want to be able to hit a line drive to right field. If Im early, I still want to hit a line drive to left field.
Its more about my bat path. I feel more comfortable with my bat path when the bat is (flatter) on my shoulder.
What prompted the change?
Go ahead, tell the truth: You were watching video of the best hitters in the game, watching a lot of Mike Trout, in particular.
Trout holds the bat relatively flat. You tried it, worked on it until it felt comfortable. Your .875 OPS and 11 homers through 254 plate appearances indicate that the flat-bat society might be growing soon.
Victor Decolongon
Youre Carlos Correa, and during the off-season you parted with your marketing representative, Frankie Higginbotham, as first reported by the Puerto Rican newspaper, El Nuevo Dia.
Higginbotham had helped you land a five-year deal with Adidas in Feb. 2016, a deal described as huge and record-setting by ESPNs Darren Rovell.
The problem was this: You felt that you spent too much time on your off-field business interests last season, and that your game suffered as a result.
I wanted to focus more this year on baseball and bounce back, you say. I feel like last year was a down year. I wanted to focus more on what got me here in the first place.
How specifically did you get sidetracked?
I was doing stuff on the days off that I shouldnt have done, you say. Instead of a day off, it was a day of work. I was never getting my rest. At the end of the day, I was kind of tired.
You took other steps as well, adhering to a strict diet in the off-season, trying to stay lean. At 6-foot-4, 220 pounds, you might not be a shortstop forever. But like Cal Ripken, Alex Rodriguez and every tall shortstop before you, you want to stay at the position as long as you possibly can.
Troy Taormina-USA TODAY Sports
Youre Carlos Correa, and youre aware of the defensive metrics.
You rank 25th among shortstops in defensive runs saved, 21st in Fangraphs version of defensive WAR. Many with the Astros swear you are better than that, better than people think.
Part of the issue, you believe, stems from the Astros heavy use of defensive shifts; the team entered Sunday having shifted on 33 percent of its opponents plate appearances, the highest rate in the majors, according to STATS LLC.
Sabermetricians acknowledge that shifting makes the evaluation of infield defense more difficult; zones are not perfectly quantified, so some balls that appear to be in an infielders zone might actually be out of his reach.
Spacing is another issue.
When I look two-three steps to my left, Altuves there. When I look two-three steps to my right, Bregman is there, you say, referring to second baseman Jose Altuve and third baseman Alex Bregman.
Theres not much ground to cover. But its what works for our team. Its what is making us win. I think the shifts really work. If that means my defensive metrics arent going to be great because I dont have to cover as much ground, thats fine as long as were winning.
David Richard/USA TODAY Sports
You might never float like the Indians Francisco Lindor, a fellow Puerto Rican -- one professional evaluationdescribes your hands as plus and your arm as plus-plus, but your range as average.
Still, you worked during the off-season to become more agile, worked on using one hand to field ground balls, on moving your feet more to get better hops.
He hates when he misses a play defensively, says Carlos Beltran, your Astros teammate and fellow Puerto Rican. There are days hell say, Today I went 2-for-4, but I made this error and this error I dont like it.
That tells me a lot. He wants to be good not only offensively, but defensively. For how big he is, the position he plays, he makes plays that are impressive.
Bob Levey/Getty Images
Youre Carlos Correa, and you consider it a gift that Beltran, 40, is now your teammate.
When you sit down with Beltran, watch a game with Beltran, theres so much more going on than just hitting a baseball, catching a baseball, throwing a baseball, you say.
Puerto Rico is a relatively small island. As of 2015, its estimated population was 3.47 million, and the baseball community was a tiny fraction of that. Yet, you did not meet Beltran until the day you signed with the Astros in June 2012.
Beltran, then with the Cardinals, was at Minute Maid Park that day. He and catcher Yadier Molina, another native of Puerto Rico, came onto the field to meet you and pose for photos with your family.
The three of you were teammates this past spring during the World Baseball Classic, along with Lindor and another young Puerto Rican star, Javier Baez.
And now Beltran is an Astro.
Im a guy who likes to come to the ballpark early and study the pitchers Im facing that night, Beltran says. I tell him, This is what I do. This is what has allowed me to be in this game for such a long time. Youve got to study the game. Youve got to make sure you study not only the starting pitcher, but also the relievers. You have to have a sense of situations that might happen in the game. And when they happen, its not new. You lived that moment before.
Jim Cowsert-USA TODAY Sports
You understand what Beltran is saying. Your teammates and coaches say you absorb information like a sponge. And you know the mental side is a separator for even the very best.
Sometimes you will ask Beltran before an at-bat, Should I look for a slider? Beltran will respond, Go for it, if thats what you feel you want to do. And Beltran will relish the moment, knowing that you are a step ahead, that most young players simply react rather than anticipate.
Your manager sees a difference, too.
He is a touch more aware of the subtleties within the game this year -- small things that make him better, Hinch says.
Not just his swing, maybe more about his legs. Not just his fielding, more about his footwork on double plays. Not just an at-bat, but how to be productive.
Some of this how he is built. Some of it is how hes maturing.
You were drafted five years ago. Youve got 15 or more to go.
Youre Carlos Correa, and youre a professional now.