As Vikings quarterback carousel spins again, Ponder gets the call to face rival Packers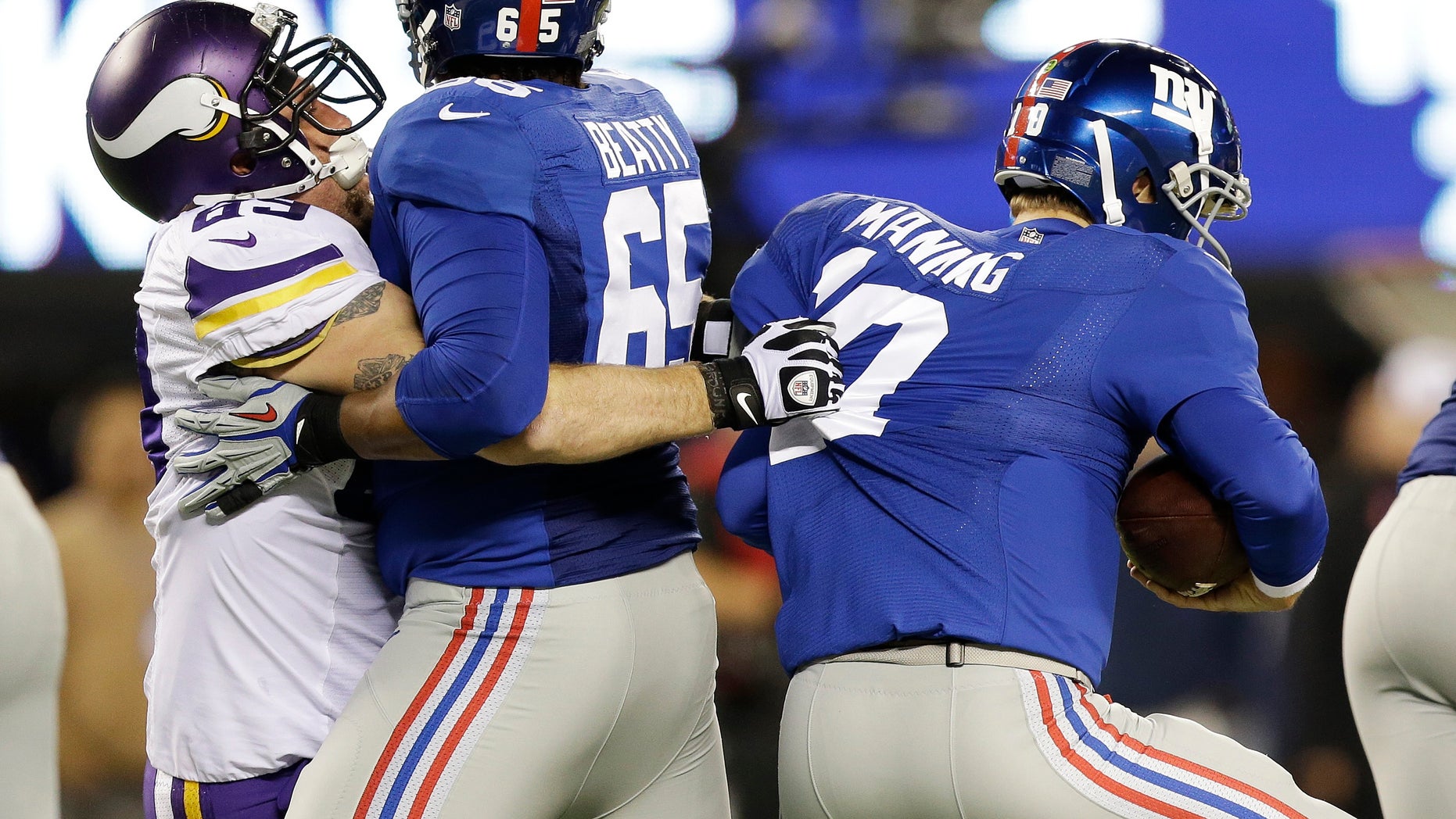 MINNEAPOLIS – Christian Ponder has come full circle for the Minnesota Vikings, though the arc has not been smooth.
His first career start was at home against Green Bay. Now he's running the offense again with the Packers coming to town.
The Vikings (1-5) turned to Ponder again after benching him for a few weeks, with Josh Freeman mending from a concussion.
The Packers (4-2) are heavily favored for the Sunday night game, despite their injury-ravaged roster, the 409 yards rushing they yielded to Adrian Peterson over two matchups last year, and the noisy stadium they'll be visiting.
Ponder, though, has played well at home against the Packers. He had a decent debut in 2011 and in 2012 threw for three touchdowns in a victory that put the Vikings in the playoffs.
"It's been an interesting ride," Ponder said. "Obviously, it swung away from me, it swings back, and it's time to grab ahold of it and not let it swing away from me again."
Teammates saw a more assertive, confident attitude from Ponder this week.
"He was a completely different person," tight end Kyle Rudolph said after Wednesday's practice. "The way he went about his business the last two weeks, it kind of got everybody fired up."
Here are five things to know about the game:
INTRADIVISION DOMINANCE: The Packers have won 14 of their last 15 games against NFC North opponents, including beating the Vikings in the playoffs last January. Since coach Mike McCarthy took over in 2006, their 33-10 regular-season division record is the second best in the NFL behind New England. The Patriots are 36-9 in that span.
This starts a six-game stretch for the Packers featuring four NFC North matchups. This is also, typically, Aaron Rodgers at his best.
He has a 116.4 career passer rating vs. the Vikings, which according to the Packers is the best since the 1970 league merger by a quarterback against one team with a minimum of 250 attempts.
PACKERS IN PAIN: The Packers are in first place despite another rash of serious injuries to some of their most important players, and tight end Jermichael Finley was the latest. He was hospitalized for a neck injury.
Star linebacker Clay Matthews has been ruled out again, still recovering from a broken thumb. Wide receiver Randall Cobb will be out for a while because of a broken leg, and wide receiver James Jones wasn't practicing this week with his knee injury continuing to heal. Nick Perry is out because of a broken foot, but another starting linebacker, Brad Jones, could be back from his hamstring problem.
LAST LOOK: The Vikings are just 16-14 at the Metrodome, now known as Mall of America Field, against the Packers, but they've enjoyed a number of memorable victories there over their cross-border competitor. Last year was one. So was 2009, Favre's first game on the other side of the rivalry. The Packers have had their share, too, like the Christmas Eve game in 2004 that clinched the division, and the 2007 win when Favre set the NFL career record for touchdown passes.
This will be the last time the teams face each other in this building, barring some wacky finish to the season that sets up a playoff game between them.
"So many good memories and some tough ones, too," McCarthy said. "Very difficult place to play. Always has been."
ALLEN'S FAVORITE: Jared Allen's 17 sacks of the Packers are the second most by any player against them in history, behind Steve McMichael's 18.
"I have a lot of respect for him. He plays the game very hard," Rodgers said. "He's got a great motor, but I think he plays it clean."
Allen will be across from rookie left tackle David Bakhtiari. Rodgers has taken 15 sacks this season, tied for 15th most in the league.
"If you have an opportunity, yeah you need to get to him," Allen said.
SPECIAL SUCCESS: Though the Vikings have had their share of gaffes on special teams this year, this is currently the brightest spot on the team. Marcus Sherels returned a punt for a touchdown last week and ranks third in the NFL with a 15.9-yard average per return. Cordarrelle Patterson leads the league with a 36.5-yard average per kickoff return. Jeff Locke's net punting average of 46.1 yards is 10th best.
___
AP NFL website: http://www.pro32.ap.org
___
Dave Campbell on Twitter: http://www.twitter.com/DaveCampbellAP