Anthony Pettis: I'm not impressed with Eddie Alvarez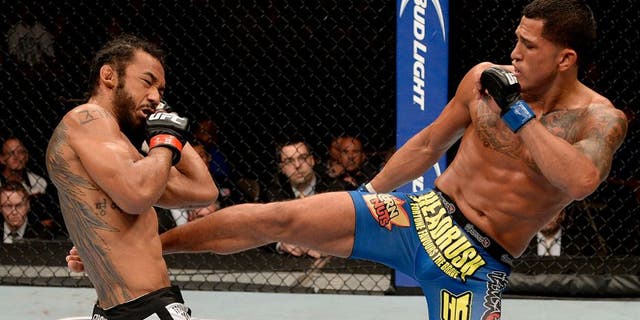 NEWYou can now listen to Fox News articles!
Anthony Pettis is set to return to action Jan. 17, and despite calling for a rematch with Rafael dos Anjos and a fight with Conor McGregor, the former champ has his sights set squarely on opponent Eddie Alvarez.
That isn't to say that "Showtime" is all too worried about Alvarez, though. "I'm focused on Eddie Alvarez, another good fighter," he said at a recent UFC fan question-and-answer session in Houston.
"[However] based on his last two performances, I'm not that impressed."
Alvarez won a split decision over Gilbert Melendez in June, and lost a decision to Donald Cerrone a little over a year ago. In all, the long-time international star is 1-1 in the UFC.
Pettis believes that if he does what he needs to do, beating Alvarez will be a piece of cake. "If I'm in there 100 percent and I'm healthy, and fight the way I fight, I don't think he's even a challenge," he boasted.
"Last fight I was trying to focus on watching the wrestling and all that stuff. When I'm out there focusing on what I'm going to do and not what they're going to do, I feel like I have the best results. Obviously, we're going to watch a little bit of film and [see] how he stands, but other than that, it's just me being myself."
That last fight was against dos Anjos, who recently said Anthony Pettis was "confused" after the former UFC lightweight champ mentioned that he was going to help Donald Cerrone prepare to challenge the Brazilian for his belt this December. Pettis, who fought and beat Cerrone in 2013, flat-out denied that he would ever help Cerrone.
"No, that's not true at all," he insisted.
"He made a comment at a fight, saying if I was fighting Khabib [Nurmagomedov], that he hates that guy and he would help me ... I'm possibly fighting this dude again. And, he was talking big stuff when I fought him before so I'm definitely not helping him out, training."