Anthony Martial marks Man United debut with late goal vs. Liverpool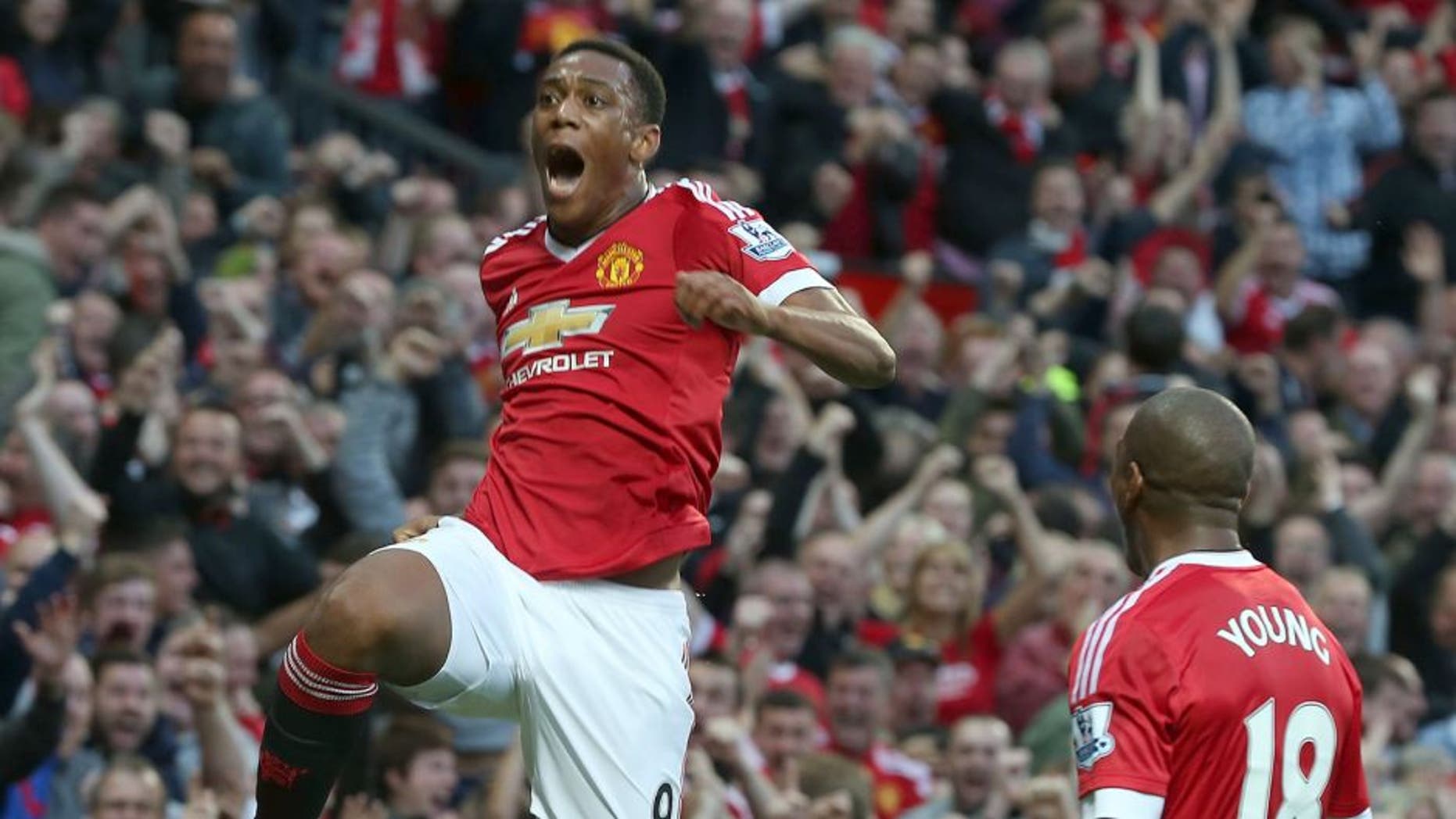 Daley Blind's 49th minute goal, a blistering drive into the top left corner of the Liverpool net, and a wonderful Anthony Martial debut strike in the closing minutes set Manchester United on the path to a coveted 3-1 victory in the 193rd meeting of the arch rivals at Old Trafford on Saturday evening.
Blind's goal brought to life a moribund evening as the bitter rivals had failed to produce any fireworks in the opening half, each apparently too concerned with their early-season form to be willing to open the game up. When Ander Herrera slammed home a penalty with 20 minutes left, United was certain of the three points and the boost in confidence that goes with a victory over the side their supporters most love to defeat.
Christian Benteke had a goal-of-the-year candidate for Liverpool in the closing stage, but Martial's almost-immediate reply ensured that Manchester United supporters could celebrate the occasion.
The victory allowed United to move second in the Premier League table, even on points with Arsenal but ahead of the Gunners on goal-difference. Both teams are five points adrift of Manchester City, unbeaten and alone atop the standings. Liverpool is now ninth, level with Norwich City on seven points, but behind the Canaries on goal-difference.
The introduction of Ashley Young at halftime by United boss Louis van Gaal proved a golden touch. A subsequent foul on Young created the moment that the home fans had been waiting for, one which Blind finished exquisitely. Herrera's subsequent spot kick touched off early victory celebrations and the faithful didn't have to wait out a nervy closing stage because of Martial's quick reply to the remarkable Benteke goal with five minutes left.
Both sides had come into the traditional fixture off defeats and with questions hovering over their sputtering attacks. The opening half was almost soporific, lacking the sense of spectacle which usually surrounds these matches. Once Blind scored, the Old Trafford crowd came to life and the match changed noticeably in intensity. But Liverpool boss Brendan Rodgers will find it difficult to find many positives from his team's second successive reversal.
Both teams have European assignments this week, too, so will start to have to deal with heavy schedules as well. United will head to PSV Eindhoven on Tuesday to return to the Champions League after missing last season; Liverpool begins Europa League play at Bordeaux on Thursday.
Goalkeeper David De Gea made his season's debut, but England record goal-scorer Wayne Rooney was absent. As such, Van Gaal was still not able to field what presumably would be his first-choice starting XI for the rivalry showdown.
De Gea, who signed a new 4-year deal with United after his transfer-day deadline sale to Real Madrid fell through, had not played while his uncertain future was debated. Rooney, whose penalty kick against Switzerland on Tuesday made him England's all-time marksman, was sidelined with a reported hamstring problem, so Marouane Fellaini had the job of leading the attack.
Van Gaal later gave the the expensive Martial his Premier League and Old Trafford debut when he sent him on to replace Juan Mata with 25 minutes remaining in the match. He immediately slotted into a traditional No. 9's role with Fellaini slotting into a supporting attack role. That paid off in the goal that prevented Liverpool from raising any last-minute charge.
Liverpool opened in a deep-lying 4-5-1, which left Benteke to forage pretty much on his own at the top of the attack with support expected to come from Danny Ings and the overlapping Emre Can and Nathaniel Clyne when the Reds went forward.
What passed for creating chances in a choppy first half hour generally meant Memphis Depay foraging down a wing and attempting to make something happen without having the precision on his final passes. Liverpool was content to frustrate, rarely stringing possession together in midfield and falling back quickly whenever United tried to organize its attacks from near the halfway line.
The result was an opening 45 minutes devoid of real goal-mouth action.
Surprisingly, Van Gaal sent on Young to start the second half, replacing Memphis, who was not injured, but had been active without providing the needed finishing crosses. It didn't take long to figure out why the boss made the change.
Young provided something different, choosing to run straight at Clyne rather than drifiting inside of him as Memphis had during the first half. That approach had immediate impact, drawing a yellow card foul from Clyne that won the free kick on the edge of the box on the left that created the opening for Blind's finishing touch.
Mata played the free kick across the top of the box, Blind ran onto it and none of the Liverpool defenders had time to close down the shooting space. With power and precision, Blind made sure that Mignolet couldn't get near the ball, either.
DeGea finally was called into action 12 minutes after the restart when he had to react quickly and acrobatically to palm away an Ings shot, the first indication that Liverpool would abandon its defensive look and search for a footing in the match.
And Blind produced heroics in the 65th minutre when Martin Skrtel got his head on a corner only to see the goal-scorer keep it out on the line, then help to scramble away a second chance for Ings.
Any chance Liverpool had of getting a point out of the evening diappeared in the 70th minute when Herrera was brought down deep in the box by a Joe Gomez tackle and then hammered the resulting penalty into the top net. It was a tackle Gomez didn't need to make as he launched himself from behind as Herrera was headed toward the end line; the resulting award was not questioned and Herrera's spot kick was perfect.
DeGea produced one more very good save in the final 10 minutes, and United had kept Liverpool under wraps until Benteke scored his goal-of-the-season candidate with an overhead strike that gave the keeper no chance with five minutes remaining. Benteke got above Herrera and timed the strike perfectly to give Liverpool a late glimmer of hope.
It was a glimmer, indeed, because Martial offered Old Trafford a first look at his promise with a weaving, swerving run past Skrtel before hitting the far right corner just two minutes after Benteke had struck. Martial, whose price tag has been questioned by some while others compare him a Thierry Henry-in-the-making, made it look easy when it clearly wasn't.
It also made the second half fully compensate for the disappointment of the opening 45 minutes.