Andrew McCutchen has learned to deal with the data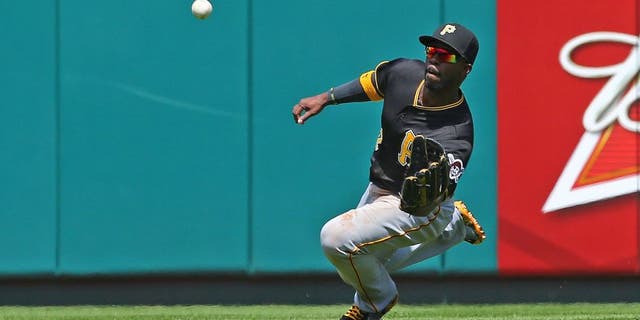 Pirates center fielder Andrew McCutchen isn't as skeptical of data-driven positioning as Dodgers lefty Clayton Kershaw, who recently told the Orange County Register that he isn't sold on infield shifts.
Still, McCutchen said it took time for him to understand what the Pirates were doing when they began using data more extensively in 2013 --€" the season in which they ended their 20-year playoff drought.
Teams do not shift outfielders nearly as dramatically as they do infielders, but still use data to position outfielders accordingly.
"I wasn't convinced right away," McCutchen, 29, told Fox Sports. "The year previous to that, I had won a Gold Glove. And then they started throwing all these numbers out. I wasn't too big on it. It's still taking some time to get used to. I haven't won a Gold Glove since.
"I know that doesn't just have to do with numbers -- it has to do with me, too. It's taken some time to adjust to it. But I can see it working. I can see where they're going with it. If it can work for the infield, I'm certain it can work for the outfield."
McCutchen, at least according to defensive runs saved, actually had a better defensive season in '13 than in '12, the year he won his only Gold Glove. He ranked 25th among center fielders in '12, then ninth, 32nd and 28th the past three seasons.
Over time, McCutchen said he has learned to blend his own instincts with where the data instructs him to play.
"It all has to play a part," McCutchen said. "For me, I was able to make it off raw ability, as opposed to having some numbers thrown out saying, 'The odds of him hitting the ball here are this. The probability and outcome is this. So play here.'
"It's a fine line. You don't want to take away your mind as a player, your feel. Numbers can spit out a lot of different things, but they can't spit out the feel of the game. That can totally change on the field.
"What I've come to recognize is that those numbers are a starting point. From that starting point, you can adjust to it. It's not, 'I've got to stay here.' It's more, 'I can start here. But if I see something, feel something, I can adjust to it.' That's what I've come to learn."
McCutchen, who spoke to FOX Sports before Kershaw's remarks became public, said it is counter-productive for players to question the use of data.
"You've got to be all-in," he said. "You can't be somewhat for it and somewhat against it. It has its pros. It has its cons. They say numbers don't lie. You've got to trust it."
MORE FROM CUTCH
This might be the best news of the spring for the Pirates: McCutchen is much healthier than he was a year ago at this time, when he was dealing with left-knee discomfort that lingered into the start of the season.
"Physically, I feel like I'm in really good shape. I feel strong. Balls are jumping off my bat way more than they did last year --€" and honestly, in previous years," McCutchen said. "I know that my body is there. Now it's just trusting it and keeping it."
McCutchen began last season by batting .188 with a .571 OPS in his first 111 plate appearances through May 6. But he was vintage McCutchen after that, hitting .313 with a .953 OPS in his final 574 plate appearances.
That's right, he finished with a career-high 685 career plate appearances in a season that began with him physically compromised, and ranked seventh in the NL with an .889 OPS.
"My body wasn't where it needed to be. I wasn't where I needed to be," McCutchen said of his struggles at the start of the season.
"My body had to compensate for a lot of things throughout the beginning of the season. It showed. It wasn't there. But now it's there. I know I can trust myself, trust my body and everything will take care of itself."
LIGHTEN UP, MATT
How surprised could Mets right-hander Matt Harvey have been that the New York tabloids had a field day with his bladder problems?
Harvey declined to talk to the media Wednesday, upset by the coverage of his condition. Both he and the Mets initially feared that his infection was serious. But Harvey passed a blood clot, and later revealed that his issue stemmed from the fact that he wasn't urinating enough.
Well, then.
The New York Post published six potential back-page headlines that it considered before settling on, "Ya Gotta Relieve," a pun on Tug McGraw's inspirational slogan for the 1973 National League champion Mets.
Harvey enjoys the perks of New York, from dating super-models to posing for fashion spreads. He should have expected the eruption from the tabloids, and laughed along with their jokes.
Instead, he invited more puns.
The back page of Thursday's Post reads: "Matt pissed at press: Kicking & Streaming."
JAYS' SAUNDERS READY TO ROLL
Remember the three-team trade that would have sent Jay Bruce to the Blue Jays and Michael Saunders to the Angels but was quashed due to medical concerns with one of the Jays' prospects heading to the Reds?
Saunders said he later told new Jays GM Ross Atkins that it would prove "the best trade he never made" --€" and the outfielder seems ready to back up that claim, batting .293 with three homers and a .917 OPS this spring.
One Jays official referred to Saunders as the team's biggest bright spot, noting that Saunders ran 4.25 seconds from home to first --€" just slightly below-average for a left-handed hitter -- after missing all but nine games last season due to a torn left meniscus that required surgery.
Saunders, listed at 6-foot-4, 228 pounds, laughed when informed of his running time, saying he was, "sneaky fast." But he entered spring training confident that his knee was in good shape, and said he now is making plays in the outfield and beating out double plays "without it even being in the back of my mind."
The Jays acquired Saunders for left-hander J.A. Happ during the 2014-15 offseason. Saunders, a native of Victoria, B.C., was less than enthused about the reported trade to the Angels last month.
"I grew up in Canada. The Jays were my team. I always thought, before I hang up the spikes, how cool it would be to throw on a Jays uniform," Saunders said.
"Obviously, what happened last year was extremely disappointing. I came back this year finally healthy. I wanted to show the Jays why they traded for me in the first place. To have my name in trade rumors, there were a lot of mixed emotions. I wanted to be here."
Saunders, 29, is one of a number of Jays who is eligible for free agency at the end of the season. The list also includes right fielder Jose Bautista, first baseman Edwin Encarnacion and relievers Drew Storen and Brett Cecil.
TIGERS' McCANN: CATCHER ON THE RISE
Two things stand about catcher James McCann's 2015 rookie season from a sabermetric perspective: His .297 on-base percentage and poor pitch-framing metrics.
Facts are facts, but McCann, 25, became the Tigers' regular catcher sooner than expected, taking over when Alex Avila missed nearly two months with a left-knee injury and remaining the starter even after Avila returned on July 3.
The difference now, McCann said, is that he is far more comfortable, both in the clubhouse and on the field.
Manager Brad Ausmus, for one, notices the difference.
"He's not being a quiet, reticent rookie in the corner listening to what's being said," said Ausmus, a former catcher. "He's doing both listening and also speaking when he feels it's appropriate."
OK, but does a greater comfort level translate to greater success? McCann firmly believes that the answer is yes.
"Absolutely," he said. "This game is funny. You're in an uncomfortable position no matter what. The more comfortable you can be in an uncomfortable spot, the more success you're going to have.
"You watch guys like Miggy (Cabrera), Victor (Martinez), (Ian) Kinsler -- guys who have done it for 10 years --€" no matter what the situation is, no matter what kind of pressure there is, they're comfortable. They're able to stay relaxed.
"You see the difference in a veteran player like that and a young player. The more experience you have, the more comfortable and relaxed you're going to be. And that's going to allow you to be a better player."
Jarrod Saltalamacchia, the Tigers' new backup catcher, already is a fan, saying that McCann's demeanor reminds him of Buster Posey's.
Ausmus, asked what kind of player McCann can be, predicted that he will sneak up on fans and media.
"I think he's one of those guys who a lot of people will say in a few years that he burst onto the scene, when baseball people knew that he was going to get there eventually," Ausmus said.
ORIOLES' TRUMBO: FROM 1B TO DH TO RF
Mark Trumbo had a chance to become the Orioles' regular first baseman when the team acquired him from the Mariners in early December, but the O's re-signed free agent Chris Davis seven weeks later.
Trumbo then figured to get most of his playing time at designated hitter, but that prospect faded -- at least against right-handers -- when the Orioles signed free agent Pedro Alvarez earlier this month.
So now Trumbo will be primarily in right field, where he played 76 games for the Diamondbacks and Mariners last season, compared to 30 at DH and 23 at first base.
"In the offseason, I stayed open-minded as I usually do," Trumbo said. "Things tend to change rather quickly, as they did here. You don't want to get caught off-guard."
"Baseball Prospectus 2016" says, "the problem with Trumbo has never been with his performance but with how teams utilize him. He's stretched as a corner outfielder, which is putting it politely . . ."
That said, Trumbo has been working diligently on his outfield skills with the Orioles' animated first base and outfield coach, Wayne Kirby.
"If you spend any time around him, you know he's not going to hold anything back," Trumbo said. "He's a straight shooter. If you mess something up, you'll hear about it. And as someone who is trying to learn, you want someone who is going to speak his mind."
AGENT TO MOM: CAN YOU HELP OUT MY CLIENT?
Talk about an agent going above and beyond --€" or at least, his mother and stepfather going above and beyond.
Right-hander Seth Lugo, the Mets' 20th-ranked prospect according to Baseball America, needed a place to stay in Las Vegas, home of the Mets' Triple-A affiliate; his expected roommate, righty Robert Gsellman, is opening the season at Double-A instead.
Lugo wanted a safe place for his girlfriend when the team was on the road. His agent, Joshua Kusnick, suggested the home of his mother, Wendy Siegel, and stepfather, Bobby Dweck.
The only problem with the plan was that Kusnick extended the invitation without first asking his mother.
Fortunately for him -- and for Lugo €-- she and his stepfather agreed.
As if agents aren't competitive enough, will they now boast about their parents' accommodations in recruiting pitches?
AROUND THE HORN
*Pirates left-hander Jon Niese, who showed increased velocity pitching out of the bullpen for the Mets last postseason, believes he can possibly improve on his sub-90 mph career average as a starter.
"This is the healthiest I've ever been, so, I'm sure it will transfer over into the season," Niese said. "Once the lights turn on and I'm out there.... I kind of realized in the postseason last year what I had in the tank. I'm going to take that into the season and see where it gets me."
*The Phillies will open the season with right-hander Vince Velasquez as a starter, believing that at 23 he still has upside in that role.
Some in the industry, however, believe that Velasquez and his upper-90s fastball are even better-suited for the bullpen --€" an area that is almost certain to be a trouble spot for the Phils.