Andrés Iniesta and Lionel Messi Help Barcelona to Win; Chicharito Quiet in Manchester United Victory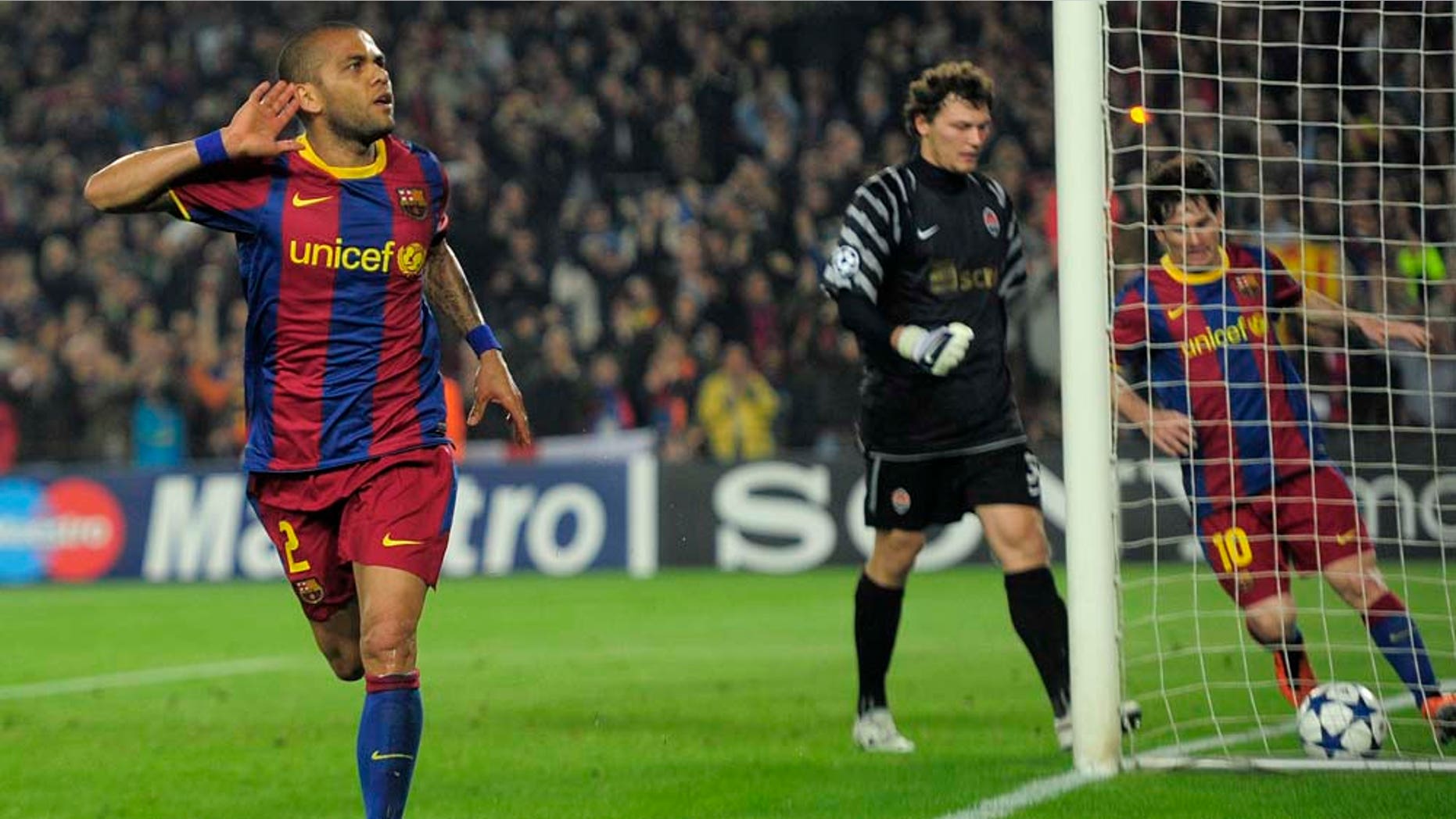 Andrés Iniesta, Daniel Alves and Lionel Messi helped Barcelona rout Shakhtar Donetsk in the Champions League.
The three players all contributed to Barcelona's 5-1 win. The victory gets the one team closer to a semifinal matchup with Real Madrid.
Meanwhile, Manchester United United defeated Chelsea in the first leg of the tournament's quarterfinals.
Javier "Chicharito" Hernández, who has has carried Manchester United, was quiet in the win.
Wayne Rooney scored in the 24th minute to give ManU the 1-0 at Chelsea Wednesday night. Following his hat trick against West Ham last weekend, Rooney met Ryan Giggs' pass in the penalty area and slotted past goalkeeper Petr Cech to give United its first win at Stamford Bridge in nine years. Fernando Torres remained scoreless since Chelsea acquired him from Liverpool in January.
Charged by England's Football Association for swearing into a television camera while angrily celebrating a league goal on Saturday, Rooney's face four days later was a picture of happiness as he was mobbed by his teammates to celebrate his 13th United goal of the season.
"Wayne got a lot of abuse and late tackles but he played his game," United manager Alex Ferguson said. "He was important on the counterattack and he was in tremendous form and he has given us a great chance of reaching the semi."
In Spain, new father Iniesta scored off Messi's pass in the second minute, and Alves, Gerard Pique, Seydou Keita and Xavi Hernández added goals for Barcelona, which has outscored opponents 132-30 in 49 games this season.
In Tuesday's games, Schalke won 5-2 at defending champion Inter Milan and Real Madrid routed Tottenham 4-0. The second legs of the total-goals series are next week.
At Barcelona, Iniesta put Barcelona ahead and then looped a long pass over the defense to Daniel Alves for the second goal in the 34th. Iniesta's girlfriend, Anna Ortiz, gave birth Sunday to a daughter, Valeria.
Pique scored for the second straight game to make it 3-0 in the 53rd. After Yaroslav Rakitskiy got Shakhtar's goal in the 60th, Keita scored a minute later off a squaring pass from Messi, and Xavi added the final goal in the 86th — giving Barcelona its 10th five-goal game this season.
Barcelona plays at Real Madrid on April 16, and the rivals meet four days later in the Copa del Rey final. If both advance in the Champions League, they would meet on April 27 and May 3. Barcelona won their only meeting this season, 5-0 in the league at Camp Nou in November.
"These are challenges that football brings you, and we like these. We like to play these types of games if it means you keep winning titles and earning success -- especially against a historic rival," Xavi said. "You couldn't ask for more."
The Associated Press contributed to this story.
Follow us on twitter.com/foxnewslatino
Like us at facebook.com/foxnewslatino