Anderson Silva: I'm going to bring the belt back to Brazil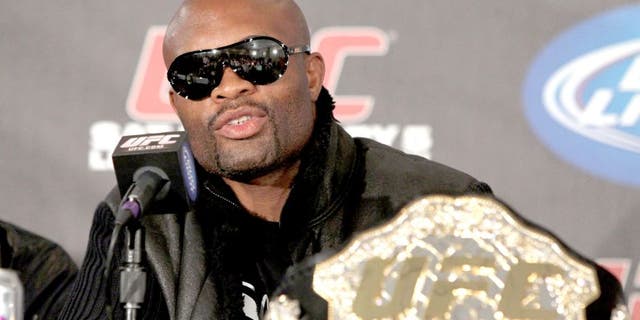 For seven years and 10 consecutive title defenses, Anderson Silva was the reigning middleweight champion of the world, and now, at 40 years old, he wants nothing more than to become UFC champion again.
Silva lost the belt in a devastating knockout by Chris Weidman in 2013 and then fell in the subsequent rematch after his leg shattered in the second round, which caused the fight to be stopped and forced the former champion to the sidelines for the next year.
It seemed when Silva returned for his last fight against Nick Diaz at UFC 183 as if he had put title aspirations behind him, but now as he prepares to face Michael Bisping in February, he's back on the hunt for gold.
"I have a dream that I'm going after, and that's to get that belt back," Silva said on Tuesday during a media conference call. "I'm going to do it. I'm going to try my best to get back there and get it done."
Silva didn't go into detail, but he said there were several reasons he wants to become champion again. Part of the motivation could stem from Weidman's recent title fight loss to Luke Rockhold at UFC 194, which certainly opens the door for Silva to get another crack at the belt much easier than trying to earn a shot against the fighter who defeated him twice previously.
Whatever the reason, Silva is focused on beating Bisping and then making a charge toward the title in 2016.
"Definitely some things have definitely changed. Definitely I've had a change when I've looked at it, and I've definitely changed my mind. I'm very motivated to come back and prove that I'm still one of the best and that I'm going to bring this belt back to Brazil," Silva said. "It's just a matter of getting the opportunity to do that."
On the surface, it might seem that Silva is fighting for a bit of redemption after failing a drug test in his last fight with Diaz. Results showed the Brazilian had several banned substances in his body, but he insisted that's not why he wants to be champion again.
Silva said that he hasn't listened to the naysayers who have an opinion about his positive drug test or those who ignore his title reign, when he never faced any allegations of using banned substances.
"I don't feel that I have to prove anything to anyone as far as what I've done in fighting," Silva said. "I've been doing this since I was a kid, 8 years old, I've been training. I don't feel I have any sort of redemption. I feel I'm coming back because I'm very motivated. I'm motivated to follow my dream.
"People that want to talk can talk. Even a parrot talks. People are always going to have their thoughts on what they're going to say. If I was to be worried about what everyone has to say all the time, I'd be screwed. I'm not worried about it. I'm just focused on doing my job and going out there and performing."
If Silva is successful against Bisping in February, that will mark his second win in a row since the losses to Weidman, but he's not going to demand a title shot or feel like he deserves to fight for the belt again.
Silva promised to go wherever the UFC tells him and fight whoever is placed in his path, but the fighter widely considered the greatest mixed martial artist of all time is definitely putting his name in the hat as a future contender and challenger for Rockhold's title.
"That's not a decision I'm here to make," Silva said about the title shot. "I'm prepared to fight whoever the UFC puts in front of me. My motivation is that a lot of people have counted me out and I believe and I've always believed that I can do things that people think are impossible.
"A lot of people think it's crazy, a lot of people think it's impossible, so with all those people thinking that, that's what's motivating me to prove them wrong and follow my dream."