Anderson gives Team USA gold medal sweep in Sochi slopestyle competition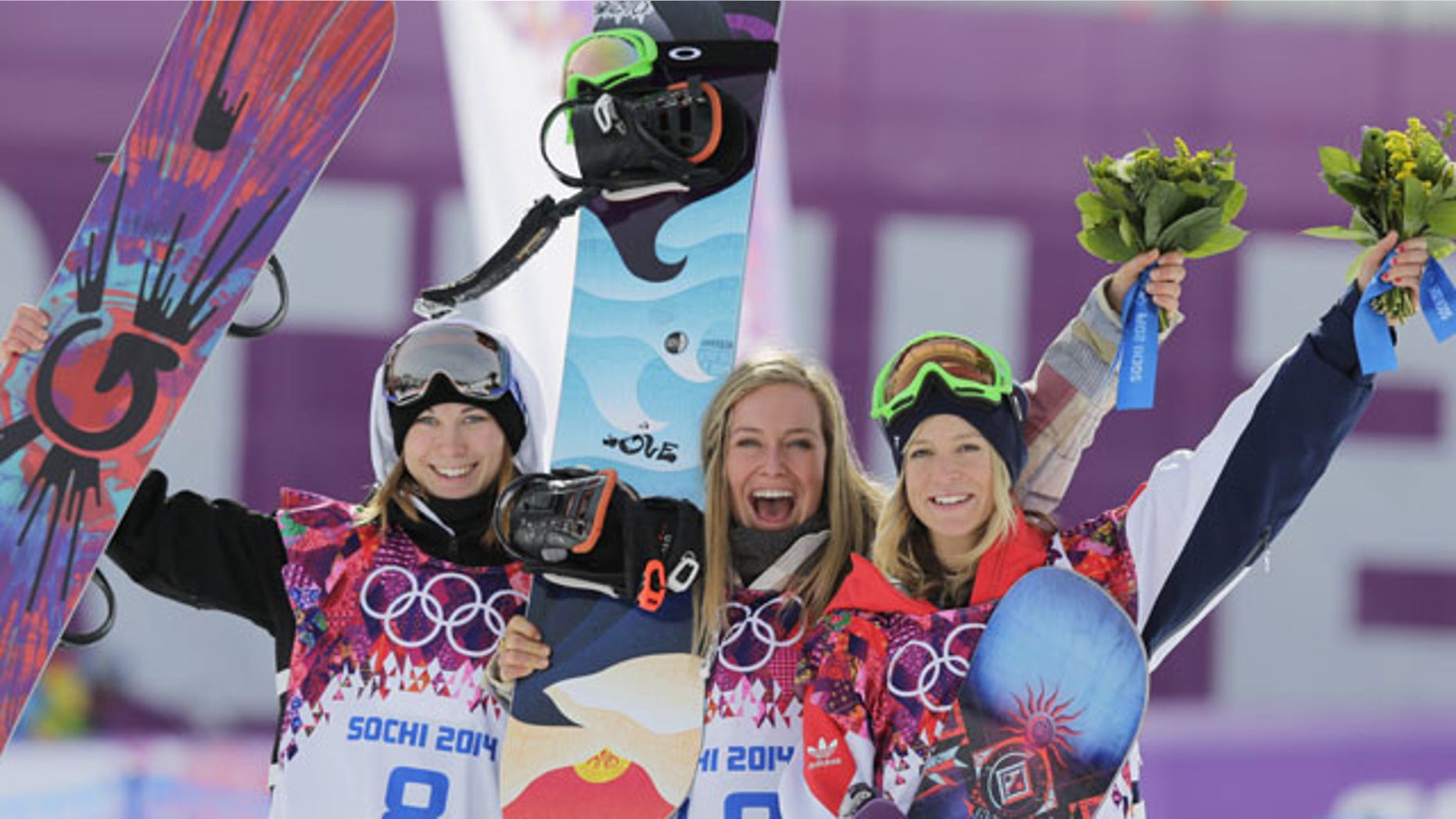 KRASNAYA POLYANA, Russia – Jamie Anderson gave the United States a gold-medal sweep in the first Olympic slopestyle snowboarding competition, while Jenny Jones took bronze to give Britain its first ever medal in any snow sport.
Anderson soared her way to the gold in a near flawless run in the women's final on Sunday, a day after Sage Kotsenburg captured the men's gold medal.
Enni Rukajarvi of Finland took silver and Jones, a 33-year-old former maid at a ski resort, delivered a long-awaited medal for Britain.
Anderson, who expressed concern about the difficulty of the course during training, posted a score of 95.25 on her second run fueled by big air after big air at tricky Rosa Khutor Extreme Park. She flipped her right mitten into the air after landing her final jump and clasped her hands over her face when realizing she'd won.
Jones provided the surprise of the day with a thrilling second run of 87.25 that momentarily gave her the lead. Though she was later eclipsed by Rukajarvi and Anderson, her medal is heady territory for a country not exactly known for its prowess on snow. The medal is the first ever for Britain in a winter sport not played on the ice.
Rukajarvi bumped Jones out of the top spot with a 92.50, her highest of the competition. And for a few minutes, it looked like it may be good enough. Olympic halfpipe gold medalist Torah Bright — competing in the first of three snowboarding events in Sochi — couldn't catch her. Neither could Switzerland's Elena Koenz or American Karly Shorr.
Ultimately, it came down to Anderson, considered the greatest slopestyle snowboarder of her generation.
The 23-year-old from South Lake Tahoe, Calif., came into the games as a heavy favorite but found herself up against it after a so-so first run. Admittedly not a huge fan of the course after wiping out in practice on Wednesday — tweaking her back in the process — Anderson delivered with a combination of athleticism, amplitude and grace no one in the sport can match.
While some of her competitors struggled to find enough air time to provide the series of spins and grabs necessary to impress the judges, Anderson floated through the gray conditions.
She made the "safe" sign when she crossed the finish line then exchanged hugs with Rukajarvi, Jones and Switzerland's Sina Candrian, a perfect example of the camaraderie in a sport still making the tentative steps out of infancy.
The U.S., much like it has in halfpipe, has the deepest talent pool. Yet Jones provided plenty of evidence the podium won't be dominated by Americans and Canadians for long.