All signs point to JPP making his debut this Sunday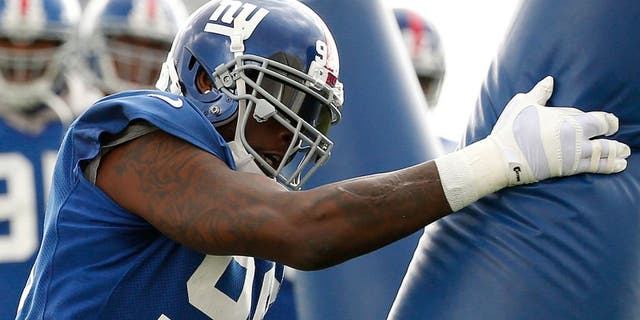 All signs point to Jason Pierre-Paul making his long anticipated return to action this Sunday in Week 9. Julio Cortez AP Photo
It's starting to look like we might get a chance to see New York Giants defensive end Jason Pierre-Paul one week sooner than originally expected. Pierre-Paul was a full participant during Wednesday's practice, for the first time this season, and he told reporters, "I am going to play on Sunday."
Pierre-Paul's bid to play ultimately comes down to the decision of head coach Tom Coughlin, and Pierre-Paul is not blind to this process.
"I've got to convince (Coughlin)," Pierre-Paul said to reporters. "It's up to the medical staff. They're taking me slowly. As of right now, I'm continuing to do the reps out there and getting the play calling.
"I want to play, yeah. But it's up to the medical staff; like I said, they're taking my slowly."
Pierre-Paul had 12 1/2 sacks in 2014, but that doesn't tell the whole story. He provided countless quarterback hurries and hits, and like every season in his career, he was one of the best run-stopping defensive ends in the NFL. His teammates are not surprised that Pierre-Paul was able to make such a quick turnaround in practice.
"It's good to see him back out there," Giants defensive tackle Johnathan Hankins said to reporters. "He looks good, and he's anxious to play. Everybody is excited. He's been doing good in practice. I don't really feel like it's been much of a dropoff since his incident. Just to see him go out there and play a game is going to be a good moment for him.
"Really, not that much has changed, that's the craziest thing," Hankins said. "For him to have that type of incident, for him to come back and be the same as he was when he left, that's just a blessing. I'm just happy for him to be back out there."
Teammate and fellow defensive end Robert Ayers believes that Pierre-Paul's ability to make such a quick comeback has something to do with his incredible athletic attributes.
"He's not a normal player, he's not a normal person," Ayers said. "He's, in my opinion, a true specimen. He's still very gifted, his talents haven't gone anywhere. He's a huge talent, he has a lot of passion for the game, a lot of love for the game, and he's been working his butt off while he wasn't out here. He's really trying to catch up mentally and get in the groove of everything like that, but physically, the dude is a rare breed, so it's not surprising at all."
As a defensive unit, the Giants have just 9 total sacks in eight games to start the 2015 season. Advance metrics website Pro Football Focus has charted the Giants with generating the least pressure overall on a per snap basis. The Giants desperately need Pierre-Paul to return and provide a spark for their stagnant pass rush.