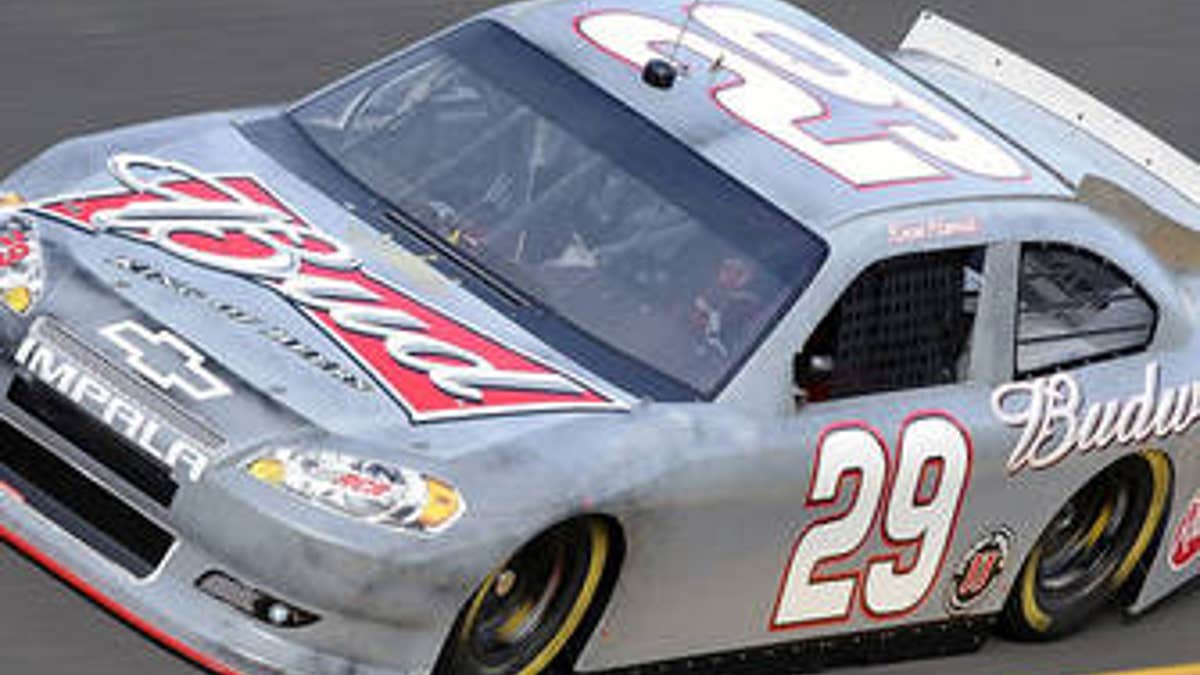 GLADEVILLE, Tenn. – It's the Monday before NASCAR teams report to Daytona for Speedweeks, but the preparation for the 2012 Sprint Cup season is just beginning.
Richard Childress Racing rented Nashville Superspeedway for a two-day test that kicked off Monday to ascertain the development of its downforce program from last season.
With a total of five teams -- two of its three Sprint Cup entries and three Nationwide Series squads -- the organization will test new setup ideas and work on electronic fuel injection, a new quirk for NASCAR teams this season.
All the simulation that has been completed at the race shop throughout the offseason will offer the teams a baseline to build their notebooks for the rest of the year. But this test session offers a chance to see what works when it matters most, on the racetrack, before the green flag drops on the 2012 season in just a matter of days.
Kent Day, RCR's director of competition, specializes in chassis vehicle dynamics and holds a doctorate degree in mechanical engineering from Clemson. He calls the exercises "sorting out conceptual concepts" or "typical stuff."
"With the Cup cars, we're looking for this," Day says showing a half-inch of space between his thumb and forefinger. "It's like searching for a needle in a haystack -- then we add a little science to it. We'll examine everything, look at the simulation and listen to driver feedback.
"This is a good test to get the cobwebs out."
With the exception of Joe Gibbs Racing's Brian Scott, the other cars participating on track are all powered by Earnhardt-Childress Racing engines. Kevin Harvick, Paul Menard, Austin Dillon, Elliott Sadler and Brendan Gaughan will all turn laps for RCR.
Furniture Row Racing, which shares a technical alliance with RCR, has Regan Smith on track. Juan Pablo Montoya and Jamie McMurray are representing for Earnhardt Ganassi Racing. Tommy Baldwin Racing is testing with Dave Blaney, David Reutimann and protege Ryan Blaney (who will post faster laps than his father before the end of the day). For the elder Blaney, it's his first opportunity to work with new crew chief Ryan Pemberton.
This test is most important for Harvick, who is establishing a foundation with a brand-new team. Yes, this is still the No. 29 squad -- the flagship of RCR. But after Harvick finished third in the points standings the past two seasons, it was time for a change. All the men on his team -- except for a few on the pit crew and the backup truck driver -- are new. Crew chief Shane Wilson has worked with Harvick on a limited basis in 2007 and '08. But even with all the changes, Wilson feels with the "one team" concept at RCR, the No. 29 crew will be up to Harvick's speed in no time.
"We want his feedback," Wilson said. "It's been a while since I worked with him and all the guys have. It's a good way to test and let the driver get used to us and vice versa. There's not going to be a huge learning curve. We've all worked together and had success together."
The No. 29 team has two cars at the test for Harvick. The first car -- the baseline car -- was built in the middle of last season for former teammate Clint Bowyer. Crew chief Shane Wilson nicknamed the car "Money Maker" given its 7.3 average finish for Bowyer at Kansas, Texas and Homestead-Miami during the Chase for the Sprint Cup.
The second car has an older chassis with a fully updated body. By the end of the session, the first car will be used for most of the engine testing while the second car will experience a variety of setup adjustments.
Although little has changed physically with the cars, the introduction of electronic fuel injection has altered the way the game is played. Engine supplier Earnhardt-Childress Racing hired Charlie Sullivan from General Motors four months ago to help with the transition. At the test, he'll help the engine tuners and the drivers disseminate the data as it comes in from the electronic control units. With electronic fuel injection, NASCAR will allow teams to use the data gained during race weekends to dial in their cars. Teams can pinpoint a driver's braking and acceleration at different locations on the track.
"We need to make sure that the tuners can do their jobs to handle the daily tasks so Judd (Glenn, ECR development engineer) and I can handle any special things that come up -- that we didn't plan on, or things at the track or how competition is progressing," Sullivan said. "So we're letting the tuners work, get comfortable and handle it themselves."
The role of the engine tuner has changed dramatically with the transition from carburetors to electronic fuel injection. Halfway through Monday's test, Wes Adams, the No. 29 team's engine tuner said frankly, "I'm overwhelmed right now -- or over my head. I'm not sure which."
Understandably, there is a lot to disseminate between engine RPMs and varying degrees of throttle response. With more races coming down to fuel mileage, determining where fuel is being lost or gained is invaluable.
"Fundamentally, they have to keep the engine content and happy," Sullivan said. "They have different feedback now. They have data that comes out of the ECU that they can look at, and we're teaching them how to interpret it and look at it and correlate it to what the driver has to say and the team has to say about fuel economy and drivability. Then, of course, listen to all the driver's noises -- or complaints that 'it makes this sound in the corner or it feels like X, Y or Z' and they know how to interpret that so they know what to do with the ECU.
"In the past, they would have to read spark plugs, look for physical remains of what may have happened on the track. Now they have a ton more data to look through, and that's one of the big challenges."
With the novelty of EFI in NASCAR, Sullivan is concentrating on failure mode analysis: what can happen, what's going to happen and what's the most efficient way to fix the problem. Despite all the in-house dynamometer testing, nothing will replace tests under true racing conditions.
Sullivan says he will be relieved when the organization can return to "car testing" and view EFI as a "hindrance."
"For a while there were engine tests and EFI tests where everyone would sit and wait for us to make changes and get things going," Sullivan said. "But now, we're trying to have everything developed enough and robust enough so that it's not really all about doing something specific to the engine. They're able to continue at their normal pace to do suspension changes and aerodynamic changes - and carry on."
After the track is blown off, the cars finally hit the track. At 10:20 a.m. local time, Harvick shakes down the first car on the racetrack. The team makes several adjustments on the car and 30 minutes later, he runs additional laps.
At 11:10, Harvick makes his first run in the second car. He reports that "the car is kind of the same way getting into the corner... a touch free." Harvick feels both cars are moving around too much. He thinks if the crew can calm down the entry it will have the car transition through the corner.
Wilson makes dramatic changes to the car's set up. He opts to coil bind the springs and removes the bump stops.
"We haven't done that in three years," Wilson said. "Most of the series - the Truck Series and the Nationwide Series - they all just coil bind. They're not allowed to use a bump stop. The bump stop is a piece that goes over the shock and right when the splitter is going hit the ground it hits this piece of rubber material -- and there's a lot of different materials, stiff, soft and everything, we use. But also to use bump stops, you need pretty elaborate simulation to estimate everything.
"So, the old, straight forward, simple is coil binding where all series, all the mechanics kind of know how to do it. At the places that are rough, like Las Vegas, it makes the car harder to drive but if everybody is coil binding, then there's really no disadvantage. But in the Cup series, you can coil bind or use bump stops. There are tracks where you want to try coil binding because it's simple. That's when it's good to test and try different stuff out that you wouldn't normally get to do.
"We're going from one extreme to the other. We're more testing - not necessarily tuning the car to what he's saying. Hopefully, he can go out and run, then we'll go on to our next change and not make any more subtle changes to the car to be able to get a feel for the changes we're making."
Harvick takes four more practice runs and has found a happy medium before noon.
"We'll break for lunch and then we'll re-baseline after," Wilson said.
Harvick is back in the car before 1 p.m. With the threat of snow in the forecast, there's a sense of urgency to keep things moving. He continues to dial in the second car then makes fuel mileage runs in the first car while trying a variety of scenarios with EFI in different gears and under a mock caution.
"We were trying to make sure that all the testing we've done on the dynos is realistically on the racetrack," Harvick said. "It's all about preparation and being prepared for that goofy situation and having a deeper playbook than everyone else. We're just trying to expand on our playbook. The car has good speed, so that's a bonus."
A "Happy" Harvick makes for a happy team. And for now, the driver believes the progress with his new squad is "great." He feels a renewed enthusiasm among this new group.
Harvick collects more data for the team and pours over the notes himself. There are brake adjustments and tire changes from slicks to scuffs, before Harvick takes on the next challenge.
As he exits the garage for another run, Wilson warns Harvick, "You just have (Menard) out there. He's trying to run it out of gas."
"He's out of gas," Harvick replies. "You want me to push him?"
"No," Wilson said. "His guys are coming for him."
At 3:35, Harvick is entering the track while Wilson spots from atop the No. 29 Budweiser transporter.
"Supposedly, Blaney's kid is going into Turn 1," Wilson radios. "He's a bit off the pace right now."
"(Ryan) may be off the pace now," Harvick replies, "but it won't take him long to get up to speed."
"Oh, I know," Wilson said, "but it might be different with the COT car."
The team changes tires one last time for Harvick's final run. He reports the car is "tight." Wilson feels it might be the tires or perhaps the track is "rubbering up".
The garage door closes as Harvick returns the car just before 5. After a quick debrief with Harvick and Day in the hauler, Wilson appears pleased with the teams' progress.
"It was good just for the guys to get back working because we're a little rusty," Wilson said. "We really haven't been together since Homestead and you lose a little bit from your routine. We got to run some EFI things for the engine guys, so that's good. Tomorrow we'll run more things for durability.
"We also got to run conceptual things from over the winter - which offered small gains in our performance here, so I'm glad about that. The more downforce you can make - and that's in a lot of different areas in your car builds at the shop but then also when you get to the racetrack what state you can put them on at the track. Getting the splitter down and sealed and not coming back up, getting your car to run more skewed or crabbing down the straightaway - but still making good downforce when you're by yourself."
Wilson also acknowledges that the team must concentrate on qualifying. Harvick has just five poles in the past 11 seasons - and none in the last five years. His average qualifying effort in 2011 was 18.8.
"Hopefully the gains in speed will lend to our qualifying effort," Wilson said. "The faster your car, the better you're going to qualify. You still have to hit it just right but if you're off on speed you hit it all and still be 10th. At least now if our cars our faster, if we can hit, hopefully we can qualify in the top five and win some poles.
"I feel like the package that we ended up with (Monday) is better than where we ended in Homestead. That was just a few months ago and really other than EFI, there weren't any major changes over the winter. I feel we're making gains. Jeff Burton thought he stacked up good against the other teams at the tire test last week, so as a company I feel confident that we're working on the right stuff."