Alex Rodriguez Files Suspension Appeal As Yankees Swept By White Sox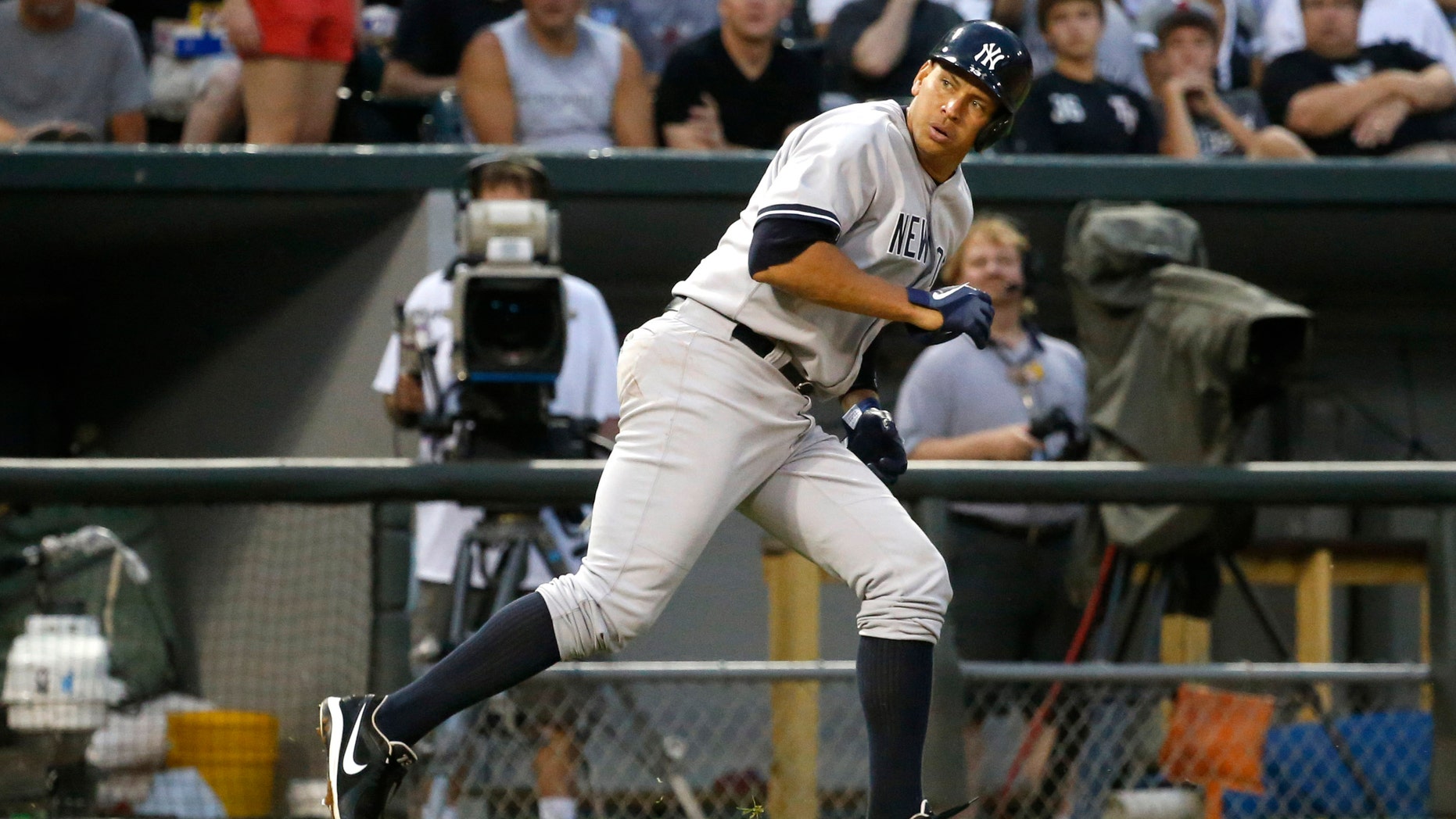 While Alex Rodriguez dug in for a fight, the New York Yankees took yet another beating.
On Wednesday night in the 12th inning, the Chicago White Sox rallied to an extra innings 6-5 win hours after the Rodriguez story took another turn.
Earlier in the day, Rodriguez appealed his 211-game punishment following MLB's investigation into Biogenesis of America, a defunct Florida anti-aging clinic accused of distributing banned performance-enhancing drugs.
The players' union formally appealed the suspension, sending the case to an independent arbitrator.
Then, the Yankees fell for the 14th time in 20 games after Mariano Rivera blew the lead in the ninth and Robinson Cano hit a go-ahead homer in the 12th.
They're 11 ½ games out of first place, a stunning number for a team that hadn't been 10 or more games off the lead since Sept. 17, 2008
"We're battling," Rivera said.
The Yankees looked like they were going to come away with the win when Cano broke out of a 6 for 43 slump by driving a pitch from Dylan Axelrod (4-8) 431 feet to right-center. The home run — his 22nd — was his first since July 10.
The Yankees built an early 4-0 lead and were up one going into the ninth, but Rivera couldn't hold it.
Baseball's all-time saves leader, came in to a standing ovation and retired the first two batters before Gordon Beckham doubled.
A pinch-hitting Adam Dunn then drove a single just to the left of a diving Rodriguez at third on an 0-2 pitch to tie it at 4.
The blown save was just the third in 38 opportunities for Rivera, who allowed one run over two innings. And it denied CC Sabathia his first win in more than a month after he pitched into the eighth.
"You don't expect to tie it up off the greatest closer ever, but I guess with our team that makes perfect sense," Chicago's Paul Konerko said, smiling.
Rodriguez picked up a single and walked in his third game back after having hip surgery in January. He also had a chance to drive in the go-ahead run with two out in the 11th but grounded out with a runner on third. Then, he was replaced in the field in the bottom half.
Alfonso Soriano hit a two-run homer off Hector Santiago and scored twice. Eduardo Nunez went deep and collected three hits, and Sabathia was in line for his first win since July 3 before things turned.
He gave up three runs and five hits, including a towering homer to Beckham in the fifth.
The White Sox pulled within 4-3 in the seventh on an RBI double by Konerko and fielder's choice grounder by Beckham, and Sabathia left after Conor Gillaspie grounded out leading off the eighth.
David Robertson came in and struck out Tyler Flowers looking on a 3-2 pitch, drawing an argument from the White Sox player and an ejection for pitching coach Don Cooper in the dugout.
Alexei Ramirez then singled and stole second, but De Aza grounded out to end the inning.
Santiago struggled, allowing four runs and seven hits over 5 2-3 innings, but the bullpen kept the White Sox in the game.
As for A-Rod, Rodriguez was 1 for 5 after going a combined 2 for 6 the previous two nights. He was also back at third base after serving as the designated hitter on Tuesday.
The fans' reaction was about the same as it was in his first two games — loud boos. It'll be interesting how the crowd at Yankee Stadium reacts when New York opens a weekend series against Detroit on Friday.
"I'm not sure," Rodriguez said.
How would he like them to react?
"Same way you would like them," Rodriguez said. "Again, I'm just super excited to come home, put on the pinstripes and play for the greatest fans in baseball."
Based on reporting by The Associated Press.
Follow us on twitter.com/foxnewslatino
Like us at facebook.com/foxnewslatino