After the hardest hit of his life, Kyle Busch unsure when he'll be medically cleared to race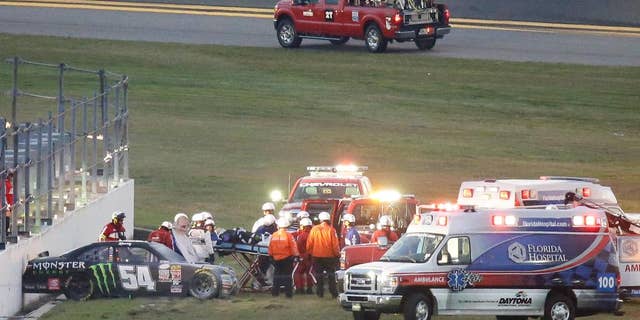 HUNTERSVILLE, N.C. – Kyle Busch says he knew immediately that his right leg and left foot were broken when he crashed his car into a concrete wall at Daytona International Speedway.
In his first news conference since the Feb. 21 crash, Busch walked the crowd frame-by-frame through a video of the accident that occurred in the closing laps of the season-opening Xfinity Series race.
Busch had a sharp recollection of the accident and everything he thought and did inside the car as it hurtled toward an inside wall.
He said he left the racing surface at 176 mph, and had only slowed to 90 mph when he hit the wall. Busch said he knew he was likely going to break one leg and removed his right foot from the brake pedal.
Busch said the g-force of the hit itself measured 90 Gs. He is not sure when he'll be cleared to race again.