Adry Torres: Albert Pujols Will Give the Angels Their Money's Worth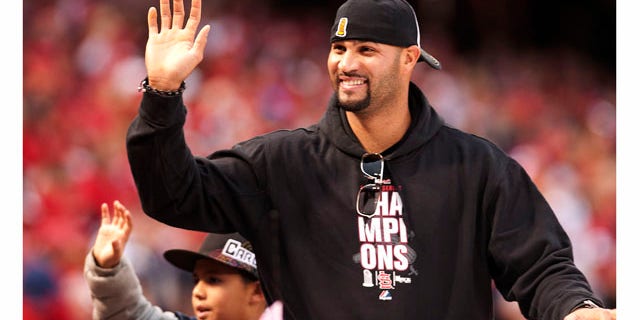 In case you're wondering whether Arte Moreno and the Los Angeles Angels of Anaheim did the right thing in giving Albert Pujols a 10-year deal, I can give you 254 million reasons why the answer is a resounding yes.
The team gave the three-time most valuable player and one of the best players in the game a $254 million contract – and rather than have any regrets, they should be thanking a few teams for allowing them to do it.
The St. Louis Cardinals, Pujols' now former team, made their bed two years ago when they signed outfielder Matt Holliday to a seven-year, $120 million contract instead of taking care of their own star. Their initial offer to Pujols before spring training this season left their Dominican superstar unsatisfied at best, and their most recent offer of $210 million did little to appease him.
The Miami Marlins flirted with Pujols and tried to form their own Big 3 with Hanley Ramírez and the recently inked José Reyes, but were reportedly told by the Pujols camp that they were no longer interested. The deal breaker reportedly was the Marlins' strict policy of not giving players no-trade clauses. Adding to the Marlins' disappointment, the team reportedly outbid the Angels by offering a 10-year, $275 million, a deal that would have made him the highest paid player alongside the Yankees' Alex Rodríguez.
The Cubs, looking to make a splash after bringing general manager Theo Epstein aboard to run a franchise that hasn't won a World Series since 1908, reportedly made an offer but it didn't go past there.
The Angels can justify their signing of Pujols to the lineup, adding a proven runs producer to a team that ranked 10th in runs scored. Further, the addition of C.J. Wilson to their strong pitching staff of Jered Weaver, Dan Haren and Ervin Santana likely makes the team the early favorite to win the American League West, and maybe more. They have seen the Texas Rangers run away with that division and go on to the World Series the last two years.
In their own backyard, meanwhile, the Los Angeles Dodgers have just been trying to stay out of the news. MLB has basically stripped Frank McCourt of ownership and forced him to sell, and rumors are circulating that NBA Hall of Famer and Lakers great Magic Johnson is looking into purchasing the team.
After coming up short in landing Carl Crawford and Mark Teixeira – who went to the Boston Red Sox and the Yankees, respectively – in the previous free agent classes, Moreno, baseball's first Hispanic owner, got his man after joining the bidding party the last couple of days.
Apparently money won't be a problem for Moreno.
According to the Los Angeles Times, the Angels and Fox could be near an agreement to a broadcasting deal. The current deal, which extends through the 2015 season, will bring an average close to $50 million per year to the franchise.
After next year, the contracts of Torii Hunter and Bobby Abreu come off the books. That's $27 million.
In Pujols, a career. 328 hitter in 11 seasons with the Cardinals, during in he averaged 42 home runs and 126 RBIs and a .617 slugging percentage, the Angels are getting a hitter who, by his own standards, had a down season, hitting only hit .299, slugged 37 homers and drove in 99 runs.
Whichever team was going to sign him was going to have to commit to 10 years, no less, no more. Another 10 years is not that bad for a player who has been a staple in the Cards' lineup for the last decade.
He's never had any significant injuries that have caused concerns for his long term, on-field production like, say, Rodriguez. The only cause for concern was when Pujols fractured his wrist late in June but quickly returned to the Cardinals lineup after missing 15 games.
At 31, he will likely spend some of the back-end of his career as a designated hitter. But for a player of his caliber, and one who hasn't missed that much time off the field, there's no reason to think the Angels made a bad choice here with the nine-time Dominican All-Star.
Adry Torres, who has covered MLB, NFL, NBA and NCAA basketball games and related events, is a regular contributor to Fox News Latino. He can be reached at elpiloto137@gmail.com or follow him on Twitter: @adrytorresnyc.
Follow us on twitter.com/foxnewslatino
Like us at facebook.com/foxnewslatino