ACC Media Days: Five storylines that will define conference in 2016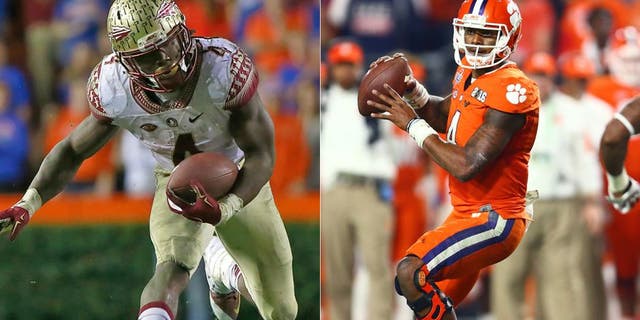 They have given the ACC back-to-back College Football Playoff teams, and every indication is that Clemson and Florida State will once again be the class of the conference.
The Oct. 29 clash in Tallahassee could shape the direction of the league, and the Seminoles, Tigers and their Heisman Trophy contenders will be among the key points of conversation as the ACC takes center stage Thursday and Friday at its annual media days.
But if that's all you think they'll be talking about at the Westin Charlotte, well, you haven't been paying attention to a conference with star power on the field and added plenty on the sideline (hello, Mark Richt and the Virginia duo of Justin Fuente and Bronco Mendenhall).
These are the five storylines to watch at the ACC Football Kickoff (and, yes, there's plenty on those perennial powers in Florida and South Carolina).
1. Who is the best bet to continue that CFP run?
After finishing third in the Heisman balloting, Deshaun Watson carved up eventual national champion Alabama to the tune of 478 total yards, breaking the title game record set by Vince Young in the 2006 Rose Bowl. Having the quarterback at the helm, along with running back Wayne Gallman and pass-catchers Deon Cain, Jordan Leggett, Artavis Scott and a back-from-injury Mike Williams, the Tigers will have firepower. But the defense -- while it has talent -- has questions after losing three NFL picks along the line and three more in the secondary.
The Seminoles can't match Watson, though redshirt freshman Deondre Francois -- Rivals' No. 1 dual threat QB when he committed in July 2014 -- will be a more dynamic option than Sean Maguire to put with an offense that returns 10 starters. In Dalvin Cook, who finished fifth in FBS with 1,691 yards despite missing all of one game and being limited to two carries in another, Jimbo Fisher has arguably the nation's most explosive player. Defensively, Jalen Ramsey and Lamarcus Brutus will be missed, but led by end DeMarcus Walker (10 1/2 sacks and 15 1/2 tackles for loss), this group should be dominant.
Both open with tough tests, as the Seminoles face Ole Miss in Orlando and Clemson faces the Tigers of the Plains variety in taking on Auburn. But Dabo Swinney's crew has a more manageable schedule overall, facing only three bowl teams from 2015 (Louisville, NC State and Pitt) outside of Florida State. Yes, the Clemson-Florida State clash is at Doak Campbell, but the Tigers are tested after playing for a national title last year and are better at the most important player on the field.
If the ACC is to put another team in the playoff, the odds are ever in Clemson's favor.
2. New Faces Take Center Stage
Mark Richt's breakup with Georgia and landing back at his old stomping grounds of Coral Gables was a major coup for the ACC. Not only did it add to a coaching haul that saw Bronco Mendenhall surprisingly leave BYU for Virginia and rising talents Justin Fuente go from Memphis to Virginia Tech and Dino Babers join Syracuse from Bowling Green, but it gave a team that was hoped to be one of the league's crown jewels when it joined the league in 2004, real reason to believe it can meet those expectations.
Richt is positioned to make the most noise in Year 1 as he'll have the advantage of QB Brad Kaaya -- who threw for 300-plus yards in two of the last four games with two interceptions -- and RB Joseph Yearby, but keep an eye on what Fuente is able to do in Blacksburg. He's a noted groomer of QBs and while that meeting with Tennessee at Bristol Motor Speedway could be more than the Hokies can handle, they do avoid Clemson, Florida State and Louisville and get the Hurricanes at home.
3. Are we in for a rare Coastal repeat?
The aforementioned Hokies may have a say in the proceedings, but North Carolina is well positioned to become the first Coastal Division team to make consecutive trips to the ACC Championship Game since 2010-11.
QB Mitch Trubisky had his moment in limited opportunities in 2015, but the brunt of his work came against Delaware (312 yards and four touchdowns), but is he ready to truly fill in for Marquise Williams? The redshirt junior has weapons around him in RB Elijah Wood and receivers Mack Hollins and Ryan Switzer, and an offensive line that has a combined 131 starts, second-most in the nation.
The defense has to make further strides in its second year under coordinator Gene Chizik after ranking 95th in yards per game (435.9), and is set to be tested in Week 1 by Georgia in the Georgia Dome. A trip to Florida State on Oct. 1 looms large, and the Tar Heels face Miami on the road Oct. 15. But if the defense shows some improvement and there isn't much drop off with Trubisky, North Carolina should be the pick again in the Coastal.
4. The league's breakout star will be ...
Is there another option than Deondre Francois? Sean Maguire has had his moments in basically sharing the job with Everett Golson. He threw for 348 yards and three scores vs. Syracuse last year, and was hobbled, but still passed for 392 and two scores (along with four picks) vs. Houston in the Peach Bowl, but Francois brings a talent the Seminoles haven't had since Heisman winner Jameis Winston.
With Maguire out with an injury, Francois starred in the spring game with 246 yards and two scores, and while Maguire could well start the season opener against the Rebels on Sept. 5, the redshirt freshman's mobility should ultimately make him too tempting to keep on the sideline.
Plus, we saw what happened the last time Fisher opted to roll the dice with a talented redshirt freshman quarterback. It resulted in a national title and a Heisman.
5. Who's seat is the hottest?
Steve Addazio is likely feeling the heat after going 0-8 in the league last year despite having the nation's top-ranked defense -- the first time in FBS/Division I-A that happened for a No. 1 D since 1988 -- and it could be difficult to get back to bowl eligibility in drawing Georgia Tech and Virginia Tech out of the Coastal.
That being said, the Eagles last won more than seven games in 2009, and considering that defenses's prowess, he may have bought himself more time.
But what about Paul Johnson?
He's just two years removed from taking Georgia Tech to the Orange Bowl, Johnson's crew went just 3-9 last season and 1-7 in the conference.
QB Justin Thomas -- a former Alabama 100-meters champ -- is the fastest player Johnson has had at the position, but the Yellow Jackets averaged just 256.2 yards per game on the ground last year. Those issues were largely with the offense line, which has just 52 combined starts (81st in FBS), but could see a lift in the form of right guard Chris Griffin, who missed last year with an ACL injury.
A schedule that includes Clemson out of the Atlantic, and seven bowl teams overall (Miami, Pitt, Duke, North Carolina, Virginia Tech and Georgia) does Johnson no favors. A turnaround is of the utmost importance, and there are plenty of pitfalls that could keep the Jackets from a bowl game for the second straight year, something the program hasn't dealt with since 1995-96.
Follow Cory McCartney on Twitter @coryjmccartney and Facebook. His book, 'Tales from the Atlanta Braves Dugout: A Collection of the Greatest Braves Stories Ever Told,' is out now, and 'The Heisman Trophy: The Story of an American Icon and Its Winners' will be released Nov. 1, 2016.